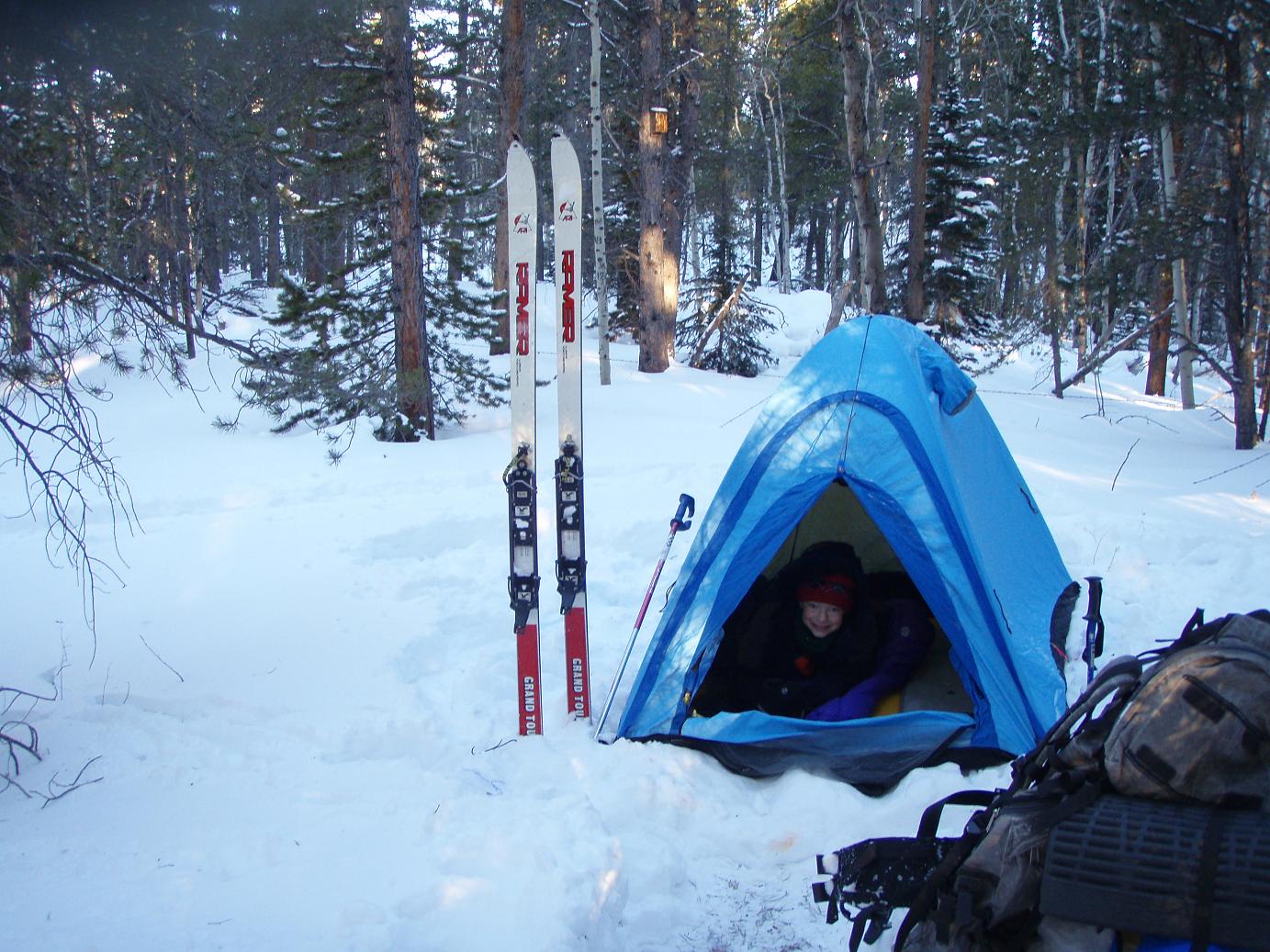 Integral Designs Mark III Tent

4 pounds, 14.4 ounces

This tent is my largest single wall mountain tent.

Dimensions are 88 inches long by 54 inches wide. Max height is 45 inches. It is significantly more roomy than my other tents, with extra room to stretch out. This extra room comes at the price of more weight however, as it is also the heaviest of my mountain tents.

The Mark III fits two people, with room for puffy sleeping bags and other gear too. There is an optional vestibule that weighs 19 ounces and gives additional room for gear storage and cooking.

The fabric is a Gore-tex laminate, with a fuzzy interior surface that dissipates condensation very well. Single wall tents have a reputation for not working well in humid conditions. My experience with this tent has been that condensation build up with the Mark III is not bad at all. The fuzzy interior surface disperses any moisture that condenses on the inner wall, and it doesn't collect and run down the sides. I've used the Mark III in hot and humid and cold and humid weather in the North East, in hot and dry and cold and dry weather in the West without any problems from condensation build up.

The Mark III is fully seam taped, and is completely waterproof.

It has a single door and a sock-like roof vent. It also has an awning over the door to protect the interior from rain when the door is slightly open. There is mosquito netting on the door, so you can leave the door open for ventilation in hot weather and still keep the blood sucking insects at bay.

I ordered mine with an extra heavy duty floor. Integral Designs will do custom work, and you can order a number of custom options like additional doors or vents.

This isn't a spacious long term base camp tent, but it is light weight, relatively compact, and you don't need lots of space to set it up. For a high mountain tent, it is pretty luxurious.

When properly staked out, it will stand up to high winds and nasty weather. I've been in some pretty high winds in this tent, and never had to worry about it. It is very strong, and quality of workmanship and sewing is excellent.

Set-up of the Integral Designs tent is a little bit easier than my other 2 mountain tents, primarily because you aren't required to fit the poles into small metal "snaps" The Mark III has reinforced pockets on all 4 corners, and you just slide the pole ends into these corners. The poles seat easily and naturally, and you don't have to fiddle with the exact placement of the poles in the corners of the tent. This may sound like a small issue, but at night, in a wind, when it's snowing and you're wearing heavy gloves, it makes a big difference.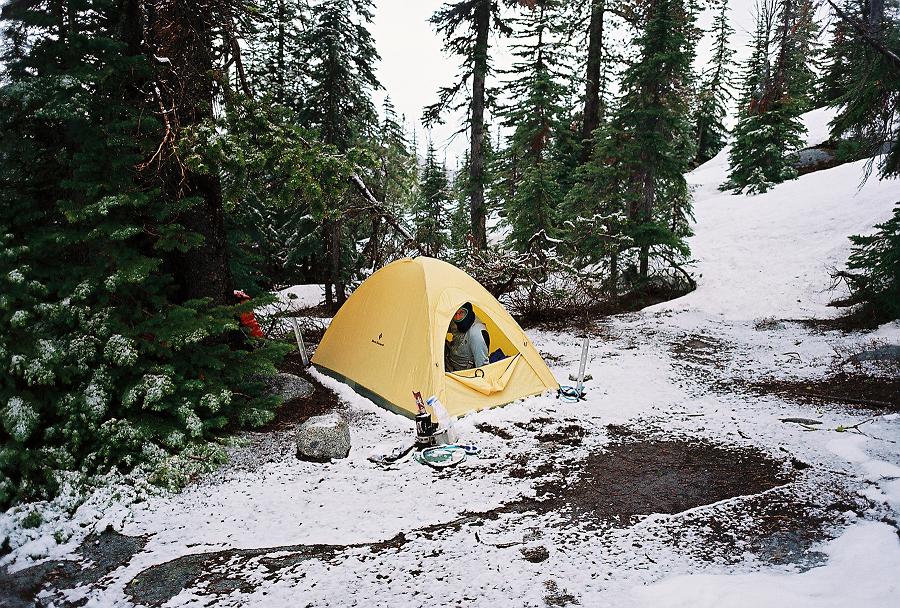 Black Diamond Firstlight
2 pounds, 13 ounces
This is the lightest of my traditional mountain tents. (The Rocket Tent is lighter.)
It is 82 inches long by 48 inches wide, and is 42 inches tall. It has an optional vestibule, but I don't own the vestibule and have never used it.
First of all, I have to address an issue raised in the Black Diamond literature regarding this tent. They say that the tent is "water resistant" and not really waterproof. However, my experience with this tent has been that it is waterproof in pretty wet conditions. I've used this tent in conditions of several consecutive days of rain, with no leakage through the fabric. The "Epic" fabric of the Firstlight may not be as theoretically waterproof as Goretex or other waterproof breathable fabrics, but I've found it to be waterproof in practical applications.
The Epic fabric is very breathable, and condensation is minimal, certainly no worse than with a typical double wall tent. The light tan/yellow color is quite pleasant as well.
The tent is not factory seam taped or seam sealed, however, so it's up to the owner to apply silicone sealent to the seams. This is a pain in the butt, but with a little patience I managed to seal the seams without making too much of a mess.
In use, the Firstlight provides adequate space for two people, provided that they are not well over 6 feet tall. The steep sides and decent height of the tent means that most of the floorspace is usable. I wouldn't want to share this tent with another person for weeks on end, but for typical backpacking or climbing trips, the Firstlight is pretty livable.
I have not used the Firstlight in really terrible wind, so I can't opine with any authority as to its ability to stand up to high wind. However, its design is tried and tested, and I suspect it would do reasonably well. Certainly, it's been used on some pretty high and wild mountain routes and seems to have performed well.
The light weight of this tent makes it my most used tent for climbing and hiking above treeline. I think that if I were going to only own a single tent, this would be the one I chose. The shelter to weight ratio is just too good, and it is versatile enough to perform well in just about any situation.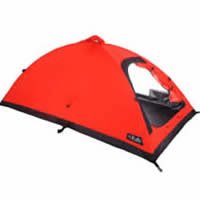 Rab Summit Extreme
(3 pounds, 13.9 ounces)
The Summit Extreme has a large tag sewn on the inside of the tent which tells the history of its design. According to this tag, this tent was designed specifically for Tomaz Humar for an alpine style attempt on Nanga Parbat, a rather serious 8000 meter peak.
I've never met Tomaz Humar or even seen a picture of him, but based on this tent, I'd be willing to bet that Tomaz is not a very tall man. This tent is not designed for tall people. It's not designed for comfort or versatility.
The Rab Summit Extreme is a single-purpose piece of equipment designed to provide a very secure (and cramped) shelter from the worst conditions that the high mountains of the world can dish out.
The footprint of the Summit Extreme is 82 inches long by 47 inches wide, which is about the same as the Black Diamond Firstlight. However, the height of the Summit Extreme is only 34 inches, compared with the 42 inch height of the Firstlight. This reduced height means that the Rab is much more cramped and significantly less comfortable than any of my other tents. Rab doesn't call the Summit Extreme a "tent." They refer to it as a "shelter," which is a pretty good description of this piece of equipment.
One person can sit up inside the tent, but there is not room enough for two people to sit up at the same time. A person who is much over 6 feet tall will also have a difficult time stretching out in this tent. There is barely enough room in this tent for two people to sleep, and the low roof means that the tents sidewalls slope quite a bit more than the other mountain tents (which have quite steep walls) and this cuts into usable interior space a lot.
If you've read this far, you probably think that this tent just sucks. It's a pound heavier than the Black Diamond Firstlight, and much more cramped and much less livable.
You're probably wondering why anyone would buy this tent. The answer is that the Summit Extreme is uniquely suited for duty on climbs of high and dangerous mountains.
First off, the Summit Extreme is completely bombproof. The low roofline that interferes with living space makes this shelter ultra wind resistant. Unlike the sail-like sides of the other mountain tents, the Rab presents a low profile to the wind. The Summit Exteme pitches very taut. The construction, fabrics, and zippers are burly. You get the feeling that the tent is over-engineered for all but the most extreme conditions. There are 13 guy-out points on the tent, along with beefy guy lines that have springy bungy attachments to absorb the shock of wind loading.
Another unique climbing oriented feature are two tie-in points that allow you to run a rope through weatherproof "doughnuts" inside the tent. You can then tie off onto the doughnuts from inside the tent. This allows the tent occupants to tie in securely to the rope without the need to run the rope inside the tent. One of these tie-in points is located on the tent's apex, the other along the side, so you can run the rope through either (or both) depending on the orientation of your anchor(s.)
A useful feature for snowy conditions is the vent at the rear of the tent. It closes with a drawstring, and allows you to reach out the back and scoop up snow or empty your pee bottle (but hopefully not both.)
There are a few concessions to comfort and practicality. The tent has 4 mesh pockets inside for gear storage, and also a mesh screen door for keeping out mosquitos. Actually, for all its hard-core focus on high altitude climbing, the Summit Extreme makes a pretty comfortable solo tent for 4 season backpacking. If your backpacking requires you to camp in exposed positions above tree line, this tent will provide you with peace of mind and you can sleep secure in the knowledge that no weather short of a tornado will harm you.
The Rab is unique in that it is made from E-Vent fabric, a waterproof/breathable fabric that breathes extremely well. I've used this tent in hot and cold conditions, and haven't had any issues with condensation build-up. The Rab seems to resist condensation very well, even better than the Integral Designs, even though the Rab lacks the condensation dissipating fuzzy scrim of the Integral Designs fabric. (Both the Rab and the Integral designs have less condensation than the Black Diamond Firstlight.) As far as I know, the Summit Extreme is the only E-Vent tent on the market (more on that below.)
A note on the Rab factory specifications: If you are one of those people (like me) who pores over manufacturer specs for equipment you may notice that the measured weight I give for the Summit Extreme is significantly lighter than the manufacturer's weight. Furthermore, my measured height for the tent is significantly taller than the 27 inch height specified by Rab.
The weight differential is explained by by the fact that the manufacturer's weight (4 pounds, 14 ounces) is the full weight of the tent and all of its accessories, some of which I don't use. .
The tent comes with tent pegs and guy-lines for each of its 13 guy-out points. In addition, the tent comes packaged in a super heavy duty stuff sack with a watertight dry-bag roll top closure. There are additional beefy stuff sacks for the stakes and the poles. I replaced the stock stuff sacks with a single light-weight stuff sack, got rid of the pegs (I use skis or ice axes or pickets, etc.) and use only 7 of the 13 guy lines. This shaved a pound off of the full weight of the tent as packaged from the manufacturer.
The difference in my measured height and the manufacturer's height is likely the result of a limitation of the E-Vent fabric manufacturer that E-Vent fabrics can't be used in tents, but can be used in "shelters," the difference between the two being that a "shelter" is 70cm or less in height. The manufacturer's spec has the Summit Extreme height at 70 cm (27 inches.)
The bottom line on the Rab Summit Extreme is that it is a rather specialized piece of kit. I wouldn't want this as my only tent, but for bivis high on a mountain with severe weather, this tent's features put it in a class of its own. If I'm worried about having to deal with really nasty wind and weather, I will put up with this tent's limitations in exchange for the extra security it provides.