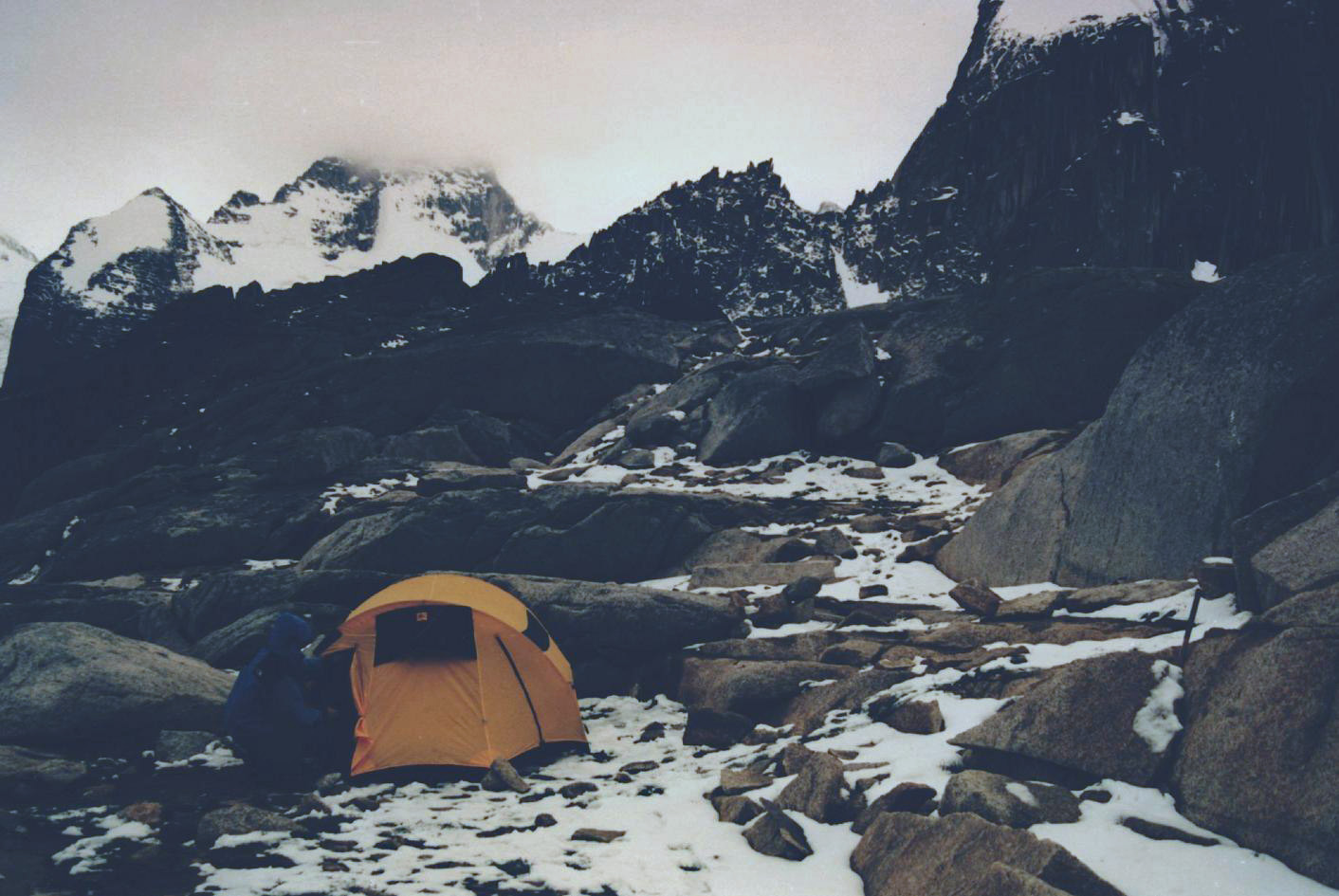 Kelty Windfoil 3
(8 pounds, 11.9 ounces)
This is the ultimate long term mountain base camp tent. It is a three pole hoop tent; rectangular, with a built in vestibule. It is a traditional double walled tent, with a breathable inner wall, and a waterproof fly. It requires a minimum of three stakes to pitch, but I like to use seven in nasty weather.
This tent is supposedly designed for three people (hence the "III" in the name). You could fit three people in it, but it would be a bit too cozy for comfortable long term living. It is palatial for two, with plenty of room for gear. The rectangular shape maximizes usable space, compared to a circular shaped dome tent. The built in vestibule is big enough to store lots of stuff in, and has some nice touches, like two doors, a zip out flap that gives access to the ground for cooking, and a fabric "dam" that separates the vestibule from the main body of the tent, and keeps dirt, snow, etc. out of the living area. There is also small awning which increases ventilation.
I lived in this tent for two weeks in the Bugaboos, and had enough elbow room that it was actually not too bad being cooped up in the tent with my partner during day after day of crummy weather.
The tent is very strong. There are numerous tie outs on the fly, and there are tabs which anchor the fly directly into the pole sleeves so the tie outs are linked to the poles and inner tent, not just the fly. The poles are strong but lightweight carbom fiber. I bought this tent to replace a tent that was destroyed during a mountain storm, and wind and storm-worthiness was my primary consideration when buying this tent. I was ultimately persuaded to purchase it by a test in Climbing Magazine of expedition tents that concluded that the Windfoil was the strongest and most bombproof of them all.
This tent has not let me down and has lived up to my expectations with regard to durability in the face of big wind. I've been out in extremely nasty weather in this tent; In particular, one winter night in the Adirondacks we were pitched on a ridgeline during a horrific storm. Wind gusts which blew down full grown trees did little except rattle the tent. Over the years, it's proven itself over and over in the worst conditions I've encountered. A storm at the base of Long's Peak that destroyed high-end dome tents of parties nearby had no effect at all on my Windfoil.
Set up is relatively easy. The poles thread easily with the help of straps that lever the poles into place, allowing a very taut pitch with minimal effort.
Although this design dates from the late 1980's it still works well. Its combination of excellent living comfort and super bombproof construction still makes it my tent of choice for multi-day basecamping above treeline when I'm expecting bad weather and snow.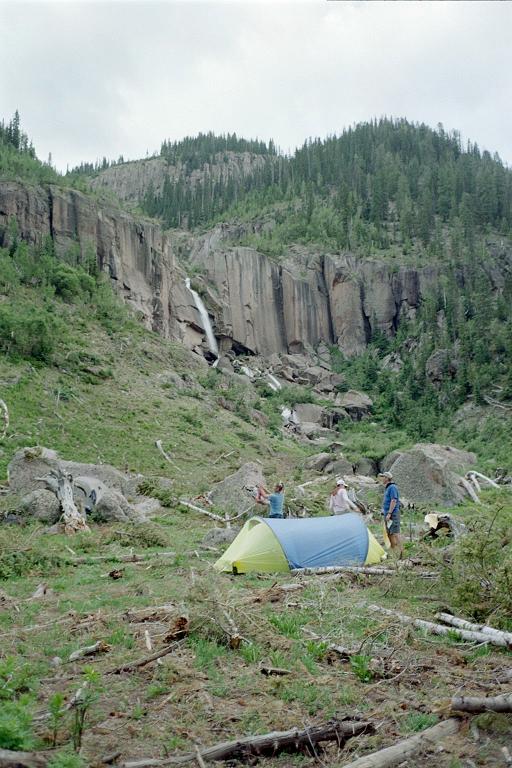 Stephenson's Warmlight 3R
(4 pounds, 7.2 ounces)
This is a somewhat strange, but effective tent. It is a double walled design, but both walls are of waterproof/nonbreathable fabric, rather than the traditional waterproof fly/breathable inner construction. Stephenson uses superlight silicon coated parachute cloth, and the result is a full-featured, spacious three person tent that weighs less than 5 pounds.
This tent has more space than the Kelty Windfoil III, at half the weight. It has two big vestibules, one at each end of the tent. There are a number of other nice features, such as the tensioning buckles on the stake-out loops which make it easy to keep the tent pitched tight in changing conditions. Another great feature/option is the huge zip-open screened windows, which allow for amazing ventilation in hot weather.
A few disadvantages: The tent is not made for hard abuse. The fabrics used are extremely light weight, and won't stand up to being pitched on sharp objects or serious abrasion. Choose your tent site carefully, and make sure you remove pine cones, sticks, rocks, and anything else pokey or sharp. Treat the tent gently, and it will last a long time. Abuse it, and it will fall apart much more quickly than a typical backpacking tent.
The 3R is a bit more prone to condensation than other tents I've used, although not terribly so. The double walled design seems to work reasonably well in keeping condensation to a minimum, at least in the dry, Colorado environment that I've used it in so far.
This tent is becoming my 3 season multi-person backpacking tent of choice. I haven't yet experienced truly harsh weather with the 3R but the 3R has held up well in heavy rain, sleet,and moderately high winds. I don't really like this tent for use in snow for a couple of reasons: Condensation increases dramatically if you close down the vents, and snow tends to blow into the tent if you leave the vents open. Also, if you plan on using it in snow, get the optional third pole, as the tent sags badly under snow loading with only two poles.
One final word of advice: Getting the tent seam sealed at the factory is a good option. Sealing silicon fabrics is a bit tricky, and the Stephenson folks do a good job, better than a typical person could do on his/her own.