Ricoh Gr Digital II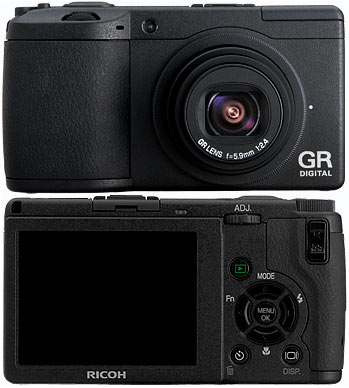 Ricoh GR Digital II (weight: 7 ounces)
The Ricoh GR Digital II is pretty different from most of the digital point and shoot cameras on the market today. It is a niche camera, and that niche seems to be photographers who need a small, lightweight camera to take high image quality photos of landscapes and other subject matter where a wide angle lens is useful. (This target market niche sounds a lot like me.)
The most obvious difference between the GR Digital 2 and the normal digital point and shoot is that the GR has a fixed (non-zoom) lens. It's a wide angle lens that is the equivalent of a 28mm lens on a 35mm film camera. Non-zoom lenses on compact cameras are pretty rare these days, and the GR Digital 2 uses the fixed lens presumably so that it can achieve better image quality. The lens is also pretty fast for a pocket camera, with an maximum aperture of f: 2.4
Although it has a program mode where the camera makes all of the decisions, the GRD II also accomodates the person who wants to think about the details of exposure of a photo. In addition to full program, the GRD II allows for full manual control, as well as aperture priority exposure.
You can swith back and forth easily between auto and manual focus. In fact, you can customize the controls to make it very easy to access the camera settings that you utilize the most often. I have "hot keys" set up for focus options as well as ISO settings.
The GR Digital 2 supports shooting in RAW format. This isn't much use unless you have the time and interest to tinker around with the RAW files in photoshop. I don't mind working on photos, and I've found that I have significantly more leeway in correcting and tweaking photos in RAW than in the more common jpeg formats. However, if you aren't willing to spend time adjusting the image, then you are better off shooting jpegs. In fact, an unsharpened, uncorrected RAW file will look worse than a typical jpeg from a low-end point and shoot. So, you have to think of the RAW file as a starting point to a good photo, not the end product.
I'm also very impressed with the ergonomics and layout of this camera. The controls are intuitive and easy to use. The LCD viewscreen is as good as any others I've seen on small cameras. It's a very small camera, but I can use it while wearing relatively thick ski gloves, so that's an indication of its friendly user interface.
I bought this camera because I have been very impressed with Ricoh's GR1 film camera, particularly with the image quality of the GR1's 28mm lens. I was hoping for a camera that would be a digital version of the GR1.
In many respects, I'm pleased with the GR Digital 2. There are a lot of terrific features that are clearly aimed at the "serious" photographer. Even though I'm not a serious photographer, I do appreciate the thought that has gone into this camera.
However, the GR Digital 2 does have one rather significant shortcoming. The image quality of the camera is limited by the tiny sensor it uses. Even though the lens on the GR Digital 2 may be every bit as good as the lens on its film using sister, the GR1, the digital version is hampered by its sensor. In any camera, the image quality is primarily dependent on two factors, the lens and the "sensor." In a film camera, the "sensor" is the film. In a digital camera, the sensor is a device that translates light into digital information.
In effect, the film GR1 uses the same "sensor" (35mm film) as a film SLR. So, the image quality of a GR1 is not much different that that of a film SLR because the GR1 has a lens that is similar in quality to that of an SLR.
The GR Digital 2 has the benefit of a high optical quality lens, however, its sensor is much smaller than that of a high quality digital SLR. It simply doesn't have the sensor hardware to produce the highest quality digital images.
This is really too bad, because everything else about this camera is focused on image quality. And, while the GR Digital 2 does provide pretty good image quality, it really isn't a whole lot better than other small digital point and shoot cameras on the market and is markedly inferior to a good DSLR.
The Ricoh GR Digital 2 is a decent camera. The excellent ergonomics, light weight, RAW capability, wide lens, and other features are great. However, the pictures it takes aren't quite as sharp as I wish they were. Particularly at higher resolutions, I can see obvious signs of the sensor's limitations, even when viewed on my desktop computer screen.
So, is the GR Digital 2 a good camera? Yes and no. It's very well thought out and a joy to operate. However, I was hoping for a small pocket camera that could take pictures with image quality that rivaled that of an SLR. The film version of the GR delivered on this. The digital version, however, can't quite get there.
Olympus 725SW

Olympus Stylus 725sw (weight: 5.9 ounces)
This is the Terminator of cameras. You can beat on it and it still won't die. Although, unlike the Terminator, this camera is really small. It's about as small as I would want a camera to be. Any smaller, and it would be difficult to hold it and manipulate the buttons.
The Olympus SW series of cameras is unique in its durability and survivability. ("SW" stands for shock and waterproof.) These cameras are not just water resistant, they are waterproof. You can actually submerge them in water and they won't die. The 725sw is waterproof to 15 feet. They are also very resistant to the shocks of being dropped, and are designed to withstand other types of abuse such as cold temperatures. I bought the 725sw because I wanted a camera I could take fly fishing and not have to worry about keeping it dry. I haven't been disappointed yet.
The 725sw is a 7.1 megapixel camera. In 35mm film camera lens equivalents, it has a 38mm-114mm zoom lens. Maximum aperture is variable from f:3.5 to 5.1
The camera is pretty much full auto only, however you can utilize various pre-programed "scene" choices to adapt the camera to various conditions (like snow/sand, night, sports, etc.) The camera does have the ability for exposure compensation and you can over or under expose by +/- 2EV with the press of a button.
Picture quality is pretty good. I'm impressed with the sharpness and colors of the images I can take with the Olympus. There is no RAW option, so I'm limited to shooting (and editing) jpegs, but for viewing on my computer, they are fine. Reasonable sized enlargements are also feasible.
Just about all of the photographs I've taken on my fly fishing pages were taken with this camera. You can see them here:
Olympus has continued to develop its SW line of cameras. The 1030SW model improves over the 725SW that I have in a number of respects. It is even more durable and water resistant. It has a 10 megapixel sensor, and (most interesting) it has a wider angle lens (a 28-102mm equivalent.)
Not being able to resist the wider angle lens, I took the plunge and upgraded my 725SW to the newer 1030SW. However, it turned out to be a big disappointment. Picture quality for the 1030SW was abysmal, much much worse than my 725SW. Pictures were much "softer" to the point of being fuzzy, even at low iso settings. I really wanted to like the 1030, but after several months of use, I concluded that the majority of the time, it was simply not capable of taking decent pictures, so I went back to my tried and true 725.
So, while the 725 is a good camera, I really can't recommend the entire line of Olympus SW cameras. I don't know whether it's due to the sensor they have used in the 1030, or if it is some other factor, but if/when I decide to upgrade my 725sw, I think I will look for something outside of the Olympus SW line.
Sigma DP1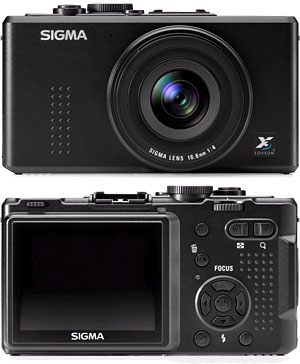 Sigma DP1 (weight: 10.3 ounces)
The DP1 is an attempt to get DSLR image quality out of a compact digital camera. The folks at Sigma have shoe-horned a DSLR sensor into the DP1. The sensor is a Foveon X3 sensor that stacks red, green and blue color receptors on each pixel location. So, even though there are only 4.6 megapixels, the Foveon X3 is supposed to be as sensitive as a normal sensor three times its size.
With a little Googling, you can find rather detailed internet blogs and discussions as to the strengths and weaknesses of the Foveon technology, with diverse opinions as to whether the X3 sensor is really a miracle 13.8 megapixel sensor or just a 4.6 megapixel imposter.
The Sigma DP1 is a camera that seems to engender strong feelings in its users. Those who favor this camera seem to really love it. Those who don't like it, seem to really dislike it a lot.
I think that I fall in the camp of those who like this camera, even though it has some flaws. Before I purchased this camera, I read numerous reviews about it. Almost without exception, the reviewers complained mightily about the camera's slow operation. Write times, autofocus times, shutter lag, power-up times were all criticized as being way too slow. After using the camera myself, however, I have to say that it's not that bad for my purposes.
I didn't buy this camera for street photography, where I need to be always at the ready to snap photos of passing people or scenes. I bought this camera primarily for shooting pictures of scenic places, and outdoor activities such as climbing, skiing or backpacking. I haven't found the camera's speed of operation to be much of a negative factor. It's true that if I miss a crucial photo opportunity, I've got to wait a few seconds before I get a chance to try again with another shot. However, I suppose I'm sort of used to this. I never owned a power winder, and from my days with film cameras, I pretty much became used to having to wait between shots as I advanced the film. The DP1 is not a lot worse than a film camera in that respect.
The ergonomics of the DP1 are pretty good. The buttons are able to be manipulated while wearing gloves. Often used controls such as focus mode and exposure compensation are easily accessed and adjusted. The LCD screen is no worse (or better) than other digital cameras I've used. Really, my biggest complaint regarding the DP1 from a user standpoint is the lens cap. Unlike other pocket cameras, the DP1 has a removable lens cap. I like the convenience of an integrated lens cover. Particularly with gloves on, it's a hassle to remove and replace the cap. I also really wish that there was an integrated attachment point for a cap keeper on the cap. If you want a keeper, you have to get an aftermarket (stick-on) one.
Build quality is very good. The body is made from metal, not plastic, and the buttons and knobs all operate without shake or wiggle. The camera has a substantial, high-end feel to it. If the DP1 were a car, it would be a 1970s Mercedes.
Because the lens does not retract, it is significantly thicker than other pocket cameras with retractable lenses. It is just about the maximum size I would consider for a pocket camera. I never did find a completely satisfactory option for a carrying case. A padded case of any sort makes this camera too big to be carried in a pocket. So, I typically just don't bother with a case at all, and just use a heavy duty ziplock bag in lieu of a camera case. This sacrifices some protection, but if the camera and case combination is so large that I can no longer keep the camera in my pocket, then I'm losing all of the advantages of accessability that is the sin qua non of a pocket camera.
The lens on the DP1 is a fixed (non zoom) wide angle with a film camera equivalent of 28mm. It is relatively slow, with a maximum aperture of only f: 4. It is the wide angle lens that convinced me to buy the DP1 rather than wait for the new DP2. The DP2 has a faster, f:2.8 lens, but it is a 41mm equivalent. I've found over the years that I really prefer a wider angled lens for recording my outdoor activities, and a 41mm lens was simply not wide enough to meet my needs. However, the f:4 speed is somewhat limiting in low light situations. The slow lens forces you to shoot with higher iso settings, compromising the image quality that is the primary strength of this camera.
The camera comes bundled with software called, Sigma Photo Pro. This is a somewhat bare bones software program for viewing the images in Sigma's proprietary X3F RAW format and converting the images to other formats. Although some of the early reviews of the DP1 indicated that there was no support for X3F files in Photoshop, the version 5.2 RAW plug-ins for Photoshop appear to support the X3F RAW format, as I am able to work with the X3F files in Photoshop Elements.
After using the DP1 for a while, I have to say that I am a believer in the Foveon sensor technology. Folks can argue all they want about whether the sensor is 4 or 13 megapixels. However, this camera's sensor is capable of taking excellent pictures. To date, I haven't found any other pocket digital that can rival it in terms of optimum image quality. The DB1's ability to capture subtle variations in color and light is a cut above any othe compact camera I've used.
If image quality is the highest priority, and you can take the time to utilize the DP1's potential, then the DP1 is a terrific camera. However, even though I am a stickler for image quality, the LX3 (and now the LX5) has replaced the DP1 as my digital pocket camera of choice.
Panasonic Lumix LX3 (9.6 ounces)
Until I replaced it with the LX5, the LX3 was my overall favorite pocket digital camera. Although the Sigma DP1 has slightly better optimal image quality, the other attributes of the LX3 make it more versatile than the DP1, and the image quality of the LX3 is very good.
First off, the LX3 has an excellent lens. It is a zoom that is a 24-60 (35mm equivalent.) A 24mm wide angle lens on a pocket camera is pretty unusual. I use a 24mm lens on my slr, and find it very useful for shooting outdoor scenics. Likewise, the 60mm zoom feature allows me to get a bit closer to my subject when needed.
This lens is also very very fast, with an f-stop of f:2 to f:2.8. This makes it well suited for low-light situations. I've read some reviews that talk about some barrel distortion caused by the lens, but I haven't really had any issues with it. The proprietary RAW software seems to account for this and edits the distortion out of the images when converting them from RAW to jpegs.
In the past, I have always favored fixed focal length lenses on my pocket cameras. However, the LX3 lens doesn't compromise on aperture speed, and the optics are also very good. I've become particularly fond of the zoom feature when climbing, where I often don't have the luxury of being able to move back and forth to adjust my distance to my subject.
The LX3 has all of the options you'd expect from a "serious" camera, and allows you to work in everything from full program, aperture and shutter priority to full manual mode, with some pre-set "scene" settings as well. Controls are relatively easy to use, however, the buttons and joy-stick are rather small and therefore not very glove friendly. One rather annoying thing, however, is that the control knob tends to turn quite easily if the camera is jostled around in your pocket. The result is that you can accidentally change the mode. I ruined a set of pictures this way, thinking I was in Program mode when I was in Shutter Priority.
Like the DP1, the LX3 has a lens that doesn't retract into the camera and requires a removable lens cap rather than an integrated lens cap. However, unlike the DP1, the LX3 has an integrated attachment point for a keeper strap. It's amazing how much of an advantage in convenience this small difference makes.
In terms of size, the LX3 and DP1 are very similar. However, the LX3 is just a tiny bit less thick than the DP1. If you look at the picture above comparing the two, the difference doesn't seem like much, but the LX3 fits a little easier into my pockets than the DP1. After a fair amount of experimentation, I settled on a Leica hard case for the camera. The Leica D-Lux 4 is the very same camera as the Panasonic LX3, and so I was able to use the Leica case for the Panasonic LX3. It fits the camera perfectly, doesn't add too much bulk, and the stiff case provides some protection from the inevitable bumps and bangs of outdoor photography. Panasonic also makes a case for the LX3, but I preferred the Leica design, which seemed a bit more protective than the Panasonic case. (also, I don't like the design of the Panasonic case that always stays on the camera) The leather Leica case adds another 4.6 ounces, but I've been happy with it.
Leica D-Lux 4 case is a perfect fit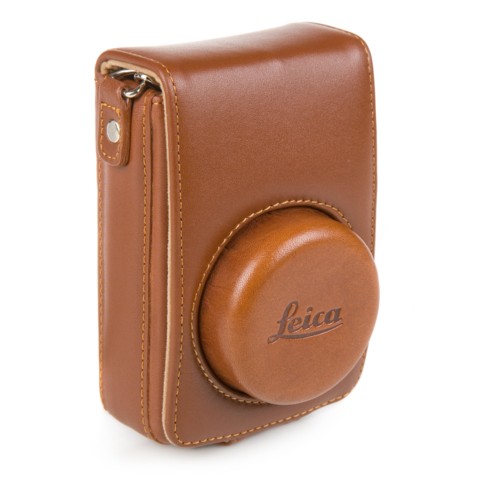 For situations where I want to carry the LX3 on the strap of a backpack, I use the Mountainsmith Cyber II camera pocket, in size medium. It has a velcro strap that attaches quickly and securely to a pack strap. It has a small pocket that fits an extra battery. The LX3 fits just barely fits the Cyber II pocket. It's a snug fit, but not too hard to get in and out.
Mountainsmith Cyber II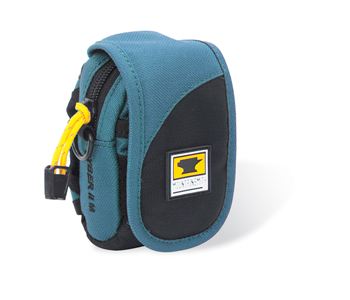 Image quality of the LX3 is excellent. It may not be quite up to the standard of the DP1, but it is worlds ahead of the Ricoh. The RAW software that comes packaged with the camera works well and is simple and intuitive to use. High-resolution images look very good, and noise is minimal. While the LX3 isn't up to the standard of a high-end dslr, it is more than good enough for any resolution (or enlargement size) I will use.
Write times are pretty good. There is some waiting (especially when shooting in 3-photo burst mode) but it's not bad (and much faster than the DP1.)
Build quality is very good, and the LX3 is made mostly of metal rather than plastic. It has a quality, substantial feel to it. So far, it seems to be standing up well to backcountry use.
The combination of very good image quality and the fast zoom lens has made this my go-to camera, supplanting the DP1. It really seems as though it was targeted directly at me and my photographic activities. It is a very versatile camera, and is my new first choice for all of my backcountry activities except fishing (where I need a waterproof camera.)