MEC Alpinelite 30 (1 pound, 8.3 ounces)
This pack is very similar to the Serratus/MEC Genie. It has a 30 liter (1800 cubic inch) capacity. It has some features that the Genie lacks, such as a 1.7 ounce foam backpad and about a half pound of other "improvements" such as more straps, buckles, a crampon patch, etc. The result is a pretty good alpine daypack, but the Genie's super light weight and compressability are compromised.
Comparisons with the Genie aside, the Alpinelite is an exeptional alpine daypack. One key feature of this pack is that it is one of the few small alpine packs that comes in different back lengths. Particularly on packs with minimalistic suspension and frame, proper sizing is critical for the pack's balance and comfort. The Alpinelite's various sizes ensure that most people will get the proper fit.
The Alpinelite's plethora of straps, buckles, and patches make it relatively easy to strap on ice tools, crampons, and even skis. The rip stop fabric is reasonably durable, the pack is comfortable to carry and climb with.
Perhaps best of all, at only $55, this pack is a raging bargain.
Osprey Aether, and Serratus Genie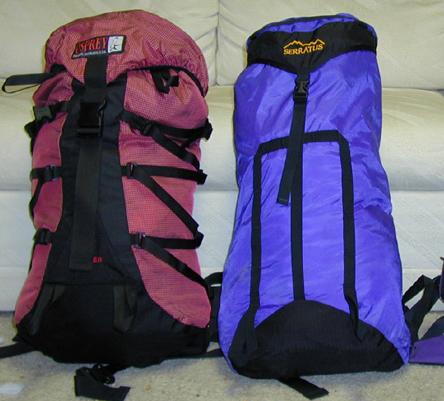 Serratus (now MEC) Genie (15.8 ounces)
This is a minimalistic day pack. It weighs only 15 ounces. It has a 1800 cubic inch (30 liter) capacity. The hip belt is a simple piece of 1 ½ inch webbing, the shoulder straps are minimally padded. There is no sternum strap, but I added one after I bought the pack (an important addition.) The pack has no compression straps, but does have a small top-lid pocket, dual ice-axe loops, and dual daisy-chains for strapping things on the pack. This is a good summit pack for bringing along with you when you are carrying a large pack too. This pack can double as a stuff sack for your sleeping bag when slogging into base camp and then you can break it out for a shot at the summit. The lack of foam and padding also makes the pack take up very little space, and can actually fold up into its own top pocket.
The pack is completely frameless, but it has a pocket in the back for insertion of a foam pad. I've used this pack for a number of day climbs, and have never felt the need for the increased support of an additional foam pad. I usually put a hydration bladder in the foam pad pocket and this works well. When used for carrying light loads, this pack works well. The pack comes in different back lengths, so sizing and fitting the pack is easier than with many day packs. I've used it on alpine day climbs on rock and ice and it carries unobtrusively and without interfering with movement. The minimal hip belt doesn't provide much weight transfer to the hips, but for lightweight day-climb loads, this isn't much of an issue. There are no bells and whistles on this pack, but it has everything it needs for its intended function. When used for day-climbs with light weight loads, it does an adequate job.
This pack's major benefits are its light weight and tiny price. Its light weight makes it a perfect summit pack. At only 30 dollars, it's a great bargain. This is my climbing pack of choice when I am going into an area carrying a larger pack, and need a second summit pack for the actual climbing. It works as a stuff sack for my sleeping bag on the hike to camp, then becomes a summit pack for the climb. A new, slightly revised version of this pack is available from Mountain Equipment Co-op in Canada.
Osprey Aether (1 pound, 11.5 ounces)
(Note that this pack is no longer available.)
This is a terrific small climbing pack. It weighs less than 2 pounds and holds 2000 cubic inches (32 liters). It has a frame made of a foam pad. The pad is not long enough to lie on, but it is long and thick enough to make a decent sit pad. The pack comes in several back lengths, which makes sizing and fitting it easy. It is made of a lightweight ripstop fabric. It has dual ice-axe loops, and a zig-zag compression strap system that allows uniform compression of the pack and makes attaching things to the pack very easy. It has a top lid with a pocket accessed by a zipper located on the underside.
It has lightly padded shoulder straps and a medium-width webbing hip belt with some padded "wings" on the sides. Thanks to these "wings", when carefully packed, the Aether hip-loads quite well, and allows you to take some weight off of your shoulders. The streamlined cut and efficient compression strap system make this pack stick to your back with minimal shifting. This pack is light, comfortable, and carries well.
It is my pack of choice for alpine ice and snow climbs that can be completed in a day.
Black Diamond/Ultimate Direction Gear Rack/Hydration Pack (1 pound, 15.4 ounces)
This is a strange pack which I sort of invented myself. It is a cross between a Black Diamond Zodiac gear sling and an Ultimate Direction "Nimbus" hydration pack. This pack was born of the desire to stay hydrated on long, multi-pitch crag routes up at Lumpy Ridge and Eldorado in the Summer. At first, I brought along a bike bottle, but then began taking a hydration pack. After a while, I found that the hydration pack tended to interfere with my gear slings, and I began working on ways of combining the two. I ended up replacing the neck/shoulder harness of my Ultimate Direction hydration pack with a Black Diamond Zodiac gear sling. This was relatively easy, as the Ultimate Direction shoulder harness was attached to the pack body by a fastex buckle, and I only had to get the proper fastex hardware sewn on to the Zodiac sling. Now, the Zodiac acts as both a gear sling and the shoulder harness support for the hydration pack. The Zodiac is designed for carrying massive big wall racks, so it is more than adequate to support the weight of a hydration bladder along with a normal crag rack. I use the Mountain Tools speed slings in place of the slings which come with the Zodiac, as I prefer the three separate plastic loops to the single plastic sling on the Zodiac. The three loops help me to keep my gear more organized on the sling.
The thing that makes this system great for climbing is the sliding shoulder straps on the Ultimate Direction pack. The bottom of the right shoulder strap connects to the bottom of the left shoulder strap at the base of the pack behind the lumbar pad, so that the two are really one continuous strap. The result is that when you reach up with your left arm and you raise your left shoulder and dip you right shoulder, the connected shoulder straps adjust for this, lengthening your left shoulder strap and tightening the right strap. This allows you to keep the shoulder straps snug for stability, but you still have excellent range of motion with your arms.


The main body of the pack sits right above waist level, just above a climbing harness, and the waist belt fastens above the harness in the front. The pack is large enough to carry a hydration bladder, a wind shirt, a guidebook, a couple of energy bars, and a pair of 5.10 guide tennie shoes for the descent.
This is a great pack for multi pitch routes where you want to take along water and a few other essential items. It was easy to cobble together. It cost me about $15 to get the fastex hardware sewn on, and that was it (other than the cost of the Zodiac sling and the hydration pack).