Alpiniste Gen II (2nd Generation)
3 pounds, 12.4 ounces (with zippered access)
This is the pack that really put Karrimor on the map. The second generation design utilized the input of Dougal Haston. (The first generation was a Don Whillans collaboration.) This purple Alpiniste was (and still is) THE classic alpine climbing pack. It's a pack that is stripped down to the essentials.
The soft frame consists of a padded back, and a folded evazote pad in a sleeve. The waistbelt is small and lightly padded. It has twin ice axe loops, and 4 leather patches with nylon straps for attaching gear to the outside of the pack.
The pack has a long extension sleeve for bivis and for over-stuffing the pack. The top lid is fixed (not free floating) but there is room under it to cram a rope or other stuff. There is a single compartment in the main pack, and two zippered pockets on the lid. On some models, the main compartment could be accessed by means of a zipper that ran most of the length of the pack. This allowed access to the pack's contents without having to unpack everything.
That's it. Nothing extra. Nothing fancy.
It's light enough that it won't weigh you down. It's comfortable enough that you can carry big winter loads. It's durable enough that you won't be able to wear it out. It's agile enough to climb difficult routes with.
Overall, it's a terrific alpine pack, and it's easy to see why the purple Alpiniste became an icon of mountaineering gear.
Karrimor Alpiniste 60 Gen IIa (Upgraded Second Generation)
3 pounds, 6.4 ounces
In the early 1980's, Karrimor upgraded their successful Alpinist backpack line. The pack retained its lightly padded, chevron stitched back pad, but a foam and aluminum "Fformat" frame replaced the folded evazote foam pad of the original. The improved version also added simple load control straps connecting the shoulder straps to the pack frame for additional stability when the pack is fully loaded. The waist belt became a bit wider and thicker for additional load carrying comfort.
Other changes included plastic quick release buckles and plastic attachment points (instead of the metal buckles and leather patches on the original.)
The biggest change was the adoption of the heavier, more durable KS100e fabric, which added to durability and water resistance. The iconic purple color was carried forward, and the pack was still instantly recognizable as a Karrimor Alpiniste. Happily, even with the change to the heavier fabric, the weight of the pack was kept down. The move from metal to plastic buckles and hardware likely helped with this weight savings, and the improved pack weighed about the same as the original.
Karrimor Alpiniste (Third Generation)
4 pounds, 6.1 ounces
In the mid 1980's Karrimor decided to create a successor to the purple Haston Alpiniste. They changed the color from purple to pink; added a fuzzy soft fabric to the back for more comfort, along with a thermoformed contoured back. They provided a thicker and beefier Fformat framesheet, and wider, more contoured shoulder straps. Oddly enough, they got rid of the shoulder load control straps.
The result was a pack that performed more or less the same as the original purple version, but weighed about a pound more. The 3rd generation Alpiniste was still a good pack, however, and I used and abused mine up and down mountains, on trails, ski descents, and backpacking trips without cause for complaint. I think that there are more miles and vertical feet on this pack than any other I've ever owned.
Karrimor Condor 75
4 pounds, 13.6 ounces
Karrimor Condor 60-80
The Condor is a more backpacking oriented pack, and it's defining feature is its adjustable frame, which can be fitted to people of varying back lengths.
Like all Karrimor packs of this era, it is simple, effective, and insanely durable. For many years, this was my only backpacking pack, and I used it for backpacking, general mountaineering, and ski touring. Its adjustable frame feature has now made it my loaner pack, and countless boy scouts have borrowed this pack for various treks and camp outs. This pack probably has been used for over 300 nights out of doors, and is still functioning as well as when it was new.
I also have a Karrimor Condor 60-80. It shares the same basic configuration as the regular Condor, but has two compression zippers that adjust the volume from 60 to 80 liters. It's relatively new (to me) as I bought it off of Ebay. So far, however, it is working as well as my other Karrimors, and is becoming a favorite of my kids for their backpacking trips.
Karrimor Hot Ice
2 pounds, 0.7 ounces
This is a basic crag pack. Nothing really special about it. Just a simple, durable pack for hauling your gear to the local crags, or for taking with you on day climbs.
Common Features: Buckles and Fformats
One feature of these Karrimor packs that I really like are the hip belt buckles. This elegant, 2 piece design is better than any modern side release buckle I've ever seen. It's simple to fasten or release, easy to adjust, impossible to break, and can be manipulated with a mittened hand. I don't know why all packs don't use this buckle design.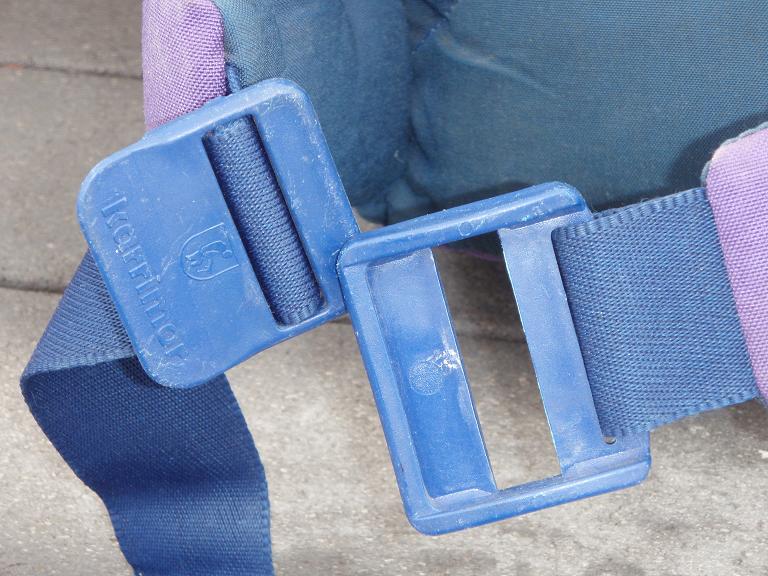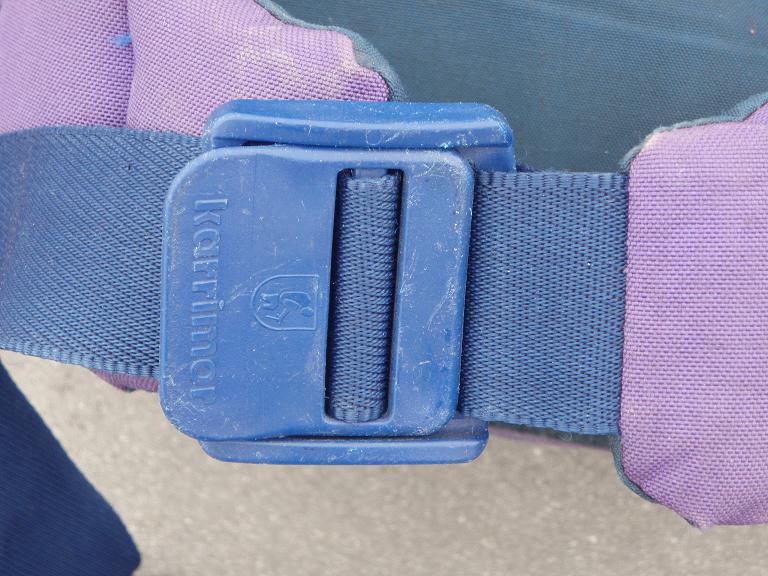 The "Fformat" is an aluminum frame encased in closed cell foam. Both Alpiniste models, as well as the Hot Ice use this hybrid frame. It can be bent to follow the curve of one's back, and can be used as a sit pad to insulate you from the cold ground.