Books
Whether you are a beginner, or very experienced, reading books is a great way to pick up information on mountaineering. I've read hundreds of books on mountaineering, from old 19th Century texts to the latest manuals. Below is a list of the books that I have found to be most helpful. If you read all of these books, you will find that they do not all agree with each other, and there are significant differences and contradictions in recommended techniques, equipment, etc. This just reflects the fact that there is often no single "correct" way of doing things. With enough experience, you'll figure out which techniques work for you.
Alpine Climbing: Techniques to Take You Higher
by Mark Houston and Kathy Cosley.
This book has a European flavor. Reading it, I recognized many of the techniques and attitudes I first encountered when climbing in the French Alps. It focuses on efficient movement in the high mountains. You can tell that the authors have spent a lot of time guiding and helping others to learn the concepts important to mountaineering. Highly recommended.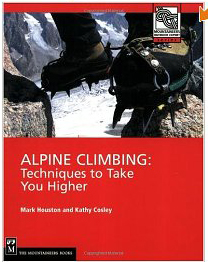 Alpine Climbing: Techniques to Take You Higher
The Mountaineering Handbook: Modern Tools and Techniques That Will Take You to the Top
by Craig Connally
This is a good book with lots of very specific advice and information. The author is not afraid to examine and question every aspect of traditional mountaineering. As a result, you'll find a number of challenges to long-held mountaineering practices and techniques. Although I don't agree with everything in the book, it contains a lot of fresh, useful ideas, and overall is a very useful and practical source of information.
Mountaineering: The Freedom of the Hills
by The Mountaineers
The strength of this book is its breadth. It covers a very broad range of topics, from the most basic techniques of how to climb rock, to complex crevasse rescue. There is a ton of information in this thick tome, and it provides a good foundation for building mountaineering skills. It is considered the standard reference for American mountaineering.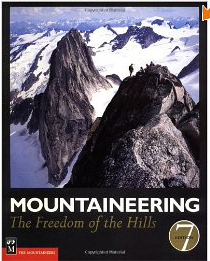 Mountaineering: The Freedom of the Hills
Ice World: Techniques and Experiences of Modern Ice Climbing
by Jeff Lowe
Jeff Lowe is a legendary climber, who pushed ice climbing standards from the 1970's all the way into the 21st Century. If illness hadn't stopped him, I have no doubt he'd still be on the cutting edge.
This book provides terrific instruction on the techniques of ice climbing, from mild to wild.
Extreme Alpinism: Climbing Light, Fast, and High
by Mark F. Twight
You might think that a book on extreme alpinism would have little relevance to the mediocre mountaineer. However, this book is crammed full of information that is very helpful to not-so-extreme alpinists. It provides very specific advice, based upon the author's long experience in the mountains. Although some of the equipment sections are becoming a bit outdated, the concepts and techniques are as applicable now as when the book was written. This book really is a must-buy. Probably the single most useful book on the subject of alpinism I've ever read.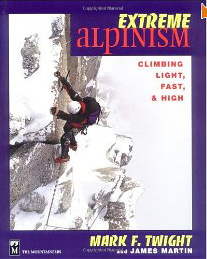 Climbing Ice
By Yvonne Chouinard
This book is old. However, it's still got lots of useful information on techniques and attitudes necessary for success in the mountains. It's both instructional and inspirational, and Yvonne's writing and photographs convey a great feel for the wonder and beauty of mountaineering and climbing.
Instructional Videos
It's useful to actually watch something being done, in addition to reading about it. So, watching instructional videos on alpinism are a very good use of time for the aspiring mountaineer. I only know of a couple of videos aimed specifically at mountaineering. (There's lots of videos out there that cover the technical aspects of climbing at the local crags.)
The best of these is Jeff Lowe's Alpine Ice. It's a very good introduction to techniques required for climbing snow and ice in the mountains. Unfortunately, it's no longer produced, and if you can find a copy, you'll need a VCR to play it, as it was never issued on DVD.
The British Mountaineering Council has produced a very good instructional video on alpine climbing. It's got a fair amount of useful information in it.
In spite of the fact that they are several hours long, neither one of these videos is able to go into the kind of depth of a book. Still, they are useful and entertaining.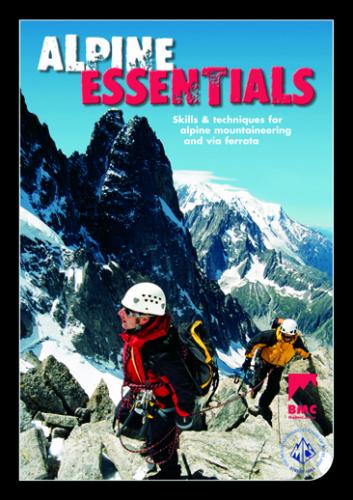 BMC Alpine Essentials DVD