This page addresses boots. Years ago, I read an article in Outside magazine about Yvonne Chouinard. There was a picture of him, surrounded by about 70 pairs of various types of sports shoes and boots. I don't have quite that many, but my closet is overflowing with lots of different boots for lots of different uses.
It is a well worn cliché that the most important thing about a boot is its fit. This is particularly true with boots you are going to climb in, or hike mile after mile in.
In general, most folks have a "La Sportiva" foot or a "Scarpa" foot. (La Sportiva and Scarpa are the two most prevalent boot manufacturers.) Sportiva boots tend to fit narrower, lower volume feet better. Scarpa boots tend to favor wider, higher volume feet. My feet are Scarpa feet. I fit well into just about every Scarpa boot I've ever tried on. However, I can't get a very comfortable fit in most Sportivas. Scarpa and Sportiva have similar footwear lines, and there are comparable boots for just about every model in Scarpa's and Sportiva's respective lines.
During the buying process, do everything you can to make sure that your boots fit well. Bring your own socks with you when you go boot shopping, so that they will fit with the socks you will actually wear. It's also a good idea to try them on with aftermarket insoles if you plan on replacing the stock insole. Walk up and down an incline. Spend at least a half hour in the boots. If the store has a climbing wall, use the boots to boulder back and forth on the wall to check how they climb on rock.
After you buy the boots, wear them around the house on your carpet for a couple of days to confirm the fit. Walk up and down your stairs, make sure you don't have cramped toes, heel lift, or a pinched instep. I like to wear them on my stair stepper. This is a good way of checking fit while walking uphill for long distances without actually wearing out the boots.
You can improve the fit of most boots with aftermarket insoles such as those sold by Superfeet. Premium insoles can improve fit, reduce fatigue, and improve sensitivity and climbing performance.
I have used Superfeet, FootFit, and Comform'able brand insoles, and have had success with all of them. I don't always use the same brand because some brands are thicker than others, and the thickness distribution (toe to heel) and shape varies from brand to brand. Just because Superfeet insoles work in one pair of boots, doesn't mean that they will be the best fit in another pair of boots, particularly if the boots are made on different lasts by different companies. A thicker insole (like the SOLE Ed Vistiers model) are a good choice if you need to take up a little volume. Try different types of insoles with your boots, and compare the fit. If the boot has a low volume instep, and you have a high instep, then you need an insole that is relatively thin. Some insoles have accentuated heel cups, which make them good for boots that you are going to use for front-pointing with crampons.
Over the years, I've bought way too many boots.
If my house burned down, and I had to replace all of my footwear, I'd buy three pair of mountaineering boots: A lightweight boot for general mountaineering, an all-purpose alpine boot, and a double boot for cold conditions. Add to this list a pair of lightweight approach shoes/trail runners with sticky rubber soles, and I've got all the bases covered.
The all-purpose Alpine Boot:
I will start with the all-purpose alpine boot, because this is perhaps the most versatile boot style there is. If I could only own a single pair of mountaineering boots, these would be the ones. These boots have stiff, rigid soles and deep toe and heel welts so they will accept all forms of crampons. The uppers are somewhat stiff, so your ankles are supported during long bouts of front-pointing on steep ice, but they are flexible enough that you can bend your ankles side to side for French (flat-foot) technique on lower angle ice. They are insulated for protection from all but the worst cold.
The La Sportiva Nepal Evo Gtx and Scarpa Mont Blanc are two good examples of the all-around boot. The Nepal Evo Gtx may well be the most popular mountain boot ever. The Scarpa Mont Blanc is a very similar boot. Both of these boots are made with burly leather, and will last a long time. Similar boots are available from other manufacturers. (i.e. Lowa Silberhorn)
The La Sportiva Batura and Scarpa Phantom Guide represent a slightly different take on the all-purpose alpine boot paradigm. Instead of insulated leather, they utilize an insulated, lightweight synthetic boot, with an integrated gaiter. These boots have similar characteristics to an all-around leather boot, but tend to be slightly lighter, slightly warmer, and they also absorb less water. However, the down side is that they are less durable than the heavy-duty leather boots.
Another variation on the all-purpose alpine boot theme is the synthetic fabric alpine boot. These boots share the stiff sole and insulated uppers of their leather cousins such as the Nepal Evo Gtx and Scarpa Mont Blanc, but the leather uppers are replaced with a lighter weight reinforced fabric. The use of fabric instead of leather tends to reduce the weight of the boots. Furthermore, after long use in wet conditions, leather boots can absorb water and wet-out. Fabric boots absorb less water, and also tend to be more breathable than leather. On the down side, I've found that fabric boots don't break in as well as a leather boot, and never quite achieve the same fit as a well broken in leather boot. Examples of these fabric all-purpose alpine boots are the Sportiva Trango Prime, Scarpa Freney Xt Gtx, Aku Spider Kevlar Gtx, and the extremely lightweight Mammut Mamook.
The Lightweight general mountaineering boot
These boots differ from the all around alpine boot in that they have less rigid soles, and are not designed for crampons with step-in bindings. Crampons with strap bindings work well with these boots. They tend to be lighter than the all around alpine boots. (Scarpa Charmoz is 3 pounds, 8 oz per pair in a size 44.5)
These general mountaineering boots have softer, more flexible uppers, and are more comfortable to hike in, and better on lower angle snow and ice. You can front point in them, but because they have softer, less supportive uppers, and more flexible soles, long front pointing sessions will be much more fatiguing than with a stiffer, rigid-soled all-around alpine boot. On the plus side, because of the more flexible sole, these boots are a bit more versatile when climbing rock, allowing better "smearing" and a bit more sensitivity than boots with a fully rigid sole. These boots are best for lower angle snow and ice routes, and routes with a substantial amount of pure rock climbing. The Sportiva Trango S Evo Gtx, and the Scarpa Charmoz are good examples of this sort of boot.
The Double Boot
These are boots for cold conditions. I wear double boots when I'm expecting temperatures consistently below zero degrees Fahrenheit. Often called "plastic boots" double boots were traditionally heavy, clunky, and rather clumsy. However, the newest double boots tend to be much lighter and climb much better than their historical predecessors. A double boot has an outer shell and an insulated inner boot. My advice is to get one that has an inner boot made of foam that can be heat-molded to fit the shape of your foot. If you buy the boots on-line, go to a good ski shop and they probably have the equipment and expertise necessary to heat mold the liners, as the process is similar same for ski boot liners and double climbing boots. The good news is that there is a wider range of foot shapes that will fit any given boot with a heat-molded liner. (I normally can't fit into a Sportiva boot, but with heat molding, the Sportiva Spantik fits my foot reasonably well.)
Scarpa Phantom 6000 Double Boot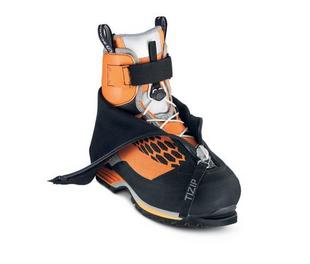 Currently available double boots fit into three general categories: traditional plastic boots with a liner (Scarpa Omega, Asolo AFS 8000); synthetic shelled boots with a liner (Sportiva Spantik and Baruntse) and expedition style double boots with integrated gaiters (Scarpa Phantom 6000, Lowa Expedition 6000)
With the exception of the Scarpa Omega, I feel that the traditional plastic boot is obsolete. They are heavier and less nimble than their competitors in the double boot category. The exception to this is the Omega, which is extremely light and has exceptional climbing performance for a plastic boot. It is supportive for front pointing, and has very good lateral flexibility for French technique. It isn't quite as warm as some of the other choices, but is warm enough for all but extremely cold conditions.
The synthetic shelled boots are light and extremely warm. I've worn my Spantiks in temperatures of 10 below zero (Fahrenheit) all day long and my toes were warm and toasty. Although they look boxy and bulbous, they are surprisingly sensitive, and climb steep terrain very well. Lateral ankle flexibility is just ok, however, so they are not as good on lower angle snow and ice. I have not used the new crop of lightweight "expedition style" double boots such as the new Scarpa Phantom 6000. My guess is that they will be a good option for a high-performance double boot.
Scarpa Phantom Guide
81.2 (5 pounds, 1.2 oz with custom orthotic insole) (4 pounds, 14 ounces with stock insoles)
These boots are an insulated single boot with an integrated gaiter. So far, I've used them ice climbing, and on several alpine routes. Hiking comfort is terrific. They feel light and agile for trails and boulder/talus hopping. The boots are very water proof. Puddles and wet snow do not penetrate the gaiter. However, if your feet get damp from sweating in the boots all day long, the insulation takes a while to dry out. For multi-day trips, a vbl sock would be a good idea. The gaiter on the boot is short, and I've found that it works best when used in conjunction with a separate gaiter or a gaiter that's integrated into the pants.
Climbing performance is good. They have excellent flexibility for French technique. The lacing system is very adjustable, and when cranked down tight, the boots fit very snug on my foot, with little or no heel lift when front pointing. The lacing system has a number of options to lock down the lacing at different parts of the boot, using a combination of cord-lock buckles and locker eyelets.
They provide adequate ankle support for front pointing, but aren't as stiff in the ankle as a traditional double boot, or even some of the stiffer single boots I've used. This makes them great for technical terrain, but your calves will get tired more quickly than when wearing a stiffer boot. They are quite sensitive on rock, with a sole that is quite compact and trim. They have a rubber rand for security and protection when jamming in cracks.
I haven't yet worn these boots in really cold conditions, so I haven't established a lower limit for them as of yet. Given their insulation and integrated gaiter, I expect that they will be at least as warm as any other single boots.
Overall, I'm very happy with these boots so far. They're my new go-to boot for alpine climbing and ice climbing.
La Sportiva Spantiks
97.7 ounces (6 pounds, 1.7 oz)
I have not used these boots enough to really form a definitive opinion on them These boots are for really cold weather, and I haven't had that many climbing days when the weather was cold enough to really test them to their limits. I haven't climbed any big mountain routes in them either. However, I have used them for a a few seasons of ice and mixed climbing with occasional outings in sub-zero temperatures, and my feet stayed warm. For climbing performance, they seem almost as sensitive as the Scarpa Alphas, and they are terrific for front pointing as their stiffness helps support my calves, taking some of the strain off of my muscles. Lateral ankle flexibility is only so-so.
With their heat formable liner, fit is pretty good, with a reasonably close but comfortable fit. They have an agressive heel pocket that keeps your foot locked down while climbing better than most double boots, but not quite as good as a well-fitting single boot. There is no discernable "slop" at all between the inner and outer boot. The one-handed lacing system is easy to use with gloves on, but I have a hard time with cranking the boots down really tight when needed. I've also managed to break the lace on both of my boots. It's a pain to re-thread this lace. Luckily, both times I broke laces, it was in a comfortable spot, getting ready for a day-outing of water ice climbing. I'd hate to have to try to replace these laces on an alpine face.
I found that my size in the Spantiks is about a half size (Euro sizing) larger than in my Scarpa boots. (Spantik size 45 compared with Scarpa size 44.5)
One quirk of the Spantiks, is that they do not work well with aftermarket insoles with arch support. The outer shell boot has a contoured footbed that already has a pretty significant arch support built in. My experience has been that adding another insole with arch support (like Superfeet) makes the boots rather uncomfortable. Instead, I use a relatively flat insulated insole, and I find that I have plenty of arch support.
Based upon my initial impressions, I'm looking forward to using these boots a lot more. I think they would be ideal for a long, cold winter alpine north faces, something like the Shroud on the Grande Jorasses, or Robson's North Face. I just need to get out and use them more.