Link to the 1986 Ramer Backcountry Ski Catalog

My Backcountry Ski Page

My backcountry ski gear has changed substantially in the past couple of seasons. I've changed over to new boots, new skis, and new bindings for most of my backcountry skiing.

First off, the skis:

Dynafit Manaslu (187 cm)

For all-around, lightweight touring, I bought a pair of Dynafit Manaslus (187cm length.)  These were the replacements for my Goode skis that failed on me.   I've been touring on these (with Dynafit bindings) for the past several seasons.   Overall, I've been pretty impressed by their light weight and versatility.  They can hold an edge on hard snow, and they do well in soft snow too.  They feel very responsive underfoot, and turn initiation is very quick and easy.   My only complaint about how they handle is that they get bounced around a bit in thick, choppy, gloppy snow, which isn't surprising I guess considering their lack of mass.  I'm not a "hard charging" backcountry skier, but for my relatively conservative backcountry skiing style, these are great skis for long tours.

The Manaslus are pretty light weight.  With bindings, they weigh about 8 pounds, 11 ounces for the pair.  Dynafit makes skins specifically tailored to these skis.  These skins are also light weight (about 20 ounces) and grip well, but I've had the attachment hardware break on two different skins.   Dynafit/Salewa replaced the broken skins under warranty, and hopefully they've got this issue figured out by now.

My only real concern about these skis is their durability.  They seem a bit fragile.  I skied over a rock with them on an early season tour, and it bent the edge and kind of caved in the sidewall.  Honestly, I really didn't hit the rock all that hard, and didn't expect this sort of damage from a relatively small impact.  Given their light weight construction, I guess that I can't really expect them to hold up to abuse.

Base damage on my Manaslus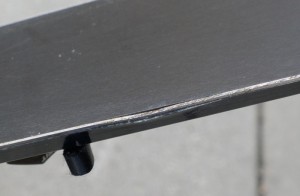 Overall, however, I'm pretty happy with these skis.  They are a versatile, lightweight option for long tours in variable snow conditions.
DPS Wailer 112 RP (Pure Carbon Construction, 190 cm)
I bought my first pair of 112RPs for resort and side country use.   I wanted a ski that would be good for resort powder days, where I was skiing fresh powder in the mornings and tracked out snow in the afternoons.  My other powder-oriented skis, the DPS Lotus 138s, are great in powder, but not so good on hard snow, so when I used them in-bounds, I tended to want to change out my skis by the end of the day.  Invariably, just as I changed out of my Lotus skis, the resort would drop the rope and open up some closed area with acres of untracked powder goodness.    I wanted a powder ski that I could ski on all day at the resort.
The DPS Wailer 112 RP pretty much fulfills that need.  It's a fantastic powder ski, and its rocker, large surface area, and broad shovel tip are a lot of fun in the deep stuff.   However, its traditional sidecut geometry and reasonable width make it turnable on harder snow as well.   I've read reviews of the 112 RP where its hard snow performance is likened to that of a GS ski.  I think that the folks who write these reviews either haven't skied a GS ski, or they are just getting carried away with their enthusiasm.  The 112RP is decent on hard snow.  On hard snow, it's nowhere near as good as my Volkl Mantras, much less a GS ski.  However, that said, the 112RP has enough hard snow performance that I can be comfortable and have fun on hard snow, while searching out the soft powder stashes for which the 112RP is designed for.  The 112RP also crushes through crud and heavy chop.
Originally, I intended to ski my 112RPs primarily at the resort, with occasional "slackcountry" use.   I mounted them with the new Marker  FT12 bindings, which are pretty much a lighter weight version of the Marker Duke.  As expected, this combo was great for the resort and sidecountry excursions, but I also found myself taking them touring as well.  After a while, I realized that in almost all situations, I preferred skiing on my 112RPs in the backcountry.  I live in Utah, and most of my touring  is on soft snow, with the occasional crust, wind scoured ice, or beaten-out trail.  The 112RPs are sublime in soft snow, with enough versatility to handle the nasty stuff too.  The rocker and broad tip make breaking trail easier as well.  So, even though I had a dedicated backcountry touring rig (my Manaslus with Dynafit bindings), I ended up most of the time on my heavier 112RPs when I headed into the backcountry.  I'd heard about breakage issues with the Marker FT12 bindings, but I never experienced any problems with them.  I think that the breakages were mostly due to people falling forward when in touring mode, which never really happened to me that I can remember.   I never really had any bad issues with my bindings, either in touring or downhill modes.
Eventually, I realized that the 112RP is probably my ideal touring ski, and I decided to get another pair of 112RPs dedicated for backcountry use. I bought another pair of 112RP's and mounted them with the new La Sportiva RT bindings.  Combined with my Dynafit TLT 5 Performance boots (reviewed below) this really seems to me to be the ultimate backcountry rig for Utah (and Colorado too, for that matter.)   Weight of the carbon fiber 112RP skis with the RT bindings is 9 pounds, 9 ounces for the pair.  That's really light, especially for a fat powder ski, and they're great on the uphill and for long tours.  They have held up well to the normal abuse I put on my equipment, and have slid over rocks and logs etc. with no damage.
The Sportiva RT bindings are pretty minimalistic.  They function pretty much like a Dynafit binding.  They have an adjustable toe release, but the adjustable toe release only comes into play when the binding is locked down in touring mode.   Changing levels of heel lift with a ski pole is not easy, and is much more difficult than with a Dynafit binding.  There is a little plastic post attached to the heel piece, with an opening that you can insert your pole tip into, but I've found that the plastic post tends to just rotate by itself when you crank on it, without rotating the heel.   It's not a huge issue, as I can usually just bend down and twist the heel piece.    One thing I have noticed about the RT binding is that the heel piece doesn't seem as prone to rotating on its own as the heel piece on my Dynafit bindings.  Often, (particularly when traversing steep slopes) the Dynafit heel will self-rotate from touring mode into locked downhill orientation.  This has not yet occurred with the RT binding, which is great.
Retention with the RT bindings has been good.  They have not pre-released, and there is no discernible slop or wiggle when touring or skiing downhill.
2 pair of 112RP, My Wife's touring Rig, and Dynafit Manaslus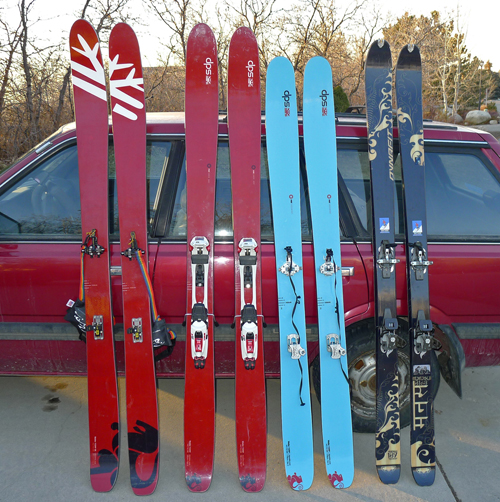 Boots:
Dynafit Titan Boots
I got the Titans as a replacement for my Garmon Axons.  The Axons were pretty good boots, but I never seemed to be able to get a completely satisfactory fit with the Axons.  For whatever reason, the Axon last just didn't fit my foot all that well.  The Titans seemed like a good boot for downhill oriented touring, slackcountry days, etc.
Overall, I've been mostly pleased with the performance of the Titans.  I like the downhill performance of the Titans better than my Axons.  They fit my feet really well, with a very close but comfortable fit that really locks in my foot position.  I've been using the Titans as my primary downhill resort boot, coupled with my DPS 112RP's with the Marker bindings.  The Titans are good enough that I haven't really missed my heavy resort boots at all.  They aren't race boots, but they're plenty stiff to power my  112RPs.  They're comfortable enough that I can ski in them all day long.
The touring mode of the Titans is a bit of a disappointment.  They have pretty decent articulation and have plenty of flexibility for touring.  However, when I tour with the buckles loosened, the tongue piece catches on the cuff.  This means that every stride, the plastic hangs up for a moment, providing resistance, then it pops loose.  I've not met anyone else who has had this issue with Titans, and I wonder if it's an issue with how they fit my lower legs (I have really thick calves.)  I have found that if I keep the buckles a little bit tighter that it doesn't catch, but this restricts the flexibility somewhat.  I mostly use the Titans for resort and slackcountry anyway, and so it's not too big of an issue, but it is somewhat of a limiting factor for touring in these boots.
Dynafit TLT 5 Performance Boots
These boots are light.  They weigh 5 pounds, 11 ounces for the pair.  That's about the weight of a typical alpine climbing boot.   They have crazy articulation for touring as well, and touring comfort in them is great. The liner is kind of thin, but so far, I've not had cold toes, even in temperatures down in the single digits. Downhill performance is surprisingly good.  They are very stiff, and the addition of the optional stiffener tongue makes them even stiffer.  I have no problem driving my 190cm DPS Wailer 112RP skis with these boots.
One issue that they do have, however, is that they only work with tech bindings.  They don't have the toe or heel blocks to be compatible with DIN bindings.  Also, they are a lot shorter in length than other boots, so tech bindings that are mounted to fit the TLT 5's are unlikely to have enough adjustment range to fit other boots.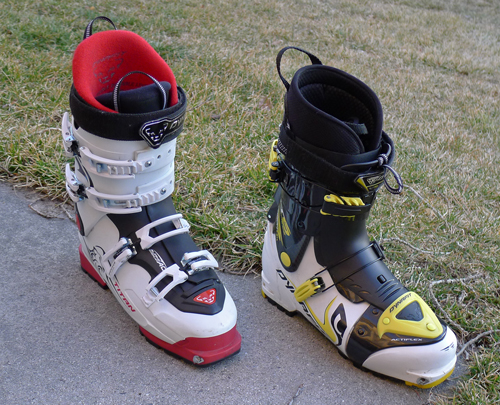 Gecko Ski Skins
I was looking for some lightweight skins to put on my 112RP backcountry rig, and I came across the Gecko climbing skins (LINK HERE)  These skins don't use glue.  The skin base is self-adhesive.  I was intrigued by the concept and bought them.  They seem to work pretty well so far.   They have traction for climbing that is comparable to other skins I've used, and they seem to stick well to the bottoms of my skis.  They are easy to fold up, and they don't stick to themselves like glue skins.  Weight is good, about 5 ounces less than my G3 skins I was using.  Overall, I like them.  Only time will tell how durable they are.
Ski Gear Weights
Garmont "Axon" boots 150.8 oz/pair (9 punds 6.8 oz)
Garmont "Mega Ride" boots 119.4 ounces/pair (7 pounds, 7.4 oz)
Scarpa "Laser" boots 131.6 ounces/pair (8 pounds, 3.6 oz)
Garmont GSM sl boots w/Intuition liner 108 ounces/pair (6 pounds, 12 oz)
Dynafit Titan boots 147.2 ounces/pair (9 pounds, 3.2 oz)
Dalbello Virus Lite boots 125.8 ounces/pair (7 pounds, 13.8 oz)
Dynafit TLT5 Performance boots 91.4 ounces/pair (5 pounds, 11.4 oz) (Includes removable tongues which are 4.6 oz/pair)
Mammut Snow Shovel 22.2
Ortovox Grizzly snow shovel 21.4
Ortovox Snow Shovel 32.9
Voille Snow Shovel 25.1
Snowclaw 6.7
New Snowclaw 6.4
Marker duke ski crampons 8.5
ABS Vario 30 Pack (stock) 125.5 (7 lbs. 13.5 oz.)
ABS Vario 30 Pack with airbag system and avalung 136.8 (8 lbs. 8.8 oz)
Snowpulse ProRider 28L Pack 100 (6 lbs 4 oz)
Snowpulse Lifebag 45L Pack 111.8 (6 lbs, 15.8 oz)
Volkl Mantra skis (184cm) with Marker Duke Bindings 211.3 oz/pair (13 pounds, 3.3 oz)
Salomon Pocket Rocket skis (185cm) w/ Diamer Bindings 212 ounces/pair (13 pounds, 4 oz)
DPS Lotus 138 Skis (202cm) w/Dynafit bindings 174.9 oz/pair (10 pounds, 14.8 oz)
Ramer Grand Tour skis (195cm) with Salewa bindings 163 ounces/pair (10 pounds, 3 oz)
BD "Arc Ascent skis (185cm) w/ Dynafit Bindings 122 ounces/pair (7 pounds, 10 oz)
Goode BC95 skis (182cm) with Dynafit Bindings 118.6 ounces/pair (7 pounds, 6.6 oz)
Goode BC95 skis (no bindings) 88.6 ounces/pair (5 pounds, 8.6 oz)
Hagan Tour Extreme skis (130cm) with ULM bindings 110.2 oz/pair (6 pounds, 14.2 oz)
Hagan Tour Extreme skis (130cm) with Silvretta 500 bindings 130.6 oz/pr (8 pounds, 2.6 oz)
Hagan Nanook skis with Hagan bindings 105.8 ounces/pair (6 pounds, 9.8 oz)
Dynafit Manaslu skis (187cm) with Dynafit bindings 139.4 oz/pair (8 pounds, 11.4 oz)
Dynafit Manaslu skis (178cm) no bindings 102.4 oz/pair (6 pounds, 4 oz)
With Dynafit bindings 125 oz/pair (7 pounds, 13oz)
DPS Wailer 112RP Skis (190cm Carbon Pure, no bindings) 127 oz/pair (7 pounds, 15 oz)
with Marker F12 Bindings 196.8 oz/pair (12 lbs, 4.8 oz)
with Sportiva RT Tech bindings and powder cords 153 oz/pair (9 lbs, 9 oz)
Hagan Skins 11.9 ounces
Ramer Skins 17.4 ounces
G3 skins for Goodes 25.5 ounces
Ascension skins for BD Arc Ascents 18.5 ounces
G3 skins for Lotus 32.2 ounces
Gecko skins for DPS Wailer 112RP 22.5 ounces
G3 Guide skins for DPS Wailer 112RP 27.7 ounces
Dynafit skins for 187 Manaslus 20.2 ounces
Tracker Avalanche beacon with batteries 10.8
Ski Quiver
DPS Lotus 138 Skis (202cm, flex 2)
The Lotus is a wacky looking ski. It looks like it was conceived on purpose to flout all of the conventional wisdom in modern ski design. For starters, it's crazy long. In an era when skis are getting shorter and shorter, a 202 centimeter ski is pretty weird. Then, it has reverse camber and reverse sidecut, with a raised tip and tail, and a waist that is the fattest point of the ski. When you look at the ski, you think that it must have been designed by a stoned waterskier, as it looks a lot more like a waterski than a snow ski.
I have to say that I'm pretty impressed with these skis so far. First off, they don't weigh as much as I thought that they would. Total weight of the pair including the Dynafit bindings is 10 lbs, 14.8 ounces. That's less than my other dedicated powder rig, a pair of 185cm Pocket Rockets mounted with Fritschi Diamers that weighs in at 13 pounds, 4 ounces. This is likely due to the fact that DPS uses a fair amount of carbon fiber in the ski's construction. It's not a completely carbon fiber ski like the Goode, but you can definitely tell that DPS has used enough carbon fiber to take a lot of weight out of the ski.
So, they aren't all that porky, which is good, because the kind of snow that these skis are made for is more likely to be found in the backcountry than at a resort.
I've skied my DPS's for a couple of seasons now, both in the backcountry and at the resort, in fresh thigh deep powder, heavy chopped up snow, and icy hardpack.
How did they ski? Well, it's very condition dependent. In soft snow, they are amazing. "Effortless" is the best way to describe their performance on soft snow. I kind of felt like I was floating instead of skiing. Steep, long lines are a lot of fun, and I find that these skis really bring my soft snow technique up a notch. On hard snow, however, they aren't all that fun. They don't carve well, and tend to skid a lot, even when you put a lot of edge pressure on them in turns.
I find that while I really like these skis for skiing fresh soft backcountry snow, I tend to get frustrated skiing them at the resort. On a good resort day after a big dump, they are typically a lot of fun in the morning before everything gets tracked out. After the powder gets skied down, however, they become a lot less fun. I've started taking a second set of skis with me (usually my Volkl Mantras) on resort powder days and switch out half way through the day, when the big powder lines are gone.
The really interesting thing about the Lotuses is how easy they are to turn. Given their length, I figured that they would be great at long, fast, sweeping turns (which they are,) but I expected that they would be unwieldy in short turns. I need not have worried. They are remarkably agile, and tree skiing is not a problem. I wouldn't say that they are as turnable as my Pocket Rockets, but they are definitely a maneuverable ski, which is pretty remarkable given their 202cm length. The bottom line with the Lotus 138s is that they have the straight line, big turn, high speed fun of my old AK launchers, but are also able to handle tighter turns as well. That's quite a combination, and I guess is means that all this reverse camber reverse sidecut stuff really does work.

My biggest complaint is that the skis lack a tail notch for skins. When I use these skis, 9 out of 10 times I am in the backcountry. The design of these skis seems ideal for backcountry use. So why no tail notch? I've already dug into the top sheet at the tail with my skin attachment hook. I wish the designers had thought to put in a tail notch.

My only regret about buying the Lotus is that I wish I had done is sooner. They really increase the fun level in deep powder a lot.
Volkl Mantra Skis (184cm)
The Mantras are the ski equivalent of a heavily modified Jeep or a Humvee. These skis will handle difficult conditions better than anything else I've ever been on. They have terrific bite on ice and hardpack, and the edges simply carve with very little slop or jitters. They are very solid and stable at any speed, and will blow through heavy crud and chop, and other funky snow without any problems whatsoever. They are fat enough to be fun in powder too.
I've got my Mantras mounted with Marker Dukes, and use them as my in bounds resort ski as well as in the backcountry. On the Mantras, I can have fun skiing manky snow that would have me cursing if I were skiing on my other skis. This set up is a bit on the heavy side, but really provides a confidence boost when things get steep and hairball.
The Mantra's excellent edgehold and predictable performance in nasty snow have made it my ski of choice when I'm skiing something that is pushing my personal limits. If I'm intimidated by the descent, I will often find myself hauling the extra weight of the Mantras (and Dukes) on my feet during the ascent. Sometimes, weight takes a second priority, and it's all about the down.
Goode BC 95 Skis (182cm)
These skis are really really light. They weigh only 5 pounds, 8.6 ounces for the pair (without bindings.) They are light because they are constructed entirely of carbon fiber. Unlike other ultralight alpine touring skis, the Goodes are full size midfats with a 95mm waist, which gives them with plenty of flotation in soft snow.
These skis ski reasonably well, and their light weight makes them ridiculously easy for uphill touring. They do fall short, however, in thick, chopped up snow, where their lack of weight causes them to get tossed around a bit more at speed than a heavier ski.
Another quirk of the Goodes is that they tend to collect snow and ice on the top of the ski. I don't know if this is due to the black color (which absorbs heat) or because they don't have a typical shiny smooth top sheet, but for whatever reason, I find myself banging and scraping snow off of the tops of the skis way more than any others I use.
The light weight construction of the Goode's failed me, however. On a trip along the Teton Crest, the toe-piece of my Dynafit bindings pulled right out of the ski, tearing through the carbon fiber and leaving big, loose holes. I had to rig up a make-shift fix with straps to keep the binding in place and get back to civilization.
The construction of the ski is quite thin and there is no reinforced plate in the mounting area to keep the screws in place. Although the light weight might make the Goode seem like a decent backcountry ski, I no longer trust that it will be durable to take into the backcountry, where failure can leave you stranded. Since the failure, I've heard from a number of other skiers who have had durability issues with Goode skis.
Goode's customer service department never even responded to my complaint about ski failure, which was also a big disappointment.
Salomon Pocket Rocket (185 cm)
The Pocket Rockets are "fast twitch" powder skis. They provide good flotation with the ability to turn on a dime. For skiing closely spaced trees in deep powder, I've not used anything that is as agile as the Pocket Rockets. Skiing tight turns on the Pocket Rockets in soft snow is like bouncing on a mini-trampoline. You can change direction radically with each bounce with minimal effort.
On the downside, they are not super stable at high speeds, and are chattery and difficult on hardpack. Although I like the Pocket Rockets, I can't see myself skiing them all that much now that I've used the DPS Lotus. I'm keeping them, however. They'll make good loaner skis for deep snow days with a friend who needs a good powder ski.
Black Diamond Arc Ascent (185cm)
This is a ski that is focused on the uphill and touring part of the backcountry experience. The key feature of this ski is its light weight. Mounted with Dynafit TLT bindings, a pair weighs only 7 pounds, 10 ounces. The Arc Ascents have decent downhill performance. The skis are capable, but nothing really special.
Before I bought my Goodes, the Arc Ascent was my go-to ski for long tours with lots of vertical gain. However, the Goodes are lighter, and ski better in just about every context, so the Arc Ascents are now loaners. They actually make pretty good loaner skis, as they are quite forgiving, (if somewhat bland.)
Ramer Grand Tour (195cm)
These were the first alpine touring skis I ever owned. They were manufactured for Ramer by the long defunct Hexal ski company. For the early 1980's they were state of the art. At about 7 pounds for the pair, they were significantly lighter in weight than anything else on the market. For many years, these were my only skis, and they served me well on many miles and vertical feet of backcountry skiing. Even now, I use these skis when I'm touring in mountaineering boots. Their light weight makes them a good ski for backcountry travel, even if there are better options now for downhill.
Hagen Tour Extreme (130cm)
These are single purpose approach skis. They are not made for downhill performance. They are a replacement for snow shoes for approaches to climbs and are really more climbing/mountaineering tools than recreational sks. Their short length makes them more easily carried with you (strapped to your pack) while climbing. I seldom use these skis, but have on occasion been glad to have them. They are primarily used for situations where you are climbing up and over a mountain and descending by a different route, so there is no opportunity to stash your skis at the base of the climb. For this purpose, their short length and light weight are key features, because they interfere with climbing less than longer, heavier skis. When mounted with the lightweight (non-release) ULM binding, these are the lightest skis I own, at 6 pounds, 14.2 ounces for the pair.