Columbia Ice Fields, Alberta, Canada
Mount Athabasca
North Face: October 1, 2001

It was a little over a year since I had first attempted to climb Athabasca's North Face. On my previous attempt, we had turned back after a couple of pitches due to threatening weather and poor conditions. For this attempt, I was teamed up with a new partner. Not really new, actually, as I had first climbed with him some twelve years earlier. We just hadn't done any climbing together for a long time. After our near-disastrous climb on the Middle Teton Glacier, Brian and I had sort of lost track of each other. I often wondered what he was up to, but didn't really know how to get in touch. Then, late last Summer, I saw a post on an internet climber's bulletin board that I suspected might be from him. I sent him an inquiring e-mail, and sure enough, it turned out to be my long-lost climbing buddy. I had a desire to head back to the Columbia Ice Fields to give Athabasca's North Face another shot, and it seemed like a good objective for the two of us. Brian agreed, and we picked a mid-September date and began planning, training, and dreaming. The terrorist attacks on September 11 just about derailed our plans. We ended up moving our trip two weeks, to the end of September, when air travel was returning to normal.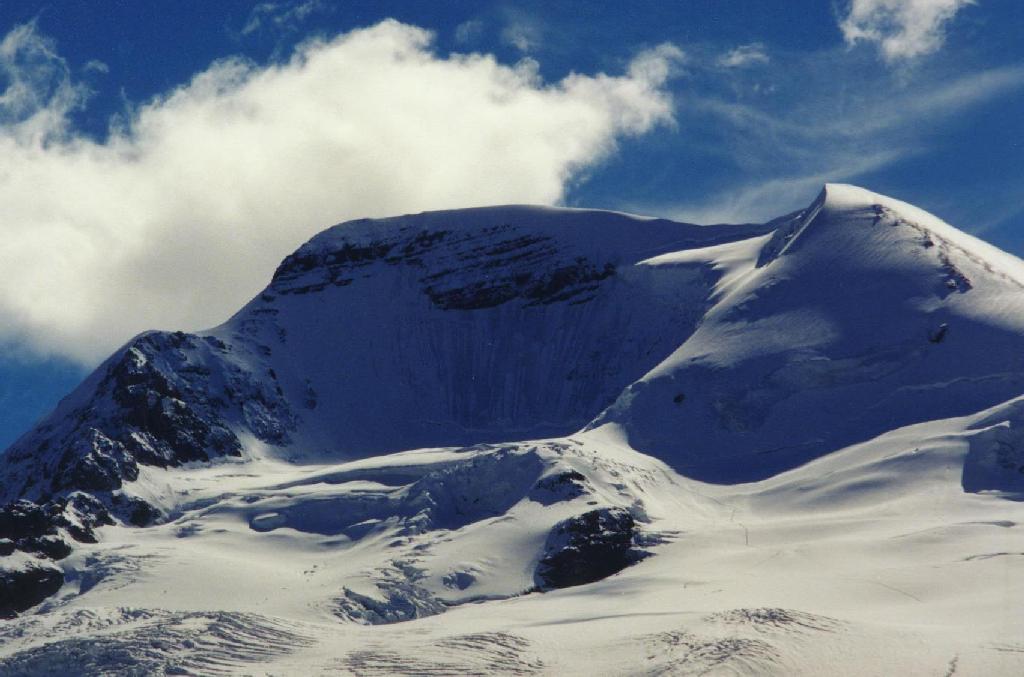 Athabasca North Face from the Icefields Center (Click on picture for larger versions.)
We arrived at the Columbia Icefields center Friday night, and spent Saturday relaxing, as the weather was supposed to clear on Sunday. Checking the log at the ranger station, it appeared that nobody had climbed the North face route in about a week and a half. The rangers told us that there was a fair amount on new snow fall in the past week, that might make the route a bit more difficult than usual. We were up early Sunday morning, and were on the approach trail by 2:15 a.m. The night was clear and cold, and the hiking went quickly until we reached the snow. On the glacier, there was a fair amount of new snow to contend with, and we found ourselves slogging and post-holing through ever deeper snow. We tried to keep to the more wind-blown areas where the snow was not so deep, but most of the time we were hiking through snow that ranged from calf-deep to waist deep.
Near the base of the route. (Click on picture for larger version.)
Our progress was painfully slow and strenuous, and it took us forever to wallow through the snow to the base of the route. We had planned on beginning the climbing before dawn and getting established on the face before sunrise, but with the slow arduous approach, it was 10:30 by the time we crossed the bergshrund and began the actual climbing. We had been going for eight strenuous hours, and we hadn't even done any real climbing yet, just lots of wallowing. We had a short discussion at the base of the route, wondering whether we should go on or turn back, but it seemed like we had come so far, that it would be a shame to turn back now. We figured we would be able to cruise the face in good time, simul-climbing to stretch out the pitches.
Brian approaching the bergshrund. (Click on picture for larger version.)
Conditions on the face were a strange mixture of cool-whip snow plastered over brittle ice. Sometimes the snow would support your weight, sometimes it would break loose. Both crampons and ice tools felt pretty insecure. Getting good sticks with crampons or axe in the ice involved a fair amount of whacking/kicking to get past the cool-whip layer and down to the ice beneath. To add to the fun, there was a lot of spin-drift coming down the face due to wind whipping over the top of the mountain, so we were glad of our goggles. We simulclimbed the first three pitches, but as the face got steeper, we no longer felt that the conditions allowed for the security necessary for moving together. We began "pitching"it, although to save time, we tried not to place more than two or three screws on any pitch. Placing protection and establishing belays was quite strenuous and involved a lot of excavation to get down to solid ice. The ice was quite brittle, and tended to shatter into large dinner plates that would come pin-wheeling down the face like ninja throwing stars aimed at the belayer below. Both Brian and I got pegged with several good sized ice chunks in this manner.
On the North Face. (Click on picture for larger version.)
The face gets gradually steeper and steeper as you get higher, but the upper steep sections were actually easier to climb, as there was less of a snow layer over the ice to contend with. Without the dreaded cool-whip, the steeper sections actually felt more secure and went faster than the lower angle pitches below. The crux of the route came near the top, where the route jogged right up through a rock band. It was my turn to lead, and I spent some extra time putting in a couple of solid ice screws below the rock section. The climbing was mixed, with some very thin ice and hooking on rock features that seemed somewhat insecure. I was encouraged immensely by a couple of fixed pitons, which provided the only viable protection for that section. After a bit of hesitation, I went for it, scrabbling up the narrow slot. I kept moving, and after a few hooking moves, the ice became thick enough to get some good sticks with my picks. It was with a great deal of relief that I set up a somewhat precarious belay and brought Brian up. It was only two more pitches to the top. I pulled the summit pitch, and ran it out in one long, unprotected push, fighting my way up through rotten sugar snow plastered over ice. It was 7:45 in the evening by the time that Brian joined me on the summit.
Brian near the top of the route, just below the mixed crux pitch. (Click on picture for larger version.)
We quickly traversed along the West ridgeline to the Silverhorn. After a bit of confusion regarding the descent route, we located the obvious downward path off the Silverhorn summit and began our trudge back down the mountain. It was now night, but the full moon was beginning to rise. Even more of a treat, I got to see the Northern Lights for the first time in my life. They took the form of delicate streamers of white light, falling from the sky like a huge, noiseless fireworks display seen from a distance. Descending from the mountain's shoulder, we initially missed the descent gully, and spent an hour or so backtracking here and there, searching for the correct route down. Once back on track, the descent was a seemingly unending journey down trails, gullies, glaciers and scree slopes. We were pretty wasted by now, and if it weren't for the need to phone home to let our wives know we were ok, we probably would have simply laid down on the glacier and fallen asleep. After what seemed like forever, we finally reached the snow-coach road, and soon thereafter our car. It was such an amazing luxury to be able to sit and not have to walk anymore. We reached the car at 1:45 a.m., twenty three and a half hours after we had started, and we had been pushing almost non-stop that entire time. The bad news was that we had to be up at five o-clock in the morning in order to get back to Calgary to catch our plane home. We were exhausted but happy, and I had satiated my alpine climbing need for quite a while, at least until I lost the soreness in my legs and got feeling back in my little toes again.

Click here to see a list of gear and equipment used on this route.





BACK TO THE CLIMBING/BACKPACKING MAIN PAGE