Down or synthetic fill?  This question has probably occupied the minds of climbers at least as much as any other gear question.  Like the debate regarding Ginger and Maryanne, there is no definitive answer.  I have both synthetic and down filled sleeping bags

.  

Here's how I choose:  If I'm only out for a single night, I choose down.  It's lighter and more compressible.  For multi-day climbing trips in spring through fall in snowy conditions and/or wet climates, I often choose synthetic, for its ability to dry out my clothing inside my bag.  If I need a bag rated colder than 20 degrees, I choose down, because synthetic bags start to become too big and bulky at temperature

 

ranges under about 20 degrees.   Also, at colder temperatures, getting your bag wet becomes less likely, as is getting your clothing soaked, so down's vulnerability to water is less of an issue and you're less likely to need to dry out soaked clothing in your bag overnight.    
I size my bags big.  I can't stand slim-cut sleeping bags.  First of all, I like to be able to wear all of my clothing inside the bag at night while I sleep.  This allows me to push the temperature rating of the bag significantly lower than it's nominal rating.  I've found, as a rule of thumb, that I can lower the nominal rating by about 15 degrees by wearing insulated clothing inside.  Secondly, I find that if a bag is too tight, I don't get a good night's sleep
because I find it too constricting to be comfortable.  Thirdly, I'm a big, thick guy, and I need a bit more space.  For all these reasons, I favor wider cut bags with a bit more girth.    If you're a skinny person, you may find my choices in sleeping bags to be a bit too roomy for your needs.  
Here are the bags I use for climbing trips

.
Montbell Alpine Burrow synthetic bag  (30 Degrees)  32oz. (2 lbs.)  This is a good, lightweight synthetic bag.  It's temperature rating is a little bit optimistic, and I need to be wearing something a little heavier than mid weight long johns to be comfortable at 30 degrees.  When wearing a puffy jacket and other insulation, I've used this bag in temperatures in the low teens, but wasn't exactly toasty at those temperatures. Montbell's proprietary stretch construction allows the bag to be comfortable, and yet eliminates big air gaps inside the bag.  It's a system that works well.    
Integral Designs Renaissance synthetic bag (20 Degrees) 47.5 oz  (2 lbs, 15.5 oz)  This is a good bag for colder spring and fall conditions.  Integral Designs makes their bags in both standard and "broad" models.  (Kind of like the "husky" jeans they sell for fat kids.)  I got a broad model to accommodate my "husky" frame and to allow for wearing extra layers.  The slimmer-cut standard model shaves a few ounces.  This is the warmest synthetic bag that I use any more when I need to carry my bag on my back for any significant length of time.   If I need a bag that's warmer than this one, I go with a down bag.    
Marmot Valhalla -20 degree synthetic bag with dryloft cover  73.3 oz (4 lbs, 9.3 oz)  This bag is extremely warm, but it is so heavy and bulky, that I seldom use it any more.  I suppose it would make a good base camp sleeping bag in Alaska or anywhere you don't have to carry the bag very far.  I've used it for car camping and a few times on climbing/skiing trips for really cold nights in the Colorado Rockies, and found it to be very warm and comfortable.  However, these days, for really cold conditions, I almost always just take my down filled Lithium or Shocking Blue bags, which are fine for sub-zero temperatures if I layer on clothing inside the bag.   
Renaissance 20 degree on left, Valhalla minus 20 degree on right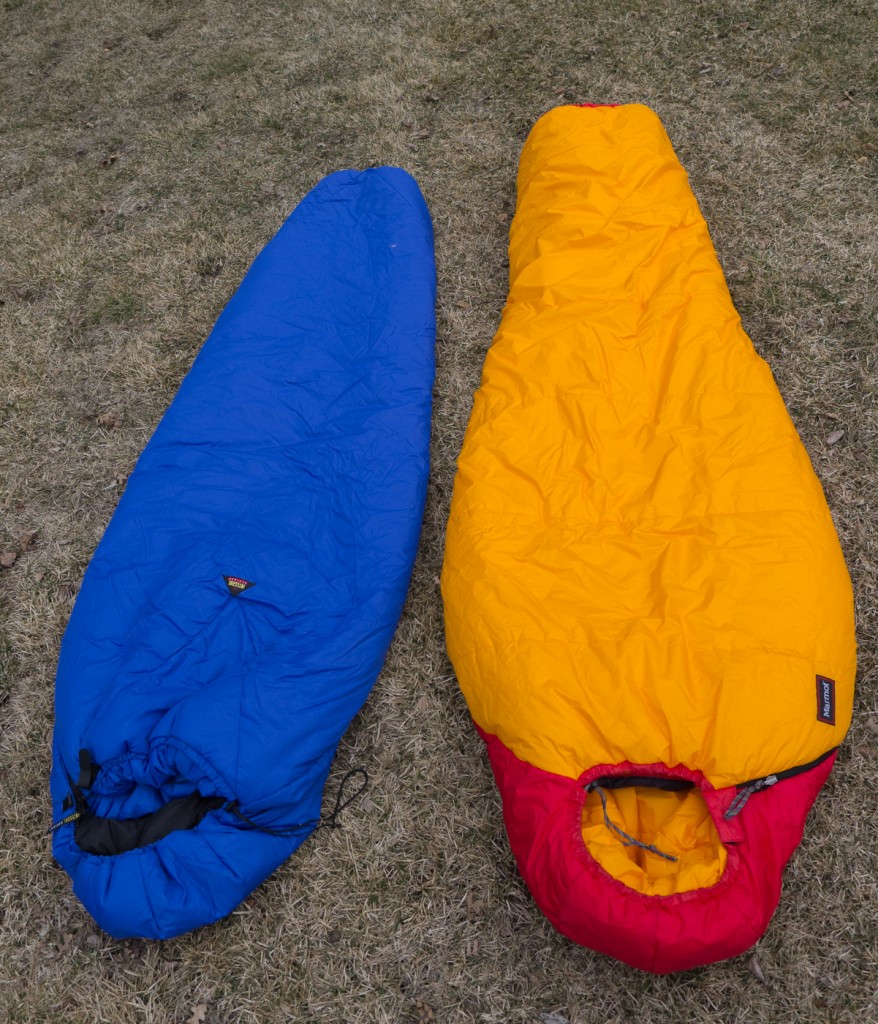 Montbell synthetic Alpine Burrow on Left, Marmot hydrogen on Right. Both are rated to 30 degrees, but the Marmot is quite a bit warmer.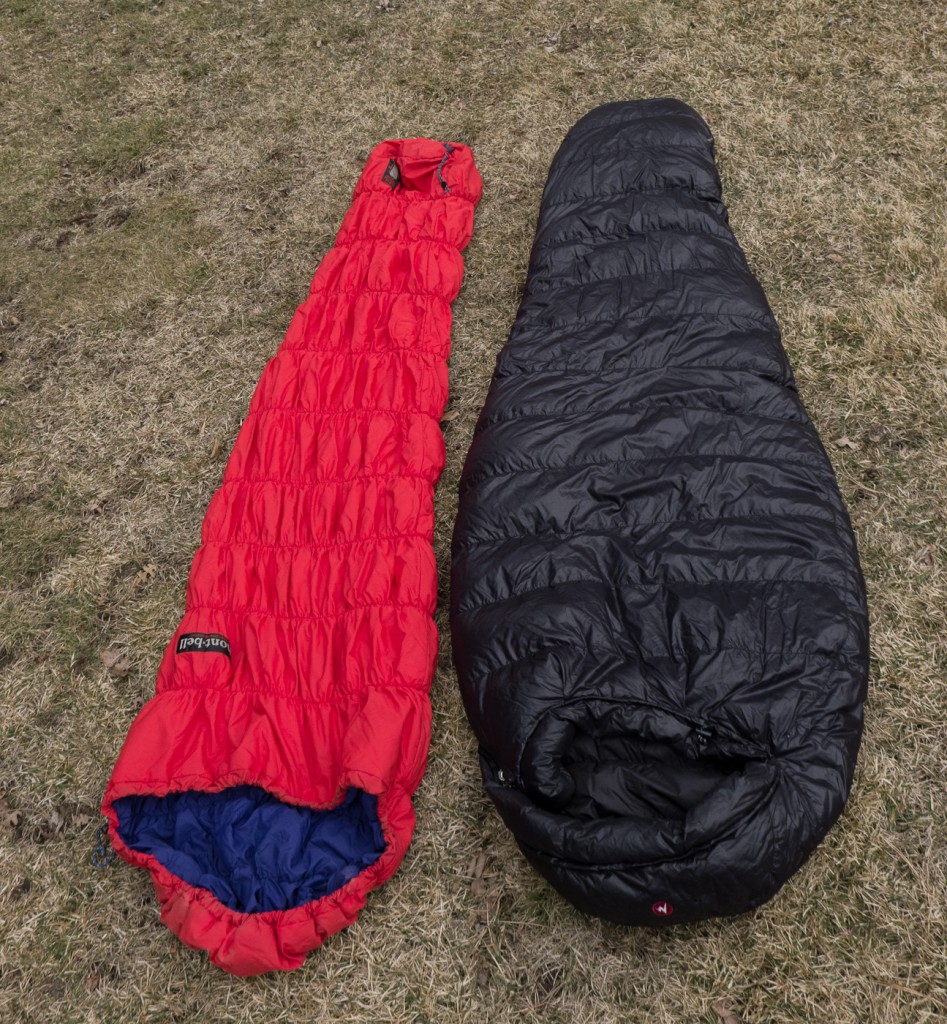 Marmot Hydrogen 30 degree down bag  21.6 oz (1 lb., 5.6 oz)  
Marmot Helium 15 degreee down bag  32.5 (2 lbs, 0.5 oz)
Marmot Lithium 0 degree down bag 41.9  (2 lbs, 9.9oz)  
 I bought all three of these Marmot down bags the first year they were made.  At the time, they were special order, limited production bags, with 900 fill power down,
and 1/3 length zippers to save weight.  
These are terrific down bags.  They are light, warm,
and the cut is roomy enough that I can comfortably layer on insulated clothing inside.  The shell material is somewhat water resistant.  The warmth ratings on these bags are very conservative.  At their rated temperatures, I can sleep in them with just some lightweight long johns.  With additional clothing worn, I can push the comfort range down significantly lower.  
Marmot's current models of these bags have 850 fill power down and full length zippers.  Some of them also now have shell fabrics with much better water resistance.  (Marmot's "MemBrain" fabric)   They also weigh a bit more than my original versions.
Valandre Shocking Blue (top) and Marmot Lithium (bottom)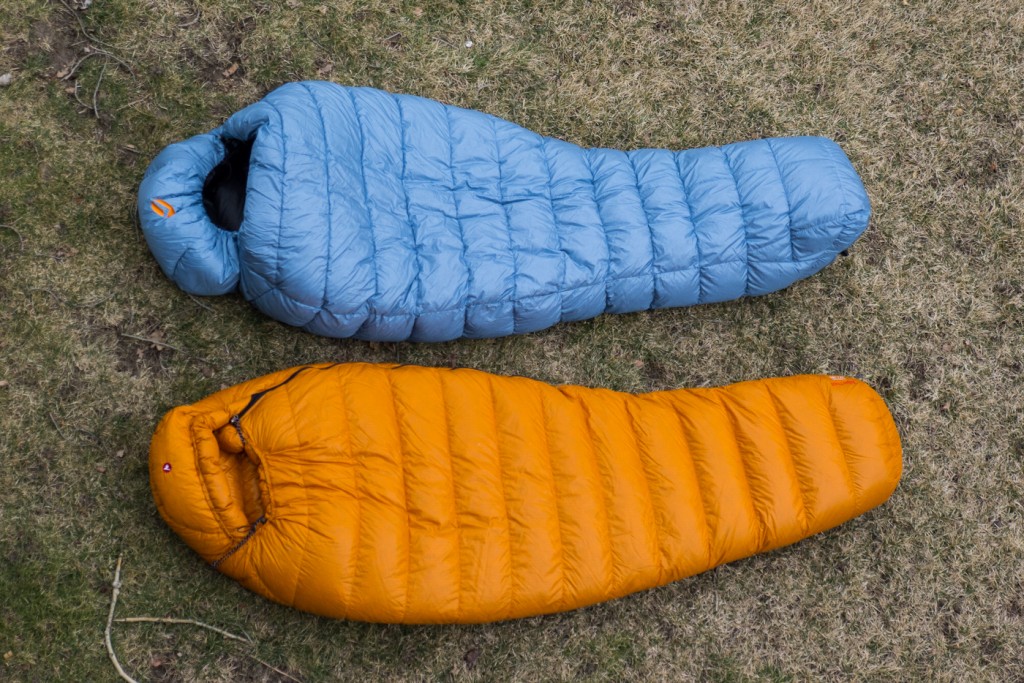 Valandre Shocking Blue 0 degree down bag  48.2 (3 lbs, 0.2 oz)
Valandre rates this bag at a -15 degree rating.  I would say that this is a little bit optimistic.  Wearing only lightweight long johns, I am comfortable in this bag down to around zero degrees.
However, the Valandre Shocking Blue has some features that make it very adaptable to extremely cold temperatures.   First off, the Shocking Blue is cut very large through the torso.  Not only does this provide sleeping comfort, but it allows you to wear a really big puffy jacket inside the bag.  By "big puffy jacket" I mean something seriously warm, like the Patagonia DAS parka, the Arcteryx Dually parka, or other similar super warm jackets.  Wearing your big puffy inside the Shocking Blue makes the system good for temperatures down to double digit sub-zero cold.
Likewise, the footbox of the Shocking Blue is oversized.  It will easily accommodate your double boot liners, water bottle, and other stuff you need to keep warm during the night, and it's comfortable and warm for your feet as well.
The draft collar, (dubbed the "Marie Antoinette Collar" due to its guillotine-like security,) works well to seal out drafts, but is somewhat complicated and fiddly.  It can take a while to get it properly fastened and adjusted.  Once adjusted, it is comfortable and effective.
When you look at the fill pattern of the Shocking Blue, it is apparent that the bag was designed to be used while wearing a puffy jacket.  The loft is greater from the hips down to the feet, with the footbox particularly over-stuffed.  The loft in the broad torso section is slightly less lofty.  For a climber who is wearing a big puffy jacket, this loft distribution is perfect because your legs and feet are going to need more insulation than your torso.
This bag is somewhat specialized.  It's cut and features are really targeted at cold weather climbers who are going to use this bag in conjunction with their insulated clothing, as part of an integrated system for very cold conditions.   If you don't plan to wear a big puffy jacket inside of this bag, then a different bag is probably a better option.  The extra girth and features of this bag make it heavier and bulkier than other bags with similar amounts of down fill.
However, for truly cold conditions, I have found that the Shocking Blue, in conjunction with my cold weather clothing, is a great 3-pound solution for sleeping comfortably in temperatures down to 15 below zero or lower.
A good comparison of the Shocking Blue and Lithium foot sections. The large size of the Shocking Blue's contoured foot box is readily apparent.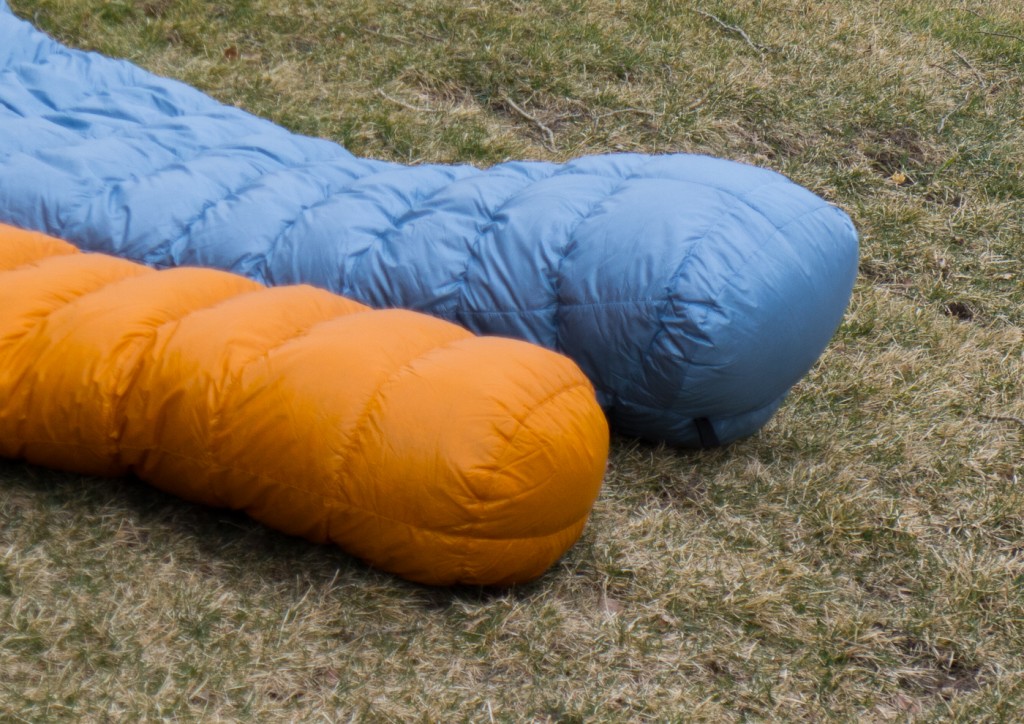 Valandre Lafayette
15 degree down bag 35.2 (2 lbs, 3.2 oz)
The Valandre Lafayette has a bunch of unique design features.  It's billed as a high-tech, light weight expedition bag.   It may work well for some folks, but I have to say that I'm not particularly happy with this bag for my uses.
First of all, the Lafayette has a single, 1/3 length zipper that is on top and in the middle of the bag.  I am a fan of short zippers on sleeping bags, especially bags designed for colder temperatures.  Short zippers save weight and bulk compared with a full length zipper.
I also am ok with the concept of a zipper on the top of the bag rather than the side of the bag as is the norm.
However, the implementation of the zipper in the Lafayette seems rather ineffective and non-functional to me.  First of all, instead of a draft tube protecting the zipper, the Lafayette uses a velcro closure inside the bag that runs the length of the zipper.  Pulling the velcro tight and fastening it pulls the inside of the bag together, sealing out drafts.  This is kind of a pain in the butt to do, and no matter how carefully I try to fasten the opposing velcro strips, I always end up with scratchy velcro sections not covered by other sections.  Also, the velcro has the tendency to come undone during the night as I toss and turn, leading to drafts.
I've seen other sleeping bags with the top-center zip configuration solve the draft tube issue with dual zippers rather than the Lafayette's zipper plus velcro solution.  I much prefer the two zipper path rather than having to futz around with velcro.
The cut on the Lafayette is kind of odd.  The bag is designed for sleeping on your side, and there is a fair amount of extra space on the front side of the bag to accommodate your arms in front of you when lying on your side.  I am a side sleeper, so you'd think that would be a good thing.   However, the width of the bag is kind of narrow, and I find the bag to be a bit cramped for my large, thick frame, in spite of the design that provides for additional arm space up front.  Skinny people would probably be more comfortable in this bag than I am.  I think that skinny people would probably also have less issues with the velcro draft tube closure pulling apart as I mentioned above.  I just don't think that this bag was cut with me in mind.  It's a  slim Greyhound bag, and I'm more of a Saint Bernard.
The collar on the Lafayette is pretty complicated.  In order to close the collar and properly adjust the collar and hood, you've got to mess with four different drawstring closures, and a bunch of velcro.  The 4 drawstring ends join together with plastic connectors to form two continuous drawstrings, one of which adjusts the collar, while the other one adjusts the hood.  However, it's hard to distinguish between them, with the result that I often join the wrong ends to each other with the result being that I end up tightening the right side of the hood combined with the left side of the collar, and visa versa.  When I'm cold and tired and it's dark, it seems like a lot of work and brainpower has to be directed at the simple task of snugging myself into this bag.
When you're all done getting snugged into the bag, you've got 4 drawstring ends and a zipper pull, all flopping about right in your face.  Combine this with the various scratchy velcro pieces that you've not quite managed to close just right, and there's a fair amount of small annoyance and petty discomfort with the Lafayette that I don't experience with my other bags.
The Lafayette has an interior locking drawcord positioned at your hips.  This allows you to unzip the bag, but keep it snugged around you hips to keep your lower body warm and draft free while performing various tasks inside the tent.  Does it work?  Yes, I guess so, but I'm not sure I really see this as a must-have feature.  I don't really have any trouble keeping my other, more conventional bags snugged around my hips when needed.
On the plus side, the Lafayette is very well constructed, and is nice and lofty and warm.
It's definitely a high-quality sleeping bag.  It's just not a very good bag for me.  To be fair, my son, who is thin and lean, doesn't have the fit issues I have with the Lafayette, and really has fewer complaints with the bag overall.  I've given the Lafayette to him, and he's used it successfully in winter conditions.  For me, however, I much prefer my simpler, more traditional Marmot Helium sleeping bag.   All of the Lafayette's "innovative" features are pretty much negatives in my eyes.
Lafayette (left) and Helium (right) Both down bags are rated to 15 degrees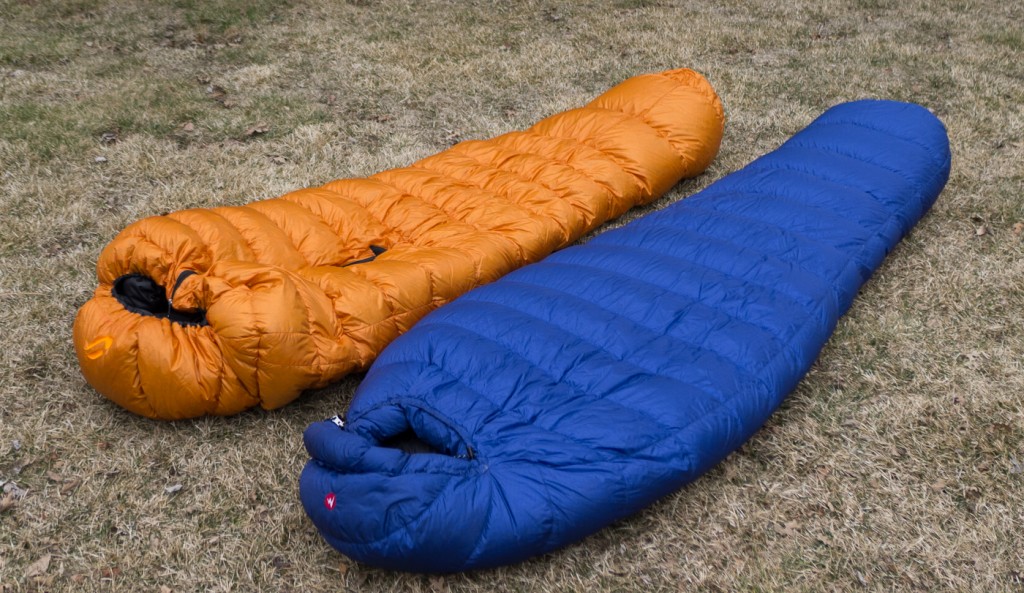 With all of these sleeping bags, I tend to use a lightweight drybag to keep the sleeping bag dry.  My favorite are the 
Granite Gear Uberlight drysacks
 They are constructed of cuben fiber fabric and weigh less than one ounce.
Click Here to return to the main Gear Page
Click Here to return to the Backcountry Page
Click here to access my blog to see my latest blog posts and website updates: