Camp Vector Nanotech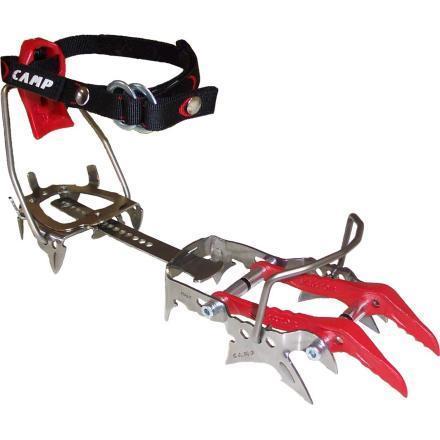 Camp Vector Nanotech Crampons
(34.2 ounces/pair with antibotts)
These are my newest crampons. The frame of these crampons is made from some sort of fancy nano steel alloy that is supposedly stronger than regular old steel. This allows them to be made lighter than other crampons without sacrificing durabilty and strength. They are very durable, and the nano steel allow is holding up under the rigors of climbing rock and ice better than any other crampons I've ever used.
These crampons are uber light, only a couple of ounces heavier than the Vasaks, and much lighter than comparable technical crampons with similar vertical front point configurations (Black Diamond Cyborgs.) They are competent on rock and ice, and the geometry of the front points and secondary points is stable and effective in both double and monopoint mode.
One complaint, however, is that the anti-balling plate supplied with the crampons pretty much sucks. First of all, it isn't really designed for an offset monopoint configuration. If you like to offset the front point rather than position it in the center, the anti-balling plate doesn't fit well. Also, it does not attach securely to the crampon. There are just a bunch of little tabs in the material that are supposed to hook into the frame of the crampons. They stay attached for a little while, but after some walking and scrambling, they fall off. The design is really poor.
Given their light weight and technical climbing prowess, these easily could have become my favorite all around crampon for hard climbing of all types, water, mixed, and alpine. Particularly in the alpine arena, I had high expectations for these crampons because of their light weight.
However, in addition to the lousy anti-bot, they have another design feature that I find limits their use substantially. This is the configuration of the fore-foot portion of the crampons. Aft of the 4 front points, the Nanotech crampons have a very narrow profile, which puts the points well inside the edges of your boot. While it might work for some folks, I personally find this design to be less secure than a wider stance on the secondary points when using French (flat foot) technique.
Vector (top) and Sabretooth (bottom)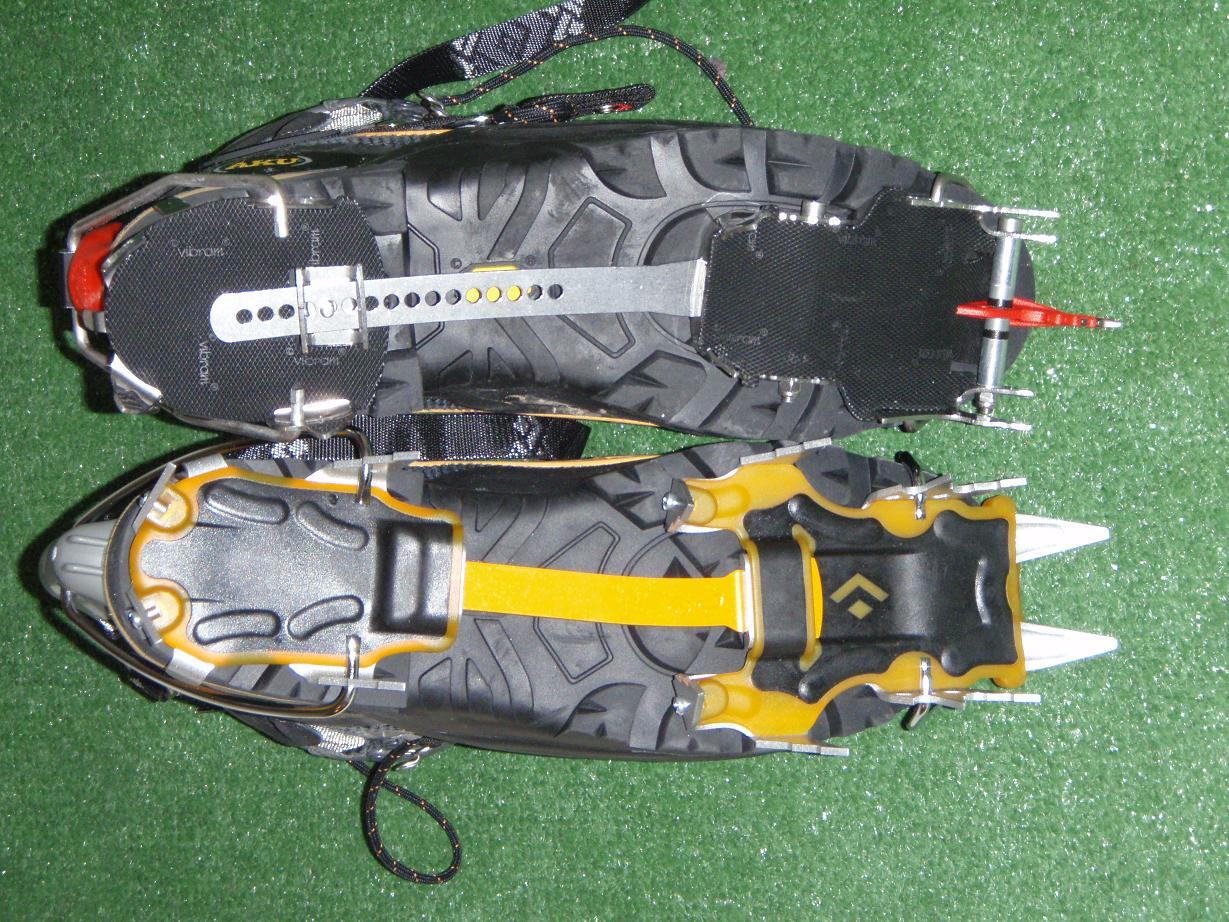 The Vector's secondary points are much more narrowly spaced than those of the Sabretooth
The Nanotechs are a great idea that is somewhat poorly executed. The real benefits of reduced weight are seen in the realm of alpine climbing. If you're doing roadside ice and mixed routes, do you really care how much your crampons weigh?
I'm really bummed that they don't have as much stability for flat foot technique as they could. With wider spaced, more agressive secondary points, these would be the ultimate crampon for hard alpine routes, given their light weight.
However, even though I have misgivings about their function for French technique, I do like them a lot for backcountry water ice routes. Their light weight helps to lighten my load on the approach to the climb, and they work at least as well on water ice climbs as any other crampons I've used.
As a side note, the Nanotechs come with a very nicely designed lightweight crampon bag, with a pocket to hold necessities like a wrench and piece of a file.
Black Diamond Sabretooth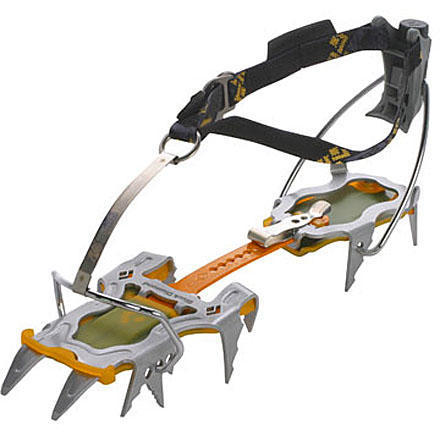 Black Diamond Sabretooth Crampons
(43 ounces/pair with antibotts)
The Sabretooths have got to be the most versatile crampons on Earth. They are good at just about everything. You can climb snow, hard water ice, low angle, vertical, and everything in between. Crazy mixed roofs where you need something with heel spurs may be out of their league (and out of my league too,) but for just about any sort of alpine climbing, the Sabretooths rock.
In addition to working very well on vertical, they are also very good descending, traversing, and climbing lower angle stuff.
The toe bale on the Sabretooths will fit any boot I've ever tried them on, unlike the toe bales on most other crampons I've used, which seem not to fit about half the boots I own, and need to be bent a bit to clamp securely.
I just bought my second pair of Sabretooths, having worn the points on my first pair down to nubs from repeated use and abuse and sharpening.
For hard alpine climbs, the Sabretooths are my go-to crampons. They are solid under any circumstances.
I only wish they were a bit lighter. At 43 ounces, they are pretty heavy for an alpine crampon. I understand that the new stainless steel models are lighter. If true, then the new Sabretooths are clearly contenders for the best all-around crampon available.
Petzl Vasak with Sidelock Binding
Petzl Vasak Crampons
(30.6 ounces/pair with antibotts)
These are awesome mountaineering crampons for a number of reasons. First off, they are light weight. Their light weight makes them great for long mountain days with a lot of vertical. Secondly, I really like the sidelock binding. It's secure, and it does away with the heel lever of ordinary step in crampons, which puts pressure on your upper heel during long climbs. The downside of the sidelock binding is that it doesn't fit some boots, particularly those with a thicker than average lug sole on the heel of the boot.
The Vasaks climb moderate snow and alpine ice quite well, but their traditional horizontal front point configuration makes them not quite as efficient on hard ice as other, more technically oriented crampons.
Stubai Ultralight Universal Aluminum Crampons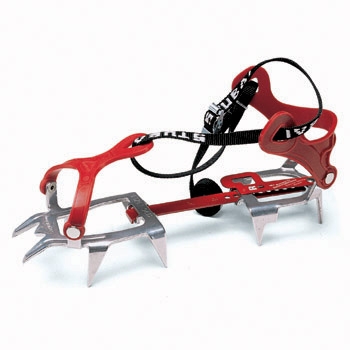 Stubai Ultralight Universal Crampons
(20.8 ounces)
For relatively low angle glacier walking, I use a pair of very light weight hinged aluminum crampons made by Stubai. These weigh very little, and have a strap on attachment system that works well with almost any kind of boots and even running shoes.
For non-technical approaches to climbs, glacier walking and the like, these are wonderful crampons. They can handle the occasional steep section, but are not good at water ice or extended front pointing. They are the perfect crampons for places like the Bugaboos in summer, where you need to cross snow and ice to get to the rock.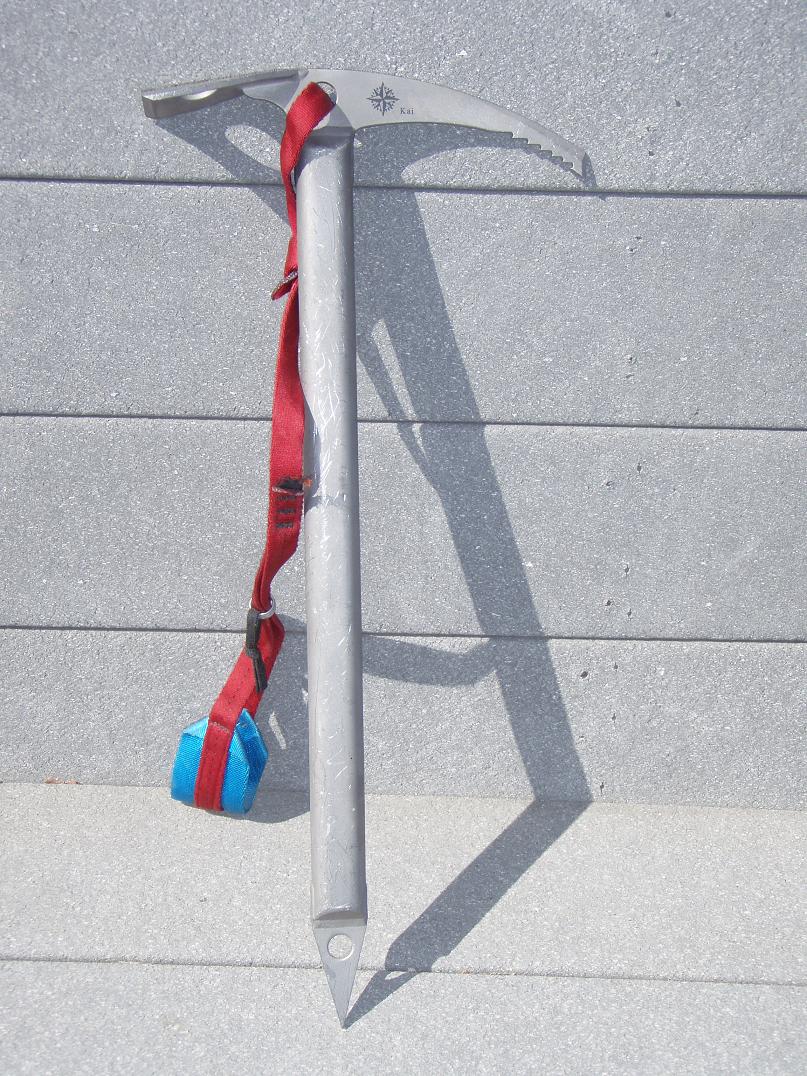 Ushba Titanium Ice Axe
(12.1 ounces, 13.9 ounces with leash)
This is a good general mountaineering axe. It weighs less than a pound, and has the strength of full titanium construction. The teeth and curve of the pick make it a decent performer on steeper terrain as well.
For easier snow and ice, where my climb only requires a single tool, then this is what I take.
Black Diamond Couloir Harness
(8.9 ounces in Size Large)
The best alpine harness I've ever seen is the Black Diamond Couloir harness. It weighs only 8.9 ounces (size large), has a full strength belay loop and a full strength haul loop on the back of the harness. It has low bulk gear loops, and slots for ice-clippers, and is easy to put on or take off without removing crampons or skis. The rear straps that hold up the leg loops can be dropped to get them out of the way when squatting to answer nature's call.
This is simply a terrific harness, absolutely perfect for alpine climbing.
This is my harness of choice for going fast and light on an alpine snow or ice route and I don't need to rack off of my harness. There are other, lighter harnesses now, but the Couloir strikes a good compromise between ultra lightweight and functionality that I find better than the super-minimalist harnesses without buckles or adjustments.
Arcteryx X-350a Harness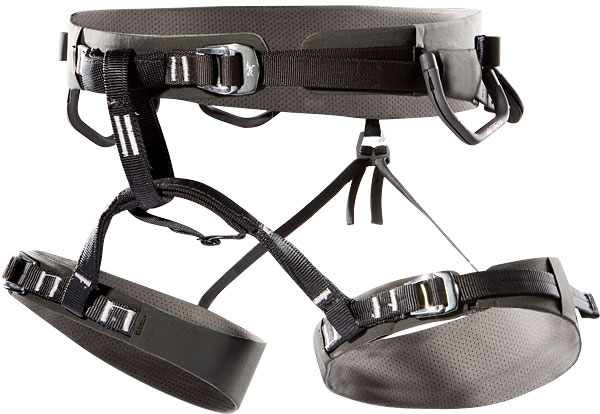 Arcteryx X-350a Harness
(14.4 ounces, size XL)
This is a terrific all around harness. It is fairly lightweight, however it is very comfortable and has every feature you might need in a harness. There are 4 removable plastic gear loops; slots for ice screw clippers, and the legs are adjustable. It's easy to get in or out of.
It's a great technical alpine or ice climbing harness when you are carrying lots and lots of gear and need to rack off of your harness. It is also great as a trad rock climbing harness.
In spite of the fact that the waist and legs are quite thin, it is as comfortable to hang in as other, more heavily padded (and heavier) harnesses I've used.
The only flaw I've found with this harness so far is that it is nearly impossible to drop the leg loops while wearing the harness. I found this out while on an alpine route, where I needed to drop the leg loops to "answer natures call." It just wasn't possible to do it. The buckle and loop combination that is used is rather poorly designed. There is a hook on the buckle that makes it very difficult to get the harness leg loops unclipped.
Luckily, Petzl uses a similar arrangement on their harnesses, but with a buckle that is much easier to remove. I replaced the Arcteryx buckle with a Petzl buckle (a replacement Petzl buckle only costs $2.50) and it works much better now.
With the drop seat feature fixed, this harness is very good. I use it for trad rock climbing, ice climbing, and technical alpine climbing where I plan to rack a lot of gear on my harness.
Original (silver) buckle, and Petzl (black) Buckle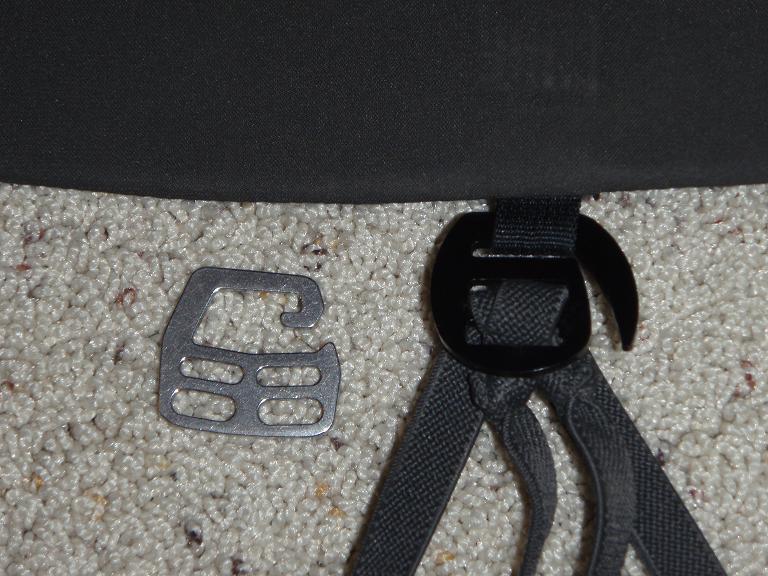 The Petzl buckle (on the harness in the picture) is much easier to remove than the Arcteryx buckle
Terrific gear that's gone forever
Here are a couple of my favorite pieces of climbing gear that are out of production:
Carbon Fiber Black Prophet Ice Tools
These are my favorite technical alpine tools ever. They are light weight (26.4 ounces including twist leash,) and even more important than total weight, the weight is perfectly balanced. The result of the light weight and balance is that these tools are pretty effortless to swing all day long. On long routes, this is a big advantage. The carbon fiber shafts dampen vibration for solid sticks, and the slight bend in the lower shaft keeps the stress on your wrists to a minimum. The shaft works well for plunging in hard snow.
They share picks with the BD Cobras, and I've got a few of the old Aermet steel picks that are several times more durable than other steel picks. (Sadly, the Aermet picks are also no longer made.) I've used these tools on many thousands of vertical feet of climbing and they have proven to be very reliable. Unless I drop one down a face and lose it, I will likely be using these tools for the rest of my climbing career.
HB Dyneema Helmet.
13 ounces. Super strong and super durable. Comfortable, adjustable. What else could you possibly want from an alpine climbing helmet? With HB out of business, I'm surprised that no other company has picked up this design. I don't know of a current substitute for this helmet. I suppose the Petzl Ecrin Roc is the closest, but the Petzl weighs a lot more than the Dynema HB. If I had to replace the HB, I'd probably get a DMM Ascent, Black Diamond Half Dome, or a Wild Country 360. They are stronger than the ultra lightweight foam helmets on the market (Petzl Meteor) and are still reasonably light weight.