Mammut All Year Alpine Underwear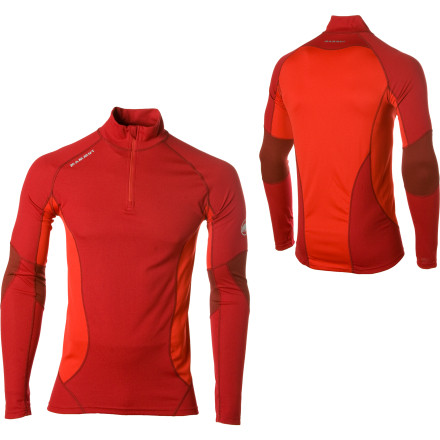 Base layers
For underlayers, there are only two viable choices, synthetics or merino wool. I've used both types. I've tried all kinds of synthetic base layers including Patagonia's Capilene and Lowe Alpine dryflo, Mountain Hardwear's Xtend, and many others. Honestly, I have not found much difference in them brand to brand. I buy synthetic baselayers now on the basis of fit. In particular, for long-john bottoms, I prefer a very close, tight fit. I find that in cold weather, a close fit is important. Close fitting bottoms keep your private parts warm, while a loose fit will lead to cold and discomfort. My favorite bottoms are made of stretchy materials, such as powerstretch, or the proprietary fabrics from Craft of Sweden. The Craft Pro-Warm bottoms in particular are some of my favorite base layer bottoms. They are close fitting but comfortable.
For very cold weather, I have a strong preference for baselayers made from Powerstretch fabric, particularly for my legs. I wear Powerstretch tights pretty much any time that I'm expecting cold conditions. I like the combination of the soft, brushed interior with the snow-shedding and layering-friendly smooth exterior. The stretch is excellent, so the clothing can be both close-fitting and very comfortable. As a final bonus, the fabric is very light. A powerstretch garment will weigh no more than a midweight base layer garment, and will be significantly warmer. For example, I have a pair of North Face midweight long underwear bottoms that weigh 7.8 ounces. This is more than my Haglof's powerstretch tights that weigh 7.6 ounces.
In the outdoor industry, wool, specifically fine gauge merino wool, has been making a big comeback lately as a base layer fabric. I own a number of merino wool base layer pieces from Icebreaker, Ibex, and Woolpower. I find that in some conditions, it is more comfortable than synthetics. Where it really shines is for activities with moderate exertion such as lift serviced skiing or easy hiking or touring. Under these conditions, it seems to contribute to better temperature regulation than synthetics. However, the down-side of wool is that it takes a long time to dry out once it gets saturated with moisture. I've found that wool initially keeps me warm and comfortable, but once it gets soaked (with sweat, or from snow, or whatever else) it becomes a lot less warm and comfortable and takes forever to dry. In addition, a wool garment is heavier than a comparable synthetic garment. I have a very comfortable pair of Woolpower tights, with warmth comparable to my powerstretch tights. The merino wool tights weigh 11.5 ounces, compared with 7.6 ounces for the powerstretch equivalent.
So, my rule of thumb is that if I am engaging in a high-exertion activity where lots of sweating is inevitable (or very likely) I will stick with synthetics. For more moderate activities, I'll go with the comfort of wool.
The Swiss company, Mammut, has come out with a new line of alpine underwear that attempts to combine the benefits of both wool and synthetics. These garments are made with a combination of both materials, with wicking microfiber on the areas of your body where you sweat the most (like your back, which is typically up against a backpack), wool on the colder, less sweaty areas (like elbows or knees) and a microfiber/wool combination fabric everywhere else. After having used the Mammut alpine underwear on several climbs, I have to say that I really like it. It does seem to be good at sweat and heat regulation, it dries fast, and the cut is terrific, close but not restrictive. It's my new favorite base layer.
The Wind Shirt
My wind shirt is my most versatile piece of clothing. I never go into the mountains without it. Several companies produce windshirts that weigh 3 to 4 ounces and stuff down to fit in the palm of your hand. I own one from Helly Hansen (their "Mars" windshirt) and two from Patagonia (the hooded "Dragonfly" pullover, and the full-zip "Houdini" jacket)
I typically wear the windshirt directly over my base layer, and layer over the windshirt with other layers as my exertion level decreases or temperatures drop dramatically.

Patagonia Houdini Jacket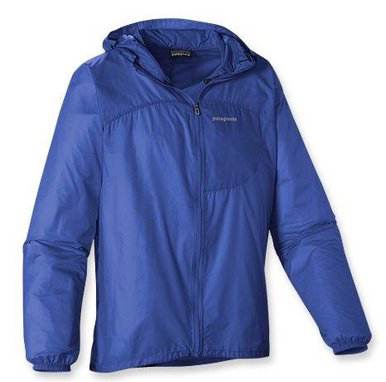 Softshell Clothing
"Softshell" is the name now used to describe clothing that is water and wind resistant but not necessarily waterproof. Most softshell fabrics are also very breathable. I have been using softshell fabric clothing since the early 1980's before the term "softshell" had even been coined. Jeff Lowe's climbing company, Latok, pioneered the use of softshell garments in the US, and I am still using some of his Latok clothing today. In general, softshell clothing tends to be much more breathable, stretchy, and more tear and abrasion resistant than "hardshell" waterproof breathable fabrics.
Schoeller and Malden Mills (Polartec) are two of the biggest players in the softshell fabric market today, and both make some very nice fabrics. I own both Schoeller and Malden Mills softshell pieces.
Schoeller is a Swiss fabric company that makes some truly outstanding fabrics for outdoor use. The most well known of these is the "dryskin" line, but they also make some wool blends which are similar in characteristics, only a bit warmer. In general, the Schoeller fabrics are extremely abrasion resisitant, and almost impervious to wind and light rain, snow, and sleet. The Schoeller "WB400" range of fabrics are extremely water resistant and will withstand all but a very heavy rain. They breath well, and have a broad temperature range.
The Malden Mills/Polartec folks make a number of softshell fabrics. I've got a couple of pieces that are constructed from their "powershield" fabrics. My impression of powershield is that it is a bit warmer than typical softshell fabric and is best suited for colder winter conditions. (They make lighter fabrics as well, but I haven't used them.)
Here are some of my favorite softshell garments.
Mammut Extreme Hybrid Pants (31.6 ounces)
These pants are a mix of hard and softshell fabrics. The seat and knees are waterproof fabric, and the rest of the pants are made of water resistant softshell fabric. They have a nice integrated gaiter that is effective enough to allow you to dispense with a separate gaiter, even in deep snow. They breathe well, and have ventilation zippers for uphill slogging. They have a simple drop-seat feature and a convenient front fly zipper. Overall, I'm happy with these pants. They are a good combination of the strengths of softshell and hardshell clothing and are good all-around pants for snow and ice climbing.
Patagonia
Mixmaster Pants
(26.7 ounces) These are my warmest softshell pants. They are made of a softshell fabric with a lightweight fleece laminated to the inside of the fabric. They are stretchy, very comfortable, and have integrated suspenders, and gripper elastic at the bottoms of the legs to help seal snow out of your boot tops (but I've found that I still need gaiters in powder snow conditions.) There is a pocket on the thigh that is accessible even when wearing a harness. These are becoming my pants of choice for cold, winter conditions, as the fleece interior makes them warmer than other softshell garments I own.
Mountain Equipment Co-Op Ferrata tights (14.6 ounces )These dryskin fabric pants are less than half the price of most other dryskin pants from other companies. They are no-frills "loose tights" with zippered pockets and an elastic waist. They are simple, comfortable, light weight, and great for cragging or alpine climbing in moderate weather. MEC no longer makes this exact model, but lightweight softshell pants are available from MEC and a lot of different companies. The Mountain Guide and Mountain Guide Lite pants from Eddie Bauer/First Ascent are particularly nice and reasonably priced. REI sells a number of softshell pants in short, regular, and tall sizes, so if your legs are shorter or longer than average, you might want to check them out. The Mammut Champ pants and Courmayer pants are the softshell standard in this category, and might as well be the standard uniform for guides in the Alps, they are so common.
Latok "Keeler Kneeler" Pants (34.8 ounces) These pants were made by Jeff Lowe's company, Latok. They are no longer available, as Latok is long out of business. I bought my Keeler Kneelers in the 1980s, and they have served me well for many years. The Keeler Kneelers are constructed out of a very heavy duty, ultra durable Schoeller stretch fabric made of wool, polyamide, and stretchy elastic. They are high waisted with built in suspenders. They have a double seat, double knees, and two two zippered pockets that are positioned high, above the waist, so that they are accessible when wearing a harness or pack waistbelt. They are knicker length, and come just below the knee. The legs fasten just above the calf with beefy snaps. Freedom of movement with these pants is superb. The stretch fabric coupled with the knicker length allows you to climb unimpeded. The knicker length also prevents excess bulk around your boot tops and lower calves.
The inner surface is brushed and soft. The outer fabric surface repels snow and sleet and light rain very well. These pants perform well as outerwear for alpine snow and ice climbing in all but the wettest conditions. They are so durable as to be almost indestructible. Numerous pitches of alpine snow, ice, and rock climbing have not even made a dent on the fabric, and the pants still look almost new after years of use. The fabric breathes well, is extremely wind resistant, and is comfortable across a broad temperature range, from cool to well below freezing. The wool component of this fabric gives it just the right amount of warmth for colder conditions. Unless it is raining or I'm climbing an ice route in truly wet conditions with water running down in streams, I don't need to wear a shell with these pants. I made a couple of modifications to these pants; one was to have a velcro sternum strap sewn on the front of the suspenders to keep them from sliding off of my shoulders. The other modification was to have a patch of goretex sewn onto the butt. This helps on snow and ice climbs, where, in wet conditions, my butt would get wet from sitting and belaying in wet snow or melt water. These are the world's ugliest pants, but they are very effective.
Cloudwalker "Ama Dablam" Farmer John Bibs (27.8 ounces) These are the modern successors to the Keeler Kneeler pants. They are also designed by Jeff Lowe. They are a little lighter than the Keeler Kneelers, have a drop seat, and are full-length as opposed to knicker length. These farmer john style bibs are constructed of an extremely water-resistant version of Schoeller stretch fabric, WB-400. They are not quite water proof, but they have more water resistance than any other "soft shell" fabric I've seen. These bibs have two high zippered chest pockets and stretch spandura cuffs that snug over boots, eliminating the need for gaiters in some conditions. My favorite feature, however, is the trapazoidal drop seat. It opens up big, and makes relieving yourself relatively easy, even when in precarious positions. I added a bit of extra velcro to the top of the drop seat after I bought the pants, as I felt that the weather seal wasn't adequate as designed. These are excellent for long alpine snow and ice routes where conditions can range from cold and wet to bitter cold.
Mountain Equipment Co-Op Pamir Jacket (25.6 ounces)

The Pamir jacket is made from Malden Mills' "powershield" soft shell fabric and is one of the warmer softshells due to its lightweight fleece layer on the inside of the fabric. This additional warmth makes it good for winter conditions, and often makes it unnecessary to layer on a belay jacket at belay stances and rest stops in more moderate winter weather. MEC's Pamir jacket is a nice piece. It has two big chest pockets for storing stuff, a comfortable, high collar, and a good fit. As with most MEC brand clothing, the price is very good, about half the cost of similar jackets by Arcteryx and others.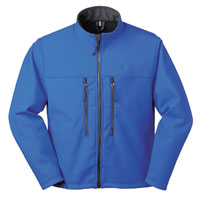 Patagonia Talus top. (12.8 ounces) This is a Schoeller dryskin fabric zip front pullover. It has a zippered chest pocket, and the front zips up around your neck with a comfortable overlapping fleece lined closure. Layered over a merino wool t-shirt, I use it for cragging in cool weather. Layered over powerstretch fleece, it is great for colder conditions. Its wind and water resistance, breathability, and durability have made it my outerwear of choice for rock climbing in cool to cold weather and summer alpine climbing. Patagonia no longer makes this, but a number of similar pullovers are available from Arcteryx (the Gamma LT pullover,) and others.

Insulating layers
Fleece
I've got several different fleece jackets and sweaters. However, I don't use them all that much any more. Fleece is relatively bulky and heavy when compared with modern ultralight insulated clothing. Most fleece is too warm to wear when I am active (and if I'm not active, I typically just put on a big insulated jacket.) The only fleece I wear regularly is the "R1 Hoodie" pullover by Patagonia. It weighs 13.2 ounces. It is made out of a soft, stretchy, light, grid fleece Patagonia calls R1. This pullover has a good, body hugging cut, and a nice hood that covers your head like a stretchy balaclava. The fabric is not too warm, and it has a deep zipper for ventilation, and the long waist is made from a lighter material for easier layering under pack belts. It has minimal wind or water resistance, but works well when paired with a lightweight windbreaker.
"Puffy" Insulations
For warmth without weight or bulk, "puffy" insulations like primaloft, excelloft, polarguard, and down are the best.
For the most part, I tend to gravitate toward synthetic insulations even though they are a bit heavier and less durable than down. You can throw a synthetic jacket over top of soaking wet underlayers, and the moisture won't compromise the warmth of your insulation. I will take along a down jacket for moderate activities like backpacking, or day-long ski tours, but for alpine climbing, multi-day winter trips, and other more high stakes activities, I like the idiot-proof nature of synthetic insulation.
Puffy insulation pieces come in various weights. The lighter weight insulation is designed either to replace a midweight fleece layer, while the heavier belay jackets are for bitter cold cold conditions when you are stationary and not generating much body heat.
Back in the early 1990's I replaced my fleece jacket with a lightweight shelled thinsulate sweater from Marmot, and I haven't looked back. My favorite of the ultralight insulated clothing pieces are the "Thermawrap" line from Montbell. http://www.montbell.us/ The UL Thermawrap jacket is a lightly insulated jacket with a very lightweight shell fabric covering a synthetic excelloft insulation. My Thermawrap jacket weighs 9.2 ounces, (Compare that with the 11.8 ounce weight of a Patagonia R1 fleece pullover.) The Thermawrap is warmer than a fleece jacket, and the shell fabric is more windproof and water resistant than fleece as well. It is also much less bulky than fleece and takes up much less space in your pack when not being worn. Its slick outer fabric makes it superior for layering as well. The only downside of the Thermawrap is that its super lightweight shell fabric is not very abrasion resistant, so it will not hold up well in destructive environments like chimneying up granite. For snow and ice climbs, where abrasion is not such a large factor (compared with rock climbing) I have found the durability to be more than adequate. I use the Thermawrap as a softshell layer for very cold conditions, or as a lightweight belay jacket for Summer, when a heavier belay jacket would be overkill.
Next up the scale of warmth, for layering over top in cold conditions, I use the Golite Coal parka. It weighs 19.5 ounces. This is a puffy lightweight nylon jacket insulated with Polarguard. It has a zip-off hood, and two handwarmer pockets. The shell fabric is tightly woven and resists wind and damp reasonably well, but it is not waterproof. Depending on my under layers, this jacket will keep me warm down to about 10-15 degrees Fahrenheit. It is very compressible, and takes up very little space in my pack when not in use. Montbell makes a similar belay jacket, which they call the Flatirons Parka.
For winter conditions, I use the Arcteryx Dually belay parka. It weighs 29 ounces in size XL, 26.5 ounces in size L, and is super warm, and cut big to layer over other clothes. This is an excellent belay and bivi parka. Downside for this jacket is that it is pretty bulky, and the insulation seems not to compress as well as other synthetics I've used in the past. The Patagonia DAS parka is a similar piece, that weighs just a little bit more than the Dually, but can be purchased (usually) off of Patagonia's "web specials" page (in military green color) for significantly less money.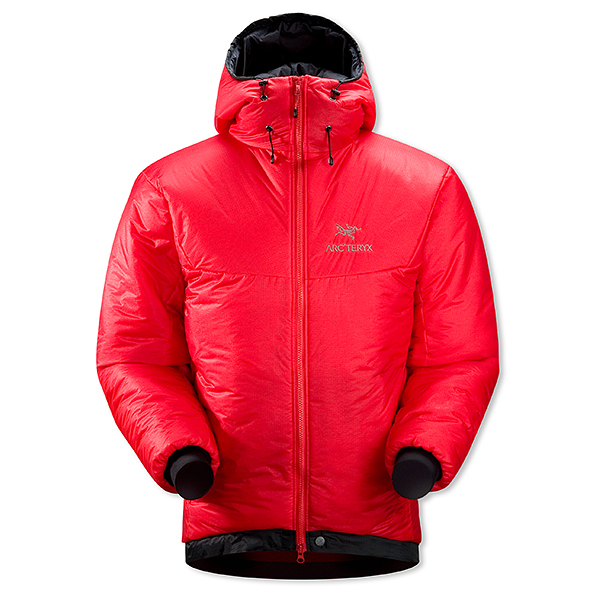 Waterproof/Breathable Shell Gear
My waterproof/breathable shell gear is pretty much divided by weight. I have some relatively heavier gear that I use when I am climbing in the mountains and am expecting truly nasty weather. I find that I use these heavier shells less and less. More often, I find that I use the super light shell clothing that I take on long and/or hard climbs or trips where weight is at a premium. This stuff stays in my pack unless there is really nasty weather so it doesn't have to be particularly durable.
Wild Things High Altitude Suit (58.4 ounces) Truly cold and horrible weather is one situation where I still favor a full goretex shell, and the High Altitude Suit is what I wear when it is really cold and nasty out. The High Altitude Suit is a one piece gore-tex suit. The upper body is lined with a wicking liner (newer versions don't have this), and the legs are insulated with a thin layer of primaloft. The suit has two large internal chest pockets, and two external chest pockets. Internal suspenders and an external webbing belt keep the suit in place. There is a hood that rolls up into the collar. The suit has long side zippers which run from elbow to ankle for venting and taking it on an off.
A rainbow zipper around the butt eases things when you have to squat and relieve yourself. For really cold, windy, and snowy conditions, this suit works very well, sealing out spindrift, precipitation, and cold drafts, and keeping in warmth. The top is cut full enough for a layering with a thin insulated sweater, and is trim enough to fit under a puffy belay parka. Combined with some powerstretch tights, the leg insulation in the suit is adequate to keep you warm in frigid subzero weather. Freedom of movement is excellent, and the one piece design is convenient for wearing with a harness. Overall, I don't have too much bad to say about this piece. It is my first choice for truly horrible winter conditions, like winter backcountry ice climbing in Rocky Mountain National Park when a cold front has moved in and you're dealing with high winds and spindrift.
Montbell Goretex Jacket I can't remember exactly what model this jacket is. (Maybe the Tempest or Freney) It weighs only 11.9 ounces, and it is pretty well decked out, with a nice hood, water resistant zippers (including pit zips) and a comfortable cut. It's made of a lightweight 3 layer goretex fabric. This jacket is about as heavy as I go these days for a climbing hardshell. It is a good choice for springtime climbing in wet climates, where you could be facing both heavy rain and snow.
Marmot Precip Jacket and Pants
These are my go-to shells for going light and fast. Both are made from Marmot's proprietary "Precip" fabric. The Jacket is the "Essence" model, the most stripped-down Precip fabric jacket that Marmot sells. I has no pit zips, and a single chest pocket. The cuffs close with elastic rather than Velcro. It has a decent hood, and a good fit. Best of all, it weighs only 7.5 ounces and scrunches down really small. (about the size of a large apple.) The Precip pants are rather Spartan pieces, with a single rear pocket, and full size zips. They weigh in at 10.7 ounces. Durability is adequate, provided that you keep them away from sharp objects. They won't stand up to things like crampon points, ice screws, squeeze chimneys or sharp rocks very well. Keep them in your pack unless it is raining.


Gloves
The Black Diamond Enforcer is the flagship of the latest crop of welded seam gloves from Black Diamond. These gloves are designed for ice climbing and mountaineering in cold conditions. They have a durable leather palm, and padded knuckles. The gloves are cut well, and don't have a wrist cincher strap or any other protrusions on the wrist which hang up on ice axe leashes.
They have a removable pile lining that adds warmth. However, when your remove your sweaty hands, the pile liner will sometimes pull out. This is a major problem for a glove that will be used for steep ice climbing, as I sometimes need to remove the gloves to accomplish tasks that require bare-handed dexterity.
The good news is that I don't have to remove them very often, because they are pretty sensitive for a warm glove. They were a bit stiff to begin with, but they soon softened up and now they really fit well. Dexterity is excellent, and plugging in ice screws is pretty easy considering the gloves' warmth. They are the most waterproof ice climbing glove I've ever owned, although they will eventually soak through on wet water ice climbs that are running with water.

For warmer temperatures, like alpine climbing during the summer months, or sunny winter days, I will most often use a lighter glove. My current favorite is the Cloudveil "Icefloe" glove. These super stretchy and close fitting gloves have excellent dexterity, and padding on the back of the hand and fingers provides cushion and insulation when ice climbing. These gloves are not waterproof, but are reasonably water resistant, and they dry easily overnight in your sleeping bag.
For light duty, I've been using gloves made from the new windstopper fabric, Polartec Windpro with Hardface finish. This fabric is stretchy, windproof, warm, and its smooth surface sheds snow. The Omni glove from Outdoor Research and the Phantomgrip glove from Rab are very similar, and both have fingers and palms covered with super grippy material. These gloves are great for warmer conditions, for use inside your tent when cooking etc., and also for use as glove liners inside other shells (like the Supercouloir glove discussed below.)
One of the most versatile glove combinations I've found is the Outdoor Research Super Couloir Glove system. The Super Couloir is a combination of a Primaloft insulated, waterproof shell glove with a durable leather palm, with a close-fitting leather and Schoeller fabric softshell glove as the liner. You can use the inner softshell glove for sections of difficult climbing when you need dexterity more than warmth, or for skiing uphill when you're putting out lots of body heat. Then, you can layer the insulated shell over the top at the belay or when you encounter colder conditions. The shell gloves do not have great dexterity, as they are saddled with a somewhat sloppy fit, but they have proven to be very warm and quite durable. The OR liner gloves that come with the Supercouloirs are ok, but I prefer the fit of some Black Diamond gloves a bit better, so those are what I'm using. I also use the Rab Phantomgrip or OR Omni gloves as liners for the Supercouloirs.
Black Diamond Enforcer Gloves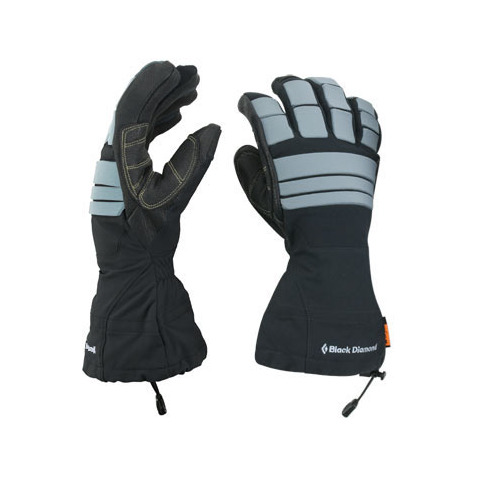 Rab Phantomgrip Gloves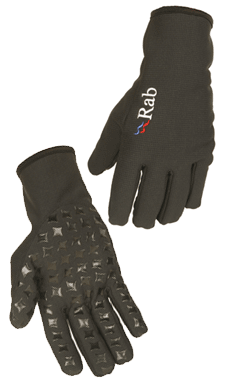 Hats
The hat that I always have with me on every climbing trip, no matter what season or conditions isn't really a hat at all. It's a Buff. The Buff is just a simple tube of microfiber that you can wear as a hat, a headband, facemask, or a neck gaiter. It can protect your head from sun, keep your ears warm in cool weather (double it up for this) and keep the sweat off your face. It dries quickly, weighs very little (less than 1 ounce) and doesn't take up much space if it's not on my head (which it almost always is.)
On trips in the warmer months, it's generally the only "hat" I bring with me. If it's too cold for just the Buff, I pull on my hood from my fleece hoodie and/or the hood from my windbreaker.
The versatile Buff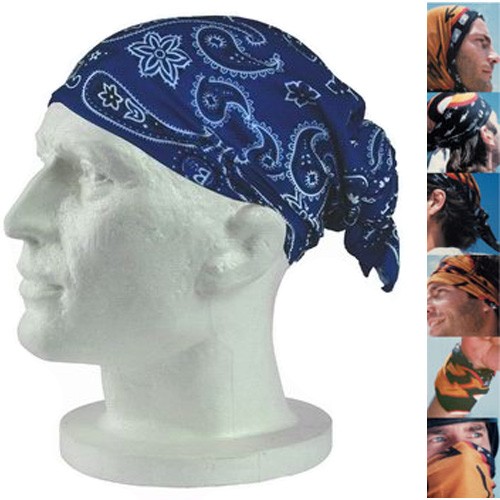 When it's really really cold and the wind is blowing, it's good to have a balaclava with an integrated face mask to protect your nose and mouth.
My favorite design is the Outdoor Research Sonic Balaclava. It's made mostly of windstopper fabric, but the area around the ears is of a lighter, non-windstopper fabric. This is good because windstopper fabric really muffles sound, and all-windstopper balaclavas make it very difficult to hear.
OR Sonic Balaclava