Frontier Pro Filter

Water Purification
Aqua Mira Frontier Pro Filter (2.3 ounces) and
Chlorine Dioxide Tablets
The combination of a small "straw" filter and chlorine dioxide tablets has become my standard water purification system, replacing my previous practice of carrying a water purifier pump.
Chlorine dioxide tablets are sold by AquaMira, and also by Katadyn (under the MicroPur trademark.) Chlorine dioxide tablets impart little or no bad taste to the treated water. The tablets' weight is negligible. They are simple to use. You just put in one tablet per liter of water, wait 3 hours, and the water is ready to drink. The big disadvantage of chlorine dioxide is the 3 hour waiting time. These tablets are great for treating water overnight, but not so good if you need water to drink right away.
To supplement the chlorine dioxide tablets, I use the AquaMira Frontier Pro filter. It is very compact, and weighs only 2.3 ounces. It is a versatile filter and you can either filter the water as you drink through it like a straw, or you can filter the water into another container by removing the bite valve (which comes off if you just twist and pull.)
The filter will screw on directly to a Platypus bladder, which is the easiest way to filter water into another container. I fill a 3 liter Platypus bladder with "dirty" water, then screw on the filter, remove the filter's bite valve, and squeeze the Platypus bladder a bit to increase pressure. Clean water comes out of the filter, and I can fill up my "clean" drinking containers with this water. I've found that it takes about three and a half minutes to filter one liter of water in this manner.
Obviously, the filter will also work in "straw" mode, allowing you to completely forego the need for a "clean" water container, so long as you always drink directly from the filter.
I used the Frontier Pro on a two person, 9 day backpacking trip as a supplement to chlorine dioxide tablets. It was perfect in this context. We would treat 3 liters of water every night with chlorine dioxide, and use the Frontier Pro to provide extra water during the day, after we'd consumed the water we'd treated the night before.
I don't see myself ever going back to a traditional purifier pump. The savings in weight and bulk with a chlorine dioxide/Frontier Pro system is just too great, offsetting whatever added convenience a pump may have.
Hydration and Energy
I use a hydration bladder both backpacking and climbing. It is the most convenient way to drink while on the move. The Camelback 100 ounce bladder is my standard choice. I like the wide opening, which makes addind ice or cleaning easy. For use In the winter, I have eliminated the bite valve, which seems prone to freezing up. I have replaced it with a simple on/off valve that seems more resistant to freezing (but you still need to be very careful to blow ALL the water back into the bag) Although you are warned not to, I routinely use sports drinks in my bladders. They aren't that hard to clean up, and I need the electrolytes.
I am a convert to energy gels. I eat them on just about every outdoor activity I pursue. However, I hate dealing with the packaging. The empty packages are sticky and take up space, and it's a pain to try to open one with gloved hands. So, I prefer a soft Gel Flask. I've tried a number of flexible plastic flasks, but the Venture Design Works Soft Flask (marketed by Gel-Bot) is easily my favorite. It's soft, and flexible like a plastic bag, so you can suck every single ounce of gel out of it easily. It has a simple, effective bite valve, so you can just bite down and suck out some gel. Very easy to use without ever having to stop.
Suunto Vector Altimeter watch
The Suunto Vector is a watch, a compass, an altimeter, barometer, and thermometer. I have used Casio and Avocet altimeter watches, and I prefer the Suunto Vector. The altimeter is very accurate, comparable to that of the Avocet and better than that of the Casio. The barometer function is very useful for tracking weather trends, and the watch has a graph which shows barometric pressure trends. Both the altimeter and barometer automatically take readings every hour, and these are saved in memory, so you can call up a 24 hour record of changes in altitude/barometric pressure which is useful in gauging your climbing progress or using barometer trends to predict weather patterns. The Vector has a good backlight, which can be used to illuminate the display no matter what function is currently being utilized. There are a host of alarm functions, including time and altitude alarms. The compass works well, although it will not take the place of a precision sighting compass for delicate orienteering work. The battery can be easily replaced by the user. All in all, the Vector is a well designed, useful instrument.
I have two complaints about the Vector. One is that it is too big to be worn comfortably on the wrist while climbing. The Vector is so large that it gets in the way of an ice axe leash when ice climbing and similarly gets in the way when crack climbing on rock. I have solved this problems by simply wearing it on a lanyard around my neck. Suunto sells a lanyard for this purpose, but be aware that in cold weather, the rubber connector (which is designed to break away if it gets caught on something so you don't get choked) can come apart by itself.
The other issue with the Vector is its weak alarm. I rely on the Vector to wake me up for early morning alpine starts, but have found that I can't hear the alarm when I'm in my sleeping bag. The watch does have 3 alarm settings, and I've found that if I set them all to go off 1 minute apart, by the 3rd time, I can almost always hear it. Still, it's something to keep in mind, and in weather that is not too cold, (where I'm not worried about batteries being drained) I will put the Vector in a tent pocket or somewhere else where the alarm will not be muffled by my sleeping bag.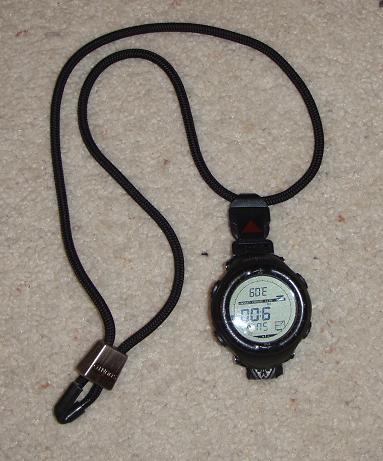 First aid kit
My idea of a first aid kit is that if I'm going to carry one, it should have enough stuff in it to be useful if it is needed. I try to carry the minimum to treat large gashes/punctures, blisters, and pain. I don't carry SAM splints and the like for immobilizing broken bones, as I can improvise splints out of cloth tape and pieces of my pack frame, trekking poles and the like. (Yes, I have done this before, and it will work, with a little ingenuity.)
My basic first aid kit weighs 5.5 ounces, including the case, which also holds other small stuff I don't want to lose at the bottom of my pack, such as my wrench and files for my ice tools, cigarette lighter, and pocket knife.
My basic first aid kit consists of the following stuff, although I will sometimes add or subtract items depending on the type and length of trip: (top to bottom, left to right)
2 Aloksack waterproof bags (protects the contents and can be used for mxing up a sterile solution for irrigating wounds)
Band Aid blister dressings (Sold in Europe as "Compeed" dressings,) these are the best blister protection there is. They go directly over the blister, cushioning and protecting)
Dermabond surgical glue (basically, superglue formulated without chemicals that irritate skin)
Proxi strips (for closing wounds, better adhesion than butterfly strips)
Sterile military trauma dressing (unfolds to 6" x 6"; for big wounds and major bleeding; can double as a sling)
2 band aids
2 Sterile Gauze Pads
Celox clotting agent (for stopping major bleeding) For a serious wound, application of direct pressure may be inadequate to stem the blood flow, particularly if an artery has been compromised. Celox is a quick clotting agent that can help to get blood flow staunched.
Morphine tablets oxicodone tablets, and vicodin tablets (for SERIOUS pain)
Ibuprophin (relieves swelling associated with sprains and the like)
Buffered aspirin (best all around analgesic, helps to combat altitude sickness, and improves circulation.)
Small roll of 1" medical tape (hundreds of uses)
Small bottle of betadine (for cleansing wounds)
Triple antibiotic ointment
Antiseptic towlettes
Burn gel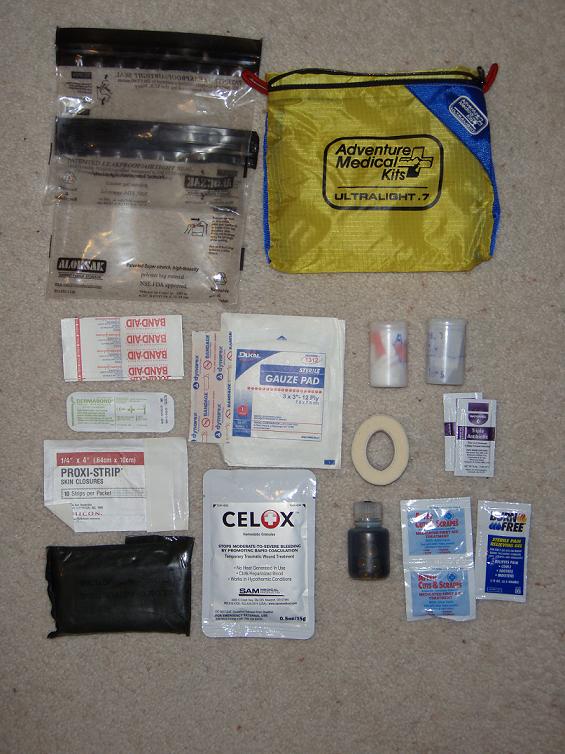 Other Emergency Items
A small bit of duct tape, and some ripstop repair tape are two things which I typically put in my first aid kit for repairing tents and other things that need fixing.
I always take a lighter with me. It weighs almost nothing, and it's always a good idea to be able to start a fire.
For trips where I will be spending time below treeline, (dayhikes and backcountry skiing day trips for example), I will usually take with me a small fire starting kit. I'm partial to the Sparklite kit. It weighs less than an ounce, and combines an idiot-proof sparking flint and steel with some waterproof tinder made from cotton cord impregnated with petroleum.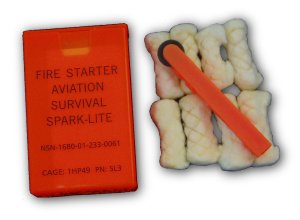 Insect Repellent
I have tried a number of alternatives to traditional DEET based insect repellent, including citronella, skin so soft, neem, lemon grass, and several other herbal based concoctions. Although these non-DEET formulas work reasonably well for the back yard barbecue, none of them have worked for me in the backcountry for repelling clouds of hungry mosquitos. I have resigned myself to using DEET, but have tried to find the least toxic form of it that I can. After a fair amount of research on the Web and in print, I now use Ultrathon by 3M. Ultrathon uses an encapsulated form of DEET that reduces the amount of DEET that is absorbed through the skin into the blood. After using Ultrathon for quite a while, my experience has been that it is as effective as other DEET formulations I've used for repelling insects. Its enhanced safety therefore makes Ultrathon my bug repellent of choice.


Backpacking hygiene
I used to carry toilet paper when backpacking. For long trips, with infrequent opportunities to wash, I now much prefer carrying a travel pack of diaper wipes. A single wipe is usually all that is needed, and you can get yourself a lot cleaner with a wipe than with a handful of t.p.
One warning: Don't carry wipes in below-freezing weather, they will freeze into a solid, unusable block.
Backpacking tableware
I love Orikaso bowls. When unfolded, they are easy to store because they are flat and take up almost no pack volume. They are cheap, light, and you can wash them when flat, so they are very easy to clean. Most of the time, I just flatten them out and lick them clean.
The mug is a bit fiddly for my tastes (and I prefer a lightweight titanium mug that I can heat over a stove or fire) but the Orikaso bowl is now my sole backpacking bowl. (For cold weather trips when I'm using a butane stove, however, I take a Snowpeak titanium bowl, as it is large enough to warm up the butane canister using warm water.)
GSI Outdoors makes my favorite camping spoon. It's called the "Lexan Rehydrate Spoon." It's main design feature is a long handle, which makes it much easier to eat directly from the pouch of a freeze dried dinner. Besides that, it's light, tough, and cheap. REI makes a similar long-handled spoon out of titanium.
Komperdell C3 Airshock Carbon Fiber Trekking Poles
(7.2 ounces each)
These are some very lightweight, 3 piece trekking poles, constructed with carbon fiber. However, they have a (well deserved) reputation for the locking mechanism to fail and the sections collapse. I used these poles on a number of trips. Initially, I loved them. Their light weight was terrific, and the handles and straps make them very comfortable to use. For a while, I didn't experience any loosening of the locking mechanism or collapsing of the poles.
However, after about 15 days of use, the poles began to loosen and collapse more and more often, until the poles became almost unusable. Rather than simply return them, I took them apart to see what the problem was.
Here is what I found:
The locking components were not securely set into the pole sections, so when twisting the poles to tighten them up, the locking component had the tendency to simply stay in place, with the pole section turning. This prevented the locking mechanism from tightening sufficiently to lock the pole sections in place. This problem became worse in cold weather, perhaps because of the different contraction properties of the carbon fiber shaft and the plastic plug.
I fixed this by using some epoxy glue to glue the locking component securely into the pole section. The epoxy didn't work all that well, and I then turned to Gorilla glue. The Gorilla glue worked fine, but then the plastic on the locking mechanism snapped. I haven't been able to locate any replacement lock cores that will fit the carbon poles. Komperdell also doesn't seem to have any customer service reps in the United States.
It's a real hassle, because these poles weren't cheap, and as much as I appreciate their light weight, they really have had problems almost from the beginning. I should have Googled these poles before I bought them, as there are a number of reviews on the internet that complain about the locking mechanism failures. It's clearly a bad design.
I recently replaced these with some 3 piece Black Diamond carbon fiber poles, the Black Diamond CF alpine poles. So far, I've been impressed with the BD poles' very secure flicklock mechanism. Also, I have some (excellent) experiences with Black Diamond customer service, so I'm not worried about getting "shafted" if the new BD poles are defective.