Rocky Mountain National Park
Spearhead
North Ridge


Summer of 1996 brought Matt and I together again for another alpine climb. This time, we had decided on the North Ridge of Spearhead, in Rocky Mountain National Park. This route was very highly praised in the Roach guidebook. It was only 5.6, so we figured that it would be pretty easy, even for a couple of out of shape guys like us. I was headed for the Alps in a few weeks, so I thought that it would be a good warm up climb. I had my eye on some mixed routes in the Alps, so I decided to climb Spearhead in my leather mountain boots to get some practice climbing rock in clunky boots.
We left in the late afternoon from the Glacier Gorge trailhead and began the hike up to Spearhead. The trail was familiar from the previous winter, when we had postholed our way up to Black Lake on an ice climbing trip. By the time we reached Black Lake, we were tired and it was getting dark, so we decided to flop under some trees on the far side of the lake, near the gully that ascends up to Spearhead. We were awakened before dawn by a large herd of elk in our camp. They were foraging all around, and sniffing us inquisitively. They were not the least bit scared of us, but I was more than a little bit afraid of them, and was glad they hadn't stepped on me. We left our bivi gear stashed behind some rocks and trees, and headed up the path to Spearhead. The approach from Black Lake was longer than we had anticipated, but as it got lighter, we were treated to beautiful views of Spearhead, with our ridge route in profile on the right.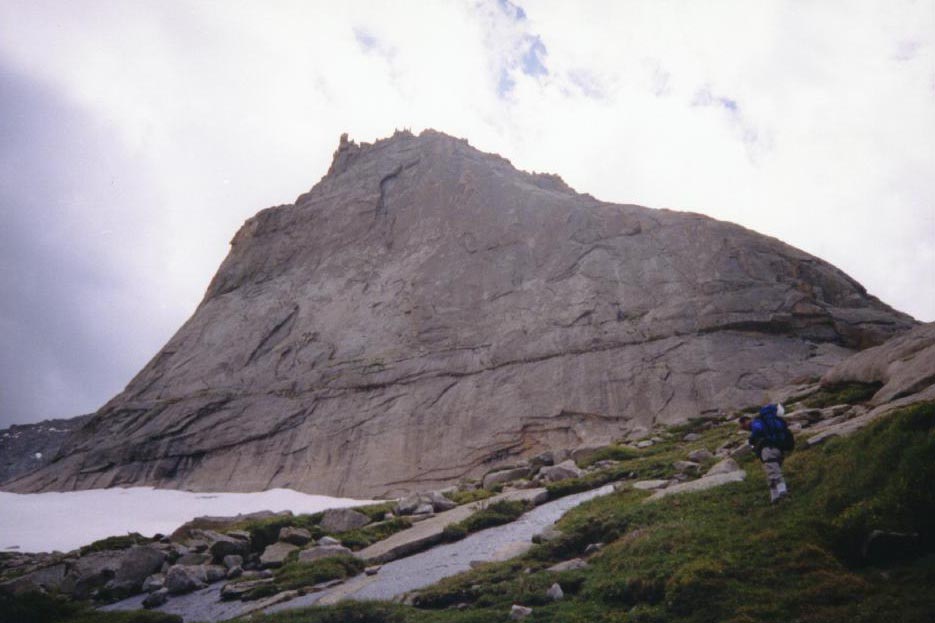 Spearhead. (Click on picture for larger version.)
We finally reached the base of the North Ridge, racked up and began our ascent. The first three pitches were a bit tricky, and I am pretty sure we were off route. The rock was quite wet and slimy in places, and there were a number of steep strenuous crack climbing sections that seemed quite a bit harder than 5.6. We finally got established on the ridge itself, and the climbing became more straightforward, alternating between easy 5th class climbing, and 4th class scrambling. Toward the top of the route, the climbing became a bit more technical. There were two pitches which were truly fun. The first was a long perfect low angle open book. Leading it, I was really wishing that I was wearing sticky rubber climbing shoes, rather than my heavy, insensitive Raichle Mont Blancs. Protection was good, however, so I wasn't really gripped. Matt led the next pitch, an interesting section which took him out and around a big slab which looked down the massive East Face. Following him up, I was quite impressed by the exposure and the wonderful views.
The descent down the West Face was straightforward and tedious. We got down without incident, retrieved our bivi gear from our cache at Black Lake and headed back to the car and the Estes Park Pizza Hut.




BACK TO THE CLIMBING/BACKPACKING MAIN PAGE