Rocky Mountain National Park
Shark's Tooth
North West Ridge

I don't know why I didn't climb Shark's Tooth earlier. It is in Rocky Mountain National Park, only an hour and a half from my home. It is no too difficult (crux is only 5.6.) It is described in the guide books and by people who have climbed it as one of the classic alpine rock routes in Colorado. For whatever reason, it took me a number of years to get around to climbing this classic peak. My first attempt was occasioned by a visit that Matt was making to Colorado, to visit his in-laws. We decided that a climb of Shark's Tooth would be a perfect diversion. It was early Spring, and there was an extended window of good weather forecasted, so we took off for the Park. We packed light, and the approach up to the climb went quickly. There was still a lot of snow on the ground, and we were on snowshoes for the upper section of the approach, where the trail left the forest and enters into the open valleys. The first view we got of Shark's Tooth was really exciting. From the approach trail, the peak has a dramatic, sharp profile very much in keeping with its name.
Shark's Tooth in Spring. (Click on picture for larger version.)
We wanted to get as close as possible to the route, so we worked our way up an ice and snow-choked gully that split the big rock band below the peak. There on the flat section just below the slope up to the Tooth, we bivied for the night. The next morning, Matt wasn't feeling at all well. As we made our way up to the base of the climb, he moved sluggishly and seemed a bit out of balance. He was stopping for rest every few minutes, and I could tell he was struggling. I reached the base of the route, and watched as he slowly and laboriously inched his way up the final snowfield leading to the rock. When he arrived, he didn't seem to be in any condition to climb. He was dizzy, nauseous, and feeling extremely weak, the combination of the altitude and the onset of a stomach flu. The weather was so beautiful and the rock so inviting, however that I couldn't stand the thought of turning back around without climbing. I tried gently to persuade him to climb. I offered to do all the leading. I tried to get him to just climb the first pitch and see how things went before we made a final decision. It soon became clear, however, that he really wasn't going to be able to climb that day. It was with a great deal of disappointment that we turned around and headed back to the car.
It was several months later before I got another shot at the climb. Ford and I had been talking for some time about trying an alpine rock route, and Shark's Tooth seemed like an ideal outing. Finally, on August 31, we headed up. The approach was a bit easier than my earlier attempt, due to the fact that the approach route was completely devoid of snow, and we were able to move quickly up the trail without the need for snowshoes. We found a perfect bivi site, below the area where I had bivied with Matt on my previous attempt. The site that Ford and I found was a big cave under a giant boulder. There was plenty of room for both of us to stretch out and sit up. There was even a great spot to hang my hanging stove while we cooked dinner. It rained hard that night for a while, and we were glad to be in our snug shelter.
Next morning, we woke up about at dawn, and hiked up to the base of the climb. The weather was a bit cold and windy, and I was glad for my fingerless gloves. I got first lead, and began climbing up the route. The rock was good, solid granite, with lots of good holds and friction for the feet. We swung leads, and I soon found the need to put on my puffy jacket while I stood at the stance and paid out rope for Ford. The temperature seemed to have dropped, and the wind picked up, making belaying quite a chilly proposition.
Bundled up against the cold wind. (Click on picture for larger version.)
Route finding was easy as the climbing pretty much proceeded straight upward. The climbing was very enjoyable. The steeper sections seemed to follow crack systems, while the lower angle climbing tended to be on faces and steps. My most difficult lead was through a poorly protected small roof, which was passed on the right with a bit of laybacking off a flake. Ford ended up with probably the most strenuous lead of the day. This was an awkward off-width crack, about three pitches from the top of the climb. We didn't have any wide protection, so Ford got creative and slung a natural chockstone in the crack. As I watched him grunt his way up the pitch, I was glad it was him and not me on the lead.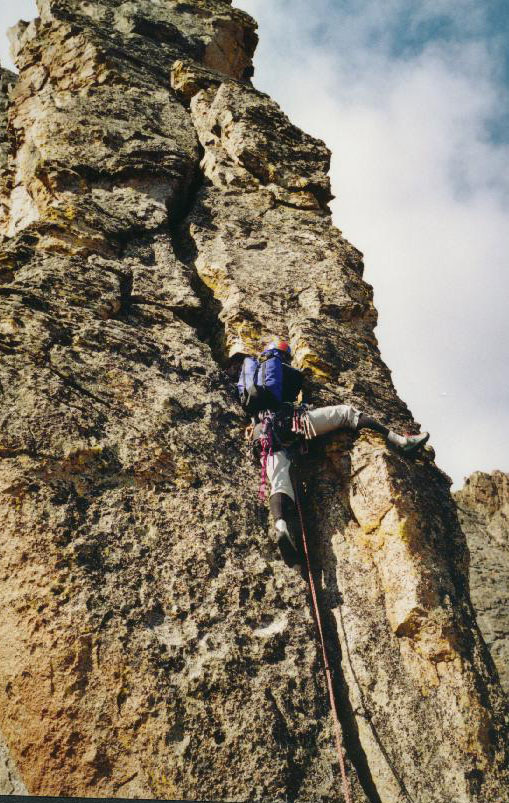 Ford working his way up the off-width. (Click on picture for larger version.)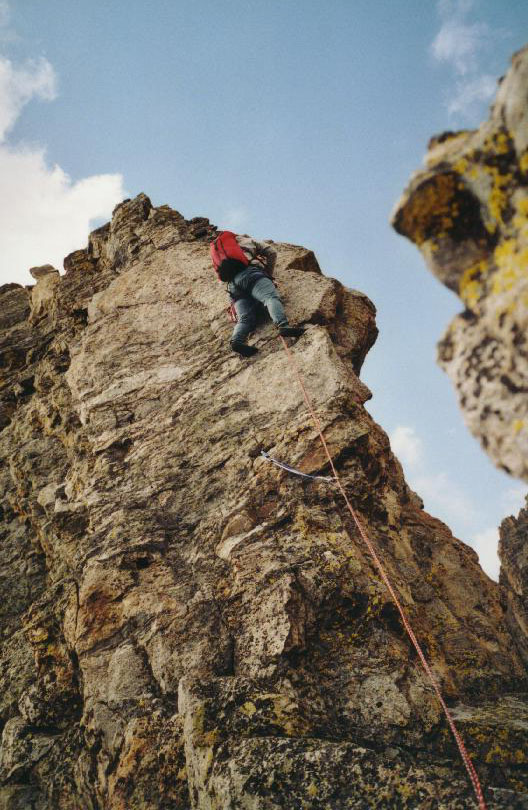 Me, climbing up the summit ridge. (Click on picture for larger version.)
After a couple more ridge pitches, we finally reached the top of the peak. We snapped a few pictures, but didn't stay too long, as the weather seemed to be deteriorating quickly, with wind-whipped clouds sailing only a couple hundred feet over our heads.
Ford on top. (Click on picture for larger version.)
The rain finally did come, but not until we had just finished our last rappel. We hiked down to our bivi site, gathered our stuff, and headed back down to our car. The trip had gone very well. The route certainly deserves its "classic" status, and had kept us interested and engaged. The weather had been quite cooperative, even though it had been a bit cold. Overall, it was a real success, and I was glad that I had come back for a second try at the Shark's Tooth.




BACK TO THE CLIMBING/BACKPACKING MAIN PAGE