Learning to Climb


Various climbs, Wasatch Range, Utah
Ben Nevis, Scotland


I've always loved Yvonne Chouinard's book, Climbing Ice. It was one of the first books that really fired my imagination about climbing. To someone just getting into climbing, at a time when climbing was not nearly so popular as it is today, Chouinard's book was a source of dreams. Filled with stories of adventures, and pictures of climbers in wild and beautiful situations, I read and re-read the book and determined that I too would become an ice climber. While we were room mates in college, Matt and I had climbed lots of rock together, and had started to learn the rudiments of ice climbing. Armed with information from Climbing Ice, and Jeff Lowe's book, The Ice Experience, we had slowly begun to teach ourselves to climb ice. We hiked up Rock Canyon and practiced our self arrest techniques on the hard, sun-baked snow on the sides of the canyon. Gripping our axes, we would launch ourselves off of steep slopes head-first, backwards, sideways and every other way we could think of. We also climbed high up to some of the ice flows in Rock Canyon, climbing the small sections of ice, passing our one ice axe back and forth to each other. Our first forays onto true frozen waterfalls were onto the ice at Bridalveil Falls in Provo Canyon. We had finally been able to buy some equipment that made steep ice climbing feasible. I had a pair of Koflach Viva Softs and some Footfangs, along with a long 70 cm Cassin alpine axe. For a second tool, I had just purchased a 50 cm Chouinard north wall hammer; one of the new model X-tools with a composite shaft and replaceable pick. Matt had only a pair of semi-rigid leather mountain boots, some flexible strap on crampons, and a single 70 cm axe. Our first experimentations climbing on the frozen lower slopes of Bridal Veil falls were as fun and exciting as anything I'd ever done. We delighted in being able to move about on the frozen medium, and practiced climbing unroped up and down the gentle slopes. Occasionally, we would get up in a precarious spot, like kittens who climb a tree and realize they can't get down. We always did make it back down, but it added some excitement and adrenaline to our activities. From our first adventures "bouldering" on low angle ice, we moved on to the steeper ice of the Stairway to Heaven on the right side of Bridal Veil falls. This was a perfect top roping spot, and we set up top rope anchors using our state of the art Chouinard ice screws, the kind you screwed in with the help of a ratchet or the pick from your ice tool. Finally we began to do short leads on the Stairway to Heaven. I still remember the first time I began climbing above my ice screw I had placed for protection. It was scary, but when I had finished, I was sure that I was well on my way to becoming a real ice climber.
Bridal Veil Falls, Provo Utah (Click on pictures for larger versions.)
We learned other skills too. We did lots of winter camping, and even tried cross-country skiing. Unfortunately, the cross-country skis we rented from BYU's outdoor store were flimsy track skis that were almost impossible to turn on, particularly when wearing a pack. On one trip up Rock Canyon, we ended up lashing our skis to our packs and walking out, preferring to post hole through the deep snow rather than risk the uncontrolled descent on our skis. This turned out to be a good choice, as the mouth of Rock Canyon was completely covered with ice, and we ended up falling down and slowly sliding down the canyon on our backs, scrabbling along like up-ended turtles.
Great White Icicle, Little Cottonwood Canyon, Utah. (Click on picture for larger version.)
Combined with our frequent trips to Bridal Veil falls, we spent a fair amount of time, honing our ice climbing and winter travel skills. We began to dream of greater challenges. What we really aspired to, was to be "Alpinists." In our mind, an "Alpinist" was the highest form of climber, the person who could translate the rock and ice climbing skills we were learning in the lowlands into techniques for safely climbing in the mountains. There was a picture from the book, Climbing Ice, that caught my imagination in particular. It was the picture of Doug Tompkins on Hell's Lum crag in Scotland, covered by spindrift, apparently barely hanging on to his precarious position over his front points. In my mind, this picture captured the essence of what it truly meant to be an alpinist.

It was this picture and other pictures and descriptions in Climbing Ice that led to my desire to travel to Scotland. Zero Gully, Tower Ridge, Orion Direct, Observatory Ridge; these climbs loomed large in my mind, and I equated climbing them with becoming a true alpinist. Matt and I began discussing ways we could get to Scotland and test ourselves on these famous climbs. I bought a guidebook to Ben Nevis and we began to formulate plans to travel to Scotland that Spring as soon as school got out. We had no idea how we would come up with the money for plane tickets and really had no clue as to what conditions might be like in Scotland in mid-April when we planned to go, but these details didn't figure too heavily into our plans. We set about making equipment lists and lists of climbs we wanted to do, which lists included most of the hard classic lines on Ben Nevis.

Two things happened in close succession which respectively made our planned trip to Scotland more and less likely to become a reality. The first thing was that a new airline, called Air America (no relation to the C.I.A. run airline in the 60's) was formed and began offering "no frills" service from Baltimore to London/Gatwick for about $300 round trip. I was thrilled when I heard about this, as it meant that I could actually afford to get to Scotland, particularly because my Mom graciously offered to buy my ticket for me as a birthday present. The second thing that happened was that Matt finally asked Sharon to marry him, and she said yes. The fact that Matt was now engaged meant that he had to go home to California and get a job so that he could earn money to support himself and his bride to be after they got married. I tried to convince Matt that he should come with me to Scotland anyway. I told him that this was his last chance for a big adventure before he settled down. I used every form of persuasion and coercion I knew to get him to go with me to Scotland. Impending marriage had given him a mega dose of responsibility however, and all my efforts were in vain. In the end, if I was going to Scotland, it would be by myself. I decided to go on my own. The fact that my Mom was giving me the plane ticket as a gift certainly helped, but I had dreamed about going there and climbing on Ben Nevis for the better part of a year, and I wasn't going to let this opportunity slip away, just because my regular partner had his priorities all screwed up and had decided that getting married was more important than becoming an alpinist.

I flew into Gatwick, and caught the train to London, and then another train to Fort William in Scotland. I remember the train ride through beautiful green countryside with sheep and old towns. I was befriended by a very nice Scottish couple, with an accent so strong I could hardly understand them. We talked for quite a while, and they even invited me to stay with them on their farm for a few days. Their farm was quite a bit north of Fort William, however, and a bit out of my way, so I declined their kind offer. I was too anxious to reach Ben Nevis and finally begin my introduction to alpinism. It was raining heavily when I arrived in Fort William. It seemed pretty warm too, but I figured it was probably much colder on Ben Nevis at the higher elevations. After all, it was only mid April, and the guidebook said that the ice climbing season extended to May. I caught a cab to the youth hostel at the foot of Ben Nevis. I checked in, then walked back to Fort William to check out Nevis Sport, the climbing shop I had heard about. Nevis Sport was the most incredible climbing store I had ever encountered. There were all kinds of climbing equipment, including European gear I had never seen or even heard of before. I picked out a nice Karrimor Alpinist pack and a few smaller pieces of equipment and headed up to the small "climber's restaurant" attached to the shop. I was a bit surprised at how deserted the place was, as I would have thought that the restaurant would be filled with alpinists discussing their day's climbs and socializing. Talking with the cook on duty, he told me that this spring had been unusually warm and rainy and that the ice climbing season on "the Ben" was past. I walked back to the youth hostel with mixed feelings. I was ecstatic over my new climbing pack, but was a bit concerned over the cook's assertions that the ice climbing season was over. I didn't really believe him, however. I tried to convince myself that, as a cook, he probably knew very little about ice climbing and conditions on Ben Nevis. The next morning before dawn I was on the trail up the mountain headed for the ice climbs. I had with me a rope and a minimal rack. My semi-formed plan was to meet a friendly local at the base of a climb and join up with him to climb one of the classics. I still didn't believe that the season was past. I had come too far to be stymied by something like lack of ice. I cruised up the boggy trail, and entered the glen which contains the CIC hut and the great ice climbs. The hut was shuttered, locked, and empty. The area was completely deserted except for me, and the ice climbs were in pretty poor shape. There was still snow and ice on much of the mountain, but there was lots of running water too, and it was clear that what ice there was wouldn't be there much longer. I tramped further up the glen and noticed that higher up, there was still a fair amount of ice clinging to the mountainside. I reached the end of the glen, at a place the guidebook referred to as Coire Leise. The part of Ben Nevis closest to me was called the Little Brenva Face, and it still held a fair amount of ice and snow. I decided that I would try climbing a route called "Cresta" figuring that if I got in over my head that I could set up rappel anchors and rappel back down to safety. I soloed the climb without much too much difficulty. The most tricky part of the climb was the beginning, which involved some delicate moves over some wet, verglassed rock, but the higher up on the route I got, the better the ice and snow became. The climbing alternated between step kicking, soft water ice, and occasional short sections on iced up rock. I never did get out my rope or protection, but I was pretty scared on several occasions, particularly the rock sections.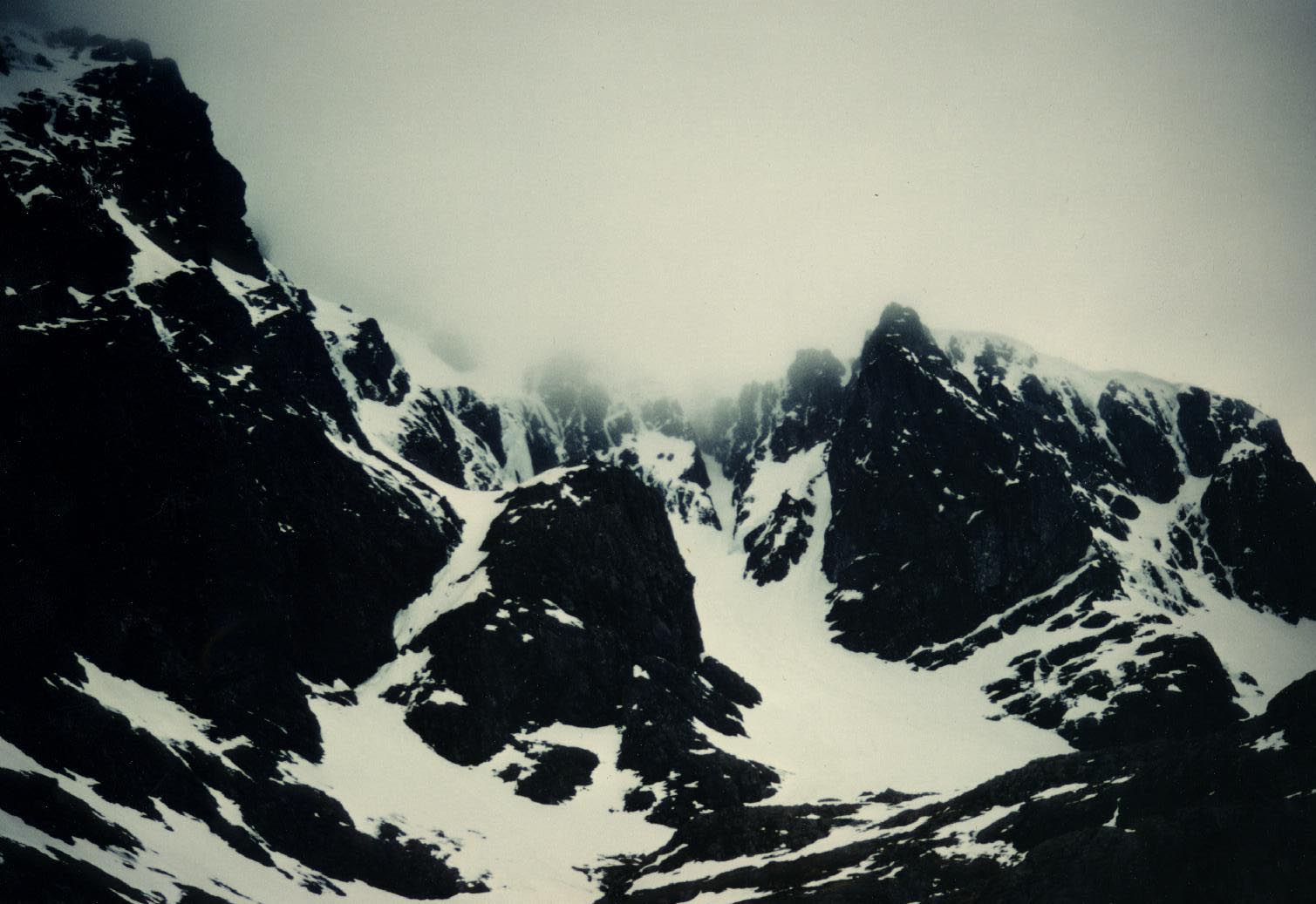 Ben Nevis gullies. (Click on picture for larger version.)
When I finally pulled over the top of the route, I about ran into a group of four climbers who had been ascending the ridge perpendicular to my route. The upper part of the mountain was covered in thick fog and mist, and I could occasionally hear other people but not see them. I followed the other group for a short ways until we reached the summit, which was marked by a small cement obelisk. I was surprised to find that there were quite a few people on top of the mountain. They had all apparently come up from other directions than the one I had taken. I took a few pictures and then began my descent down the tourist path, which by now was heavy with hikers both ascending and descending. After slogging down the tourist track for a while, I noticed that a small stream ran parallel with the path. The stream was for the most part frozen and covered with snow. Tiring of the monotonous hike downward, I moved over onto the stream, sat on my butt, and began to slide. It was more fun than any sled ride I'd ever taken. I went sliding rapidly downward, barely under control, using my ice axe for occasional braking. Sometimes there would be patches of the stream where the ice had melted out, exposing running water underneath. I found that if I was moving fast enough, I could dig in my heels of my crampons slightly, and this would throw me into the air with enough force to vault over short melted sections. The highlight was when I went screaming past a youth group of about 10 to 15 kids, all of whom were roped up, carefully belaying themselves up the snowy tourist path. Eventually the stream became too melted out to continue on, and I walked back down to the hostel.
Ben Nevis summit. (Click on picture for larger version.)
I realized that there wasn't going to be much opportunity to climb on this trip after all. I didn't have the stomach for another solo climb, particularly given the deteriorating conditions, so I decided to travel to Wales and look at castles. The remainder of my trip was general tourist fare, with my favorite spot being Harlech Castle, a well preserved Edwardian fortress near the sea. I slept out on the beach under the stars near the castle, an experience I thoroughly enjoyed.

When I finally arrived back at Gatwick airport ready to return home, I received a nasty jolt. During my stay in Scotland, Air America had gone bankrupt, leaving me with no means of getting home. The Air America representatives offered to refund me half my ticket price in 6 to 8 weeks, but in the mean time, I had no ticket, and had spent all of my money too. To make matters even worse, my Mom and sister were on vacation, so there was no one home. I spent the next few days at the American embassy, trying to figure out how to get back to the U.S. A one way ticket on any airline was over $1,500, and so there was no way I could afford that. I was almost completely out of money and had no place to stay, so I checked most of my belongings at the luggage check at Victoria station and lived like a vagabond, sleeping out of doors under bushes in Hyde Park, dodging the park police whose job it was to apprehend vagrants such as myself.

After several days at the embassy, they finally arranged for a cut rate ticket on Pan Am for about $300. It was a lot of money, but it was a lot less than a full fare, and I arranged for a long time friend of our family to pay for the ticket with her credit card, promising to pay her back when I got home. Finally, I was on my way back to the U.S. The trip had not been quite what I had hoped, but it was still fun, and I had gotten at least a taste of what it might be like to be an alpinist. It definitely whetted my appetite for alpine mountaineering, especially ice and snow climbing.



BACK TO THE CLIMBING/BACKPACKING MAIN PAGE