Cascade Range
Mount Hood
The Regular Route (via the Hog's Back)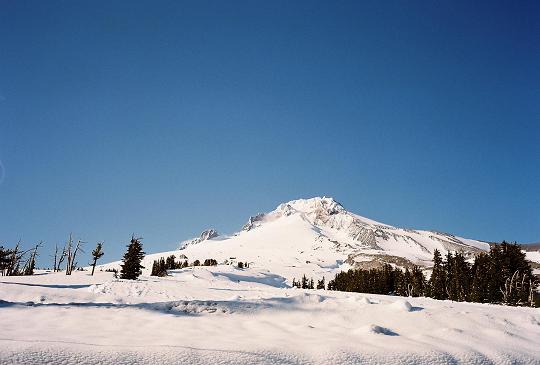 Mount Hood in beautiful, clear conditions. (Click on picture for larger version.)


It was May of 2004, and time for Matt and I to go on another road trip. This year, we decided on a trip to the Cascades in the Pacific Northwest. We booked our plane tickets flying into Portland and flying out of Seattle a week and a half later. We had a rental car, and a ton of climbing gear, and no real plans or itinerary.
We decided to start on Mount Hood, and go up the regular route. It was Matt's first time on a big glaciated peak, and I was in the mood for something mellow, so it seemed like a perfect objective: A bit of altitude, a big glacier, a big mountain, low commitment.
We spent the night at the Timberline lodge, and woke up early. As we hiked uphill, we stayed out of the way of the ever-present snow-cats, grooming the ski slopes. After a lot of slogging, we were sort-of wishing that we could have hitched a ride on one of the cats, as the constant slow trudge was becoming a bit tedious. Quoting some famous climber, Matt observed that this sort of "alpine climbing" was best characterized as "walking uphill slowly, while not feeling very good."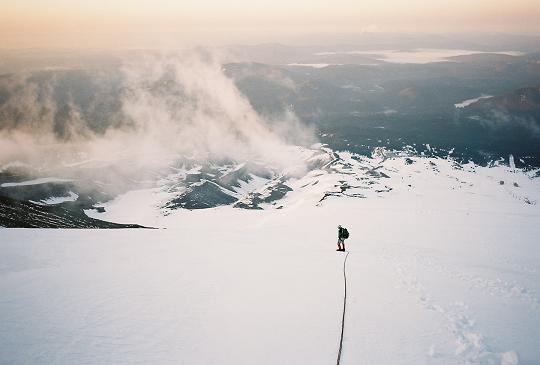 Early Morning on the slopes of Mount Hood. (Click on picture for larger version.)
The weather was clear and beautiful, and when the sun finally rose, we were high on the mountain, picking our way around the steaming, sulfurous vents on the mountain's flanks.
Going up. (Click on picture for larger version.)
By the time we reached the "hog's back" we ran into a bit of a traffic jam. There was a large group of boy scouts (who had taken a ride up on the snow cat) ahead of us, and they were having some trouble negotiating a crevasse. Matt and I were lightly dressed, as our warm clothing was stuffed in our packs, and we began to get cold as we sat and waited. Finally, we decided to pass the scouts, as they didn't seem to be having any luck in finding a way around the crevasse. It turned out that a long step was all that was necessary to cross the obstacle, and Matt and I hopped over, each belaying the other in turn.
The crevasse at the top of the Hog's Back. (Click on picture for larger version.)
As we approached the top of the mountain, the terrain became more dramatic, with the snow and ice carved into interesting features by the wind.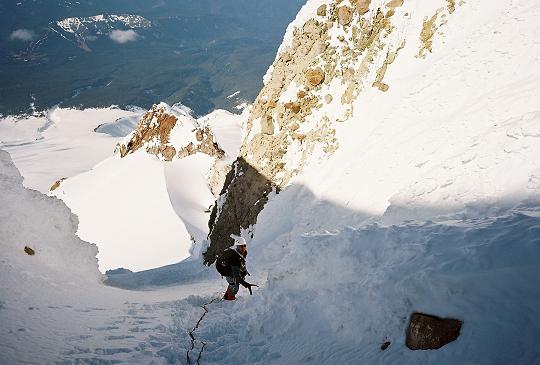 Near the top. (Click on picture for larger version.)
After a bit more slogging up some sugary snow, we reached the rounded summit, snapped some pictures, and headed back down. The descent was uneventful, and we enjoyed a beautiful, sunny day with views that seemed to go on forever.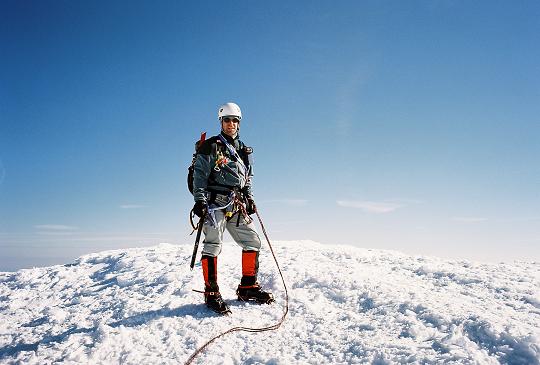 Matt on Top. (Click on picture for larger version.)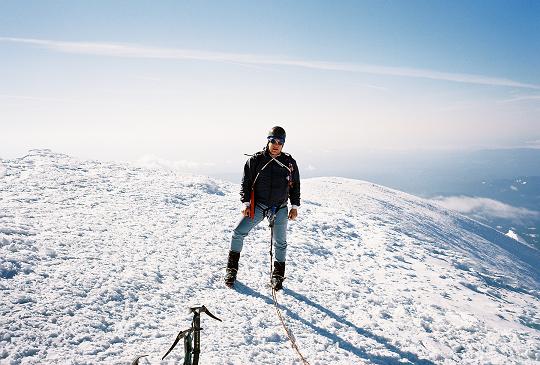 Me on Top. (Click on picture for larger version.)
After our warm-up on Hood, we weren't quite sure what to do next. We had considered a route on Rainier, but the weather report was a bit unsettled, so we decided to try something a little less committing. We picked a route on Colchuk peak, and headed off in our car. We stayed in a strange town called Leavenworth, a small town which has turned itself into a tourist attraction by pretending to be a Bavarian village. The false front faux-German architecture, the men wandering around in lederhosen, and the oompah bands gave the place a somewhat odd feel.
Our attempt on Colchuk was foiled by nasty weather, but we were just glad that we weren't on Rainier. The approach hike up and back was much better than being pinned down on the mountain. We figured that a bit of backpacking (with packs full of climbing gear) wasn't too bad, as the country was beautiful.
Finally, we headed up to the Early Winter Spires. We didn't really have much of a plan, and just did some snow climbing and looking around.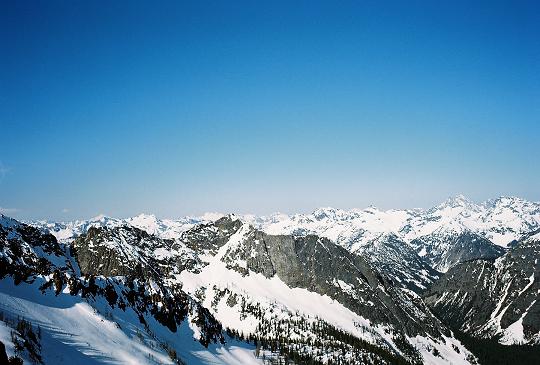 The view from Early Winters Spires. (Click on picture for larger version.)
Overall, it was a fun, but uncommitting trip. We only climbed one real mountain, and it was barely steep enough to constitute climbing, as opposed to hiking. We had a good time, however, and got some ideas about climbing in the Cascades. I'm hoping to get another opportunity to return to this interesting part of the world.
BACK TO THE CLIMBING/BACKPACKING MAIN PAGE